The ATEM Mini Pro is a popular tool for streamers, especially gamers, to take livestreaming to a more high-quality and professional level. This equipment can help you switch between multiple cameras, or integrate itself with other game consoles.

Source: Blackmagic Design
As a mid-amateur or professional streamer, you may benefit from these features of the ATEM Mini Pro:
Fast to set up, easy to use
4 standard converted HDMI inputs
HDMI output
USB webcam output
Fairlight audio mixer with EQ and dynamics
DVE for picture-in-picture
Transition effects
Green screen chroma-key
20stills media pool for title
Free ATEM Software Control
Direct recording to USB flash drives in H.264
Direct streaming using Ethernet to YouTube and other platforms
Multiview with 4 cameras, media, preview and program
Status of recording, audio, and streaming
If you're using the ATEM Mini Pro and Castr, you can connect these tools to leverage hardware benefits of the ATEM and the software features in Castr.
How to Connect the ATEM Mini Pro to Castr
1. Find the ATEM Streaming XML file
Locate the file Streaming.XML on your computer:
For Mac: /Library/Application Support/Blackmagic Design/Switchers/
For Windows: C:Program Files (x86)Blackmagic DesignBlackmagic ATEM SwitchersATEM Software Control
The Streaming XML file contains all the data that the ATEM Software Control uses to define where to send your stream.
Tip: We recommend you duplicate this file. As we'll edit the file in the next step, it's best to keep the original file that comes with the ATEM unit.
2. Download and Replace Castr's Integrated ATEM Streaming XML file
Go to the following link – https://www.dropbox.com/s/h07c928f5j0cypa/Streaming.xml?dl=0
In the link, you can find Castr's new ATEM Streaming XML file available for free download. Once downloaded, replace the current Streaming.xml file with the version which you downloaded, and this will have Castr as the streaming platform.
3. Get RTMP endpoint and stream key in Castr
You will need the RTMP endpoint and stream key to connect the ATEM Mini Pro to Castr. First, open or create a project in Castr.
On the right sidebar, under Stream Source Setup, you'll find the stream key and RTMP link of your stream. Save them for later.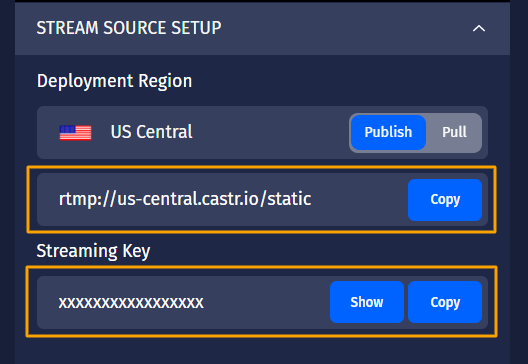 4. Connect the ATEM Mini Pro to Castr
Open the Black Magic Software Control program on your computer
Go to the Output tab > Live Stream > under Platform, select Castr (or the name that you input before).
Refer to the settings below:

Platform: Castr
Server: Default
Key: [Your Castr stream key]
Quality: Streaming Medium (or any mode of your choice)
Finally, click ON AIR. The ATEM will start pushing streams to Castr. You should be able to see the preview on your Castr dashboard immediately.
Next Steps
For more resources on how to make the most of Castr, visit our Tips and Tricks blogs or the Castr Help Center.
Join 200,000+ streamers worldwide
With Castr, you can easily livestream videos on any platform in no time.
No Castr Branding
We do not include our branding on your videos.
No Commitment
No contracts. Cancel or change your plans anytime.
24/7 Support
Highly skilled in-house engineers ready to help.