Most livestreams on the Internet currently use the RTMP protocol to deliver the stream for its wide adoption and low latency advantage. With that being said, if you are using Castr for your streaming production, you might find yourself needing a static RTMP address for the team.
For a successful connection using the RTMP protocol, you need an RTMP server URL and an RTMP stream key. Enabling Castr's constant RTMP address helps you and your team to use the persistent details at any point when streaming.
This feature is available for Starter or above plans.
How to Get Constant RTMP Address for Streaming with Castr
In short, add append -1 to both of the Push and Pull server URLs you get from Castr. Here's how to do it:
1. In your dashboard, Copy the server URL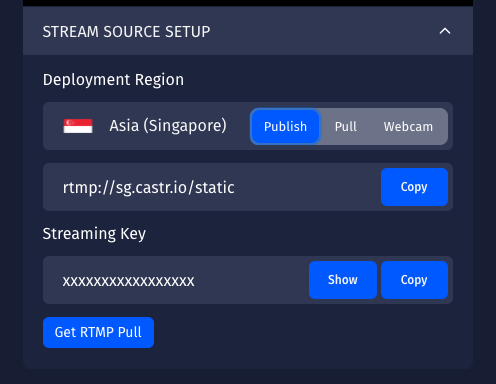 2. Paste the URLs to anywhere you can type
3. For Constant Push URL: Type -1 before .castr.com/static/
4. For Constant Pull URL: Type -1 before .castr.com/static/, followed by your stream key
For example,
Your server URL is rtmp://sg.castr.com/static
Type the append -1 in your encoder for the Push URL
Type the append -1 in your encoder and paste your stream key for the Pull URL
Your constant Push URL will be:
rtmp://sg-1.castr.com/static
Your constant Pull URL will be:
rtmp://sg-1.castr.com/static/[your stream key]
You can also click the Get RTMP Pull button to get the Pull URL, then add the append -1 like above to make it constant. If you need more help to set up the stream, please chat with our support team.
What's next? Check out these articles:
Join 200,000+ streamers worldwide
With Castr, you can easily livestream videos on any platform in no time.
No Castr Branding
We do not include our branding on your videos.
No Commitment
No contracts. Cancel or change your plans anytime.
24/7 Support
Highly skilled in-house engineers ready to help.