Livestreaming is not an easy task. There are a lot of settings for the stream technically and the work in your performance to effectively and gradually attract a growing audience. That is why you would want to make the most out of each stream and the platform you are streaming to.
Multistreaming is the new solution for this need for growth in the livestream community.
Streaming to multiple platforms at the same time allows for more exposure and reach without increasing the effort and resources you invest into the production.
Multistreaming with Castr Streams
Castr provides streaming solutions for individuals and businesses to expand and bring their video content to more viewers and customers on any platform. Castr's Multistream makes it easy for simultaneous streams to Facebook, YouTube, Twitch, and more than 30 other social media sites.
Among the popular platforms for live broadcasting, Facebook and YouTube are the most suitable for businesses and streamers who do not solely focus on gameplay streaming.
What do you need before starting multistreaming to Facebook and YouTube?
To start streaming on these platforms, you'll need Facebook and YouTube accounts that are eligible for livestreaming. On Facebook, you can stream to your own timeline, a page, a group, or an event. On YouTube, your channel must be verified and activated for livestreaming first.
Next, you will also need a hardware or software video encoder. An encoder helps you control the stream better and make it more engaging for the viewers to enjoy the content you share live.
The last thing you need to start multistreaming to different platforms at the same time is a streaming tool like Castr. Using Castr, you can stream to more than 30 platforms with other useful features to make streaming easy and successful for everyone.

How to Stream to Facebook and YouTube at the Same Time with Castr
Castr provides native API integration with Facebook and YouTube for quick and easy connection, adding new platforms, and starts streaming right away.
Besides connecting through the API integration, you can also use the RTMP information to connect Castr with any platform, including Facebook and YouTube. Read this blog to see how to connect Castr to Facebook Live using API and Custom RTMP.
Going live on Facebook and YouTube at the same time
1. Create a new stream on Castr Dashboard
Note: You'll get an embeddable HMTL5 player for your stream if you create a Livestream project.
2. Enter a Stream Name and choose the closest Hosting Region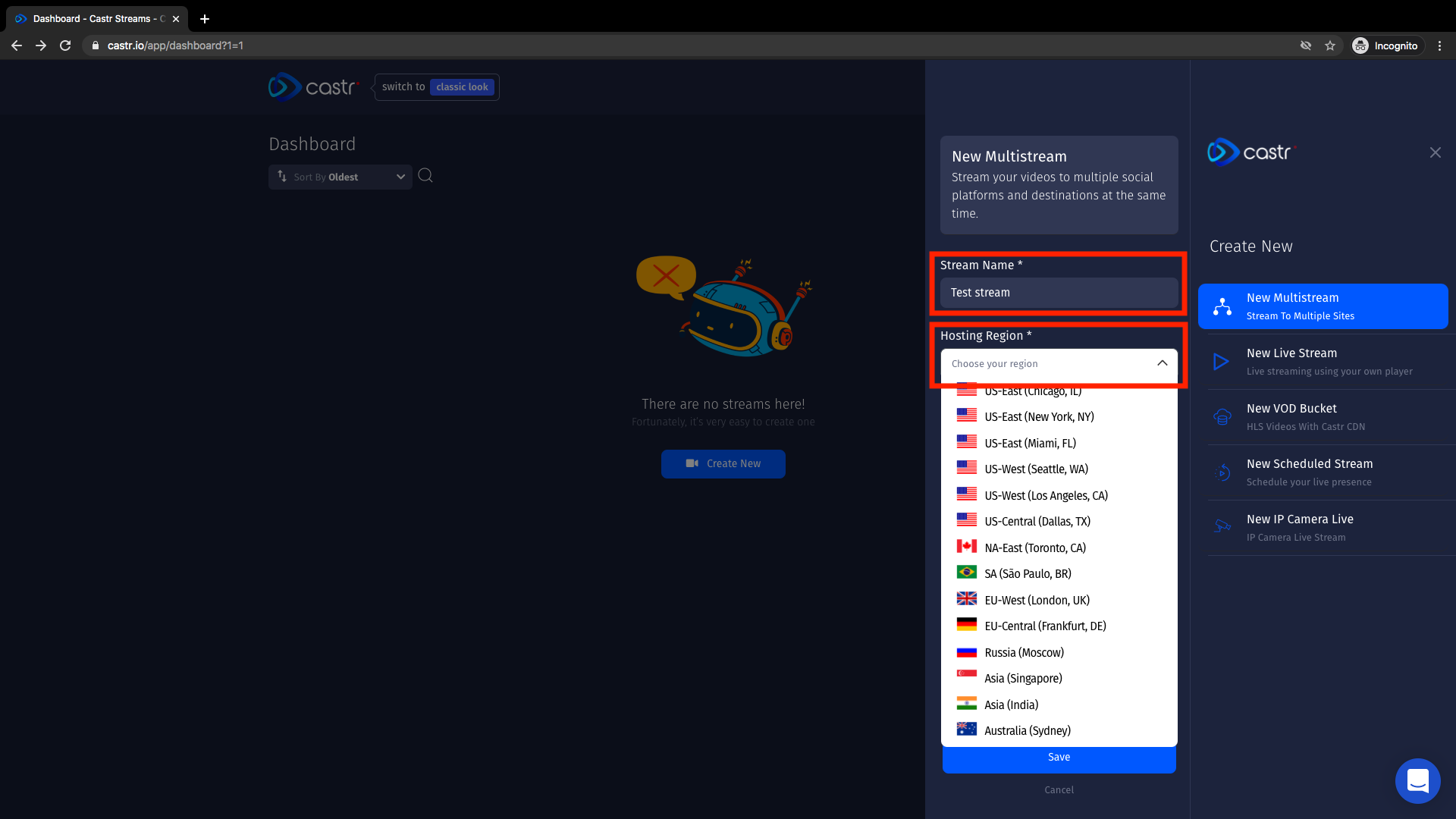 3. Once you've successfully created a new stream, you will get the RTMP and SRT details to connect with your encoder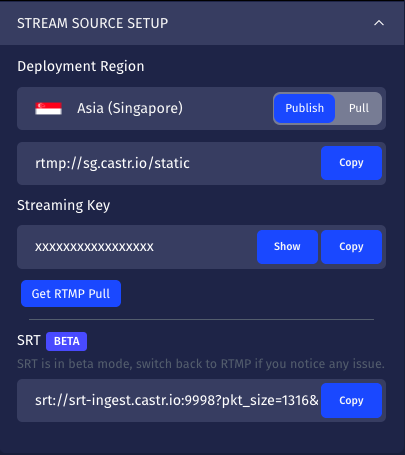 4. After the streaming software has been set up, you will see the stream show up in the preview player
5. Add the platforms for Castr to send your stream to. From Castr's list, you can choose from more than 30 platforms, plus custom RTMP destinations.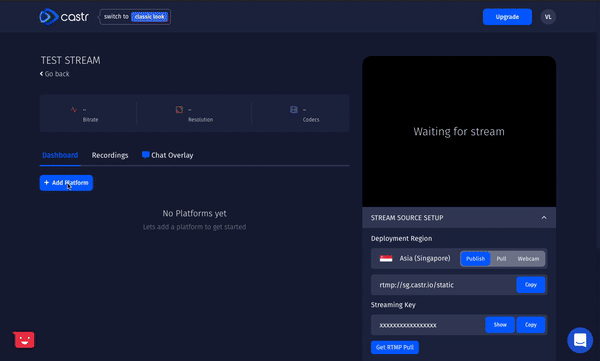 6. Start a test stream to see how the video shows up as well as the bitrate and frame rate
7. You're all set, click Enable to start live broadcasting!
Tip: You can also Pull the stream from another source to multistream through Castr. Simply switch from Publish to Pull and enter the Pull Source URL.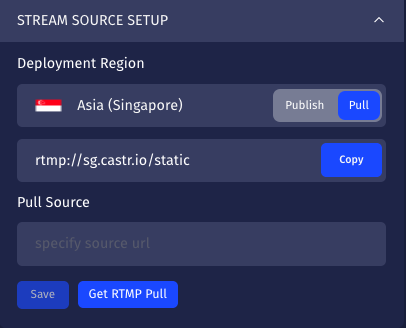 Conclusion
We hope this article is helpful for you to connect and stream to Facebook and YouTube at the same time with Castr smoothly. If you need further help, check out the Help Center or contact our 24/7 live chat for support.
What's next? Learn more about the essential tools for streaming video, plus the fundamentals of OBS encoder software in this blog.
Join 200,000+ streamers worldwide
With Castr, you can easily livestream videos on any platform in no time.
No Castr Branding
We do not include our branding on your videos.
No Commitment
No contracts. Cancel or change your plans anytime.
24/7 Support
Highly skilled in-house engineers ready to help.