This short tutorial will show you how to get the RTMP Pull link for your video stream in Castr's dashboard.
Real-time Messaging Protocol (RTMP) has become a common workflow often used for low-latency streaming. RTMP is a protocol for streaming video, audio, and other types of data over the internet. The significant advantages of using this protocol are persistent stream connections and low-latency communication.
An RTMP Pull URL is a link to your livestream that you can use to "pull" your video to another broadcast. The best use case for RTMP Pulls is when there are multiple streams in one broadcast session, for example, concerts, cross-region events, live interviews, sports events, or even game streaming.
Using RTMP links, you can compile multiple windows on your main screen to bring variety to your video content and keep your audience engaged.
How to Get RTMP Pull URL in Castr
The RTMP Pull feature is available in Castr's Multistream Premium plan & above and All in One Plus plan & above. Check out our pricing for more details on Castr's plans.
Getting Your RTMP URL when Streaming with Castr
Once you've created a new multistream, Castr will provide you with a unique RTMP entry point to configure in your software or hardware encoders.
Go to your Castr's dashboard and open the stream you'd like to pull
On the right menu, you will see the Get RTMP Pull button. Note: Your stream has to be live to enable this feature.
Click on the button to copy and then paste it into your encoder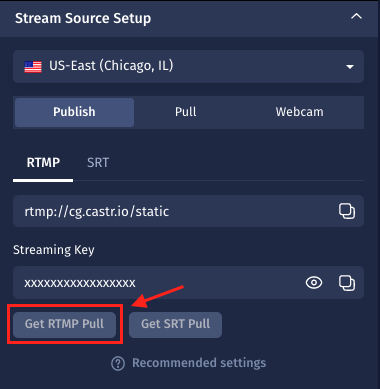 Incorporating RTMP Pull links into your stream can help you configure more complex stream setups and avoid having one single monotonous screen throughout the video. If you have any further questions, reach out to our 24/7 Support team via Castr's live chat.
Join 200,000+ streamers worldwide
With Castr, you can easily livestream videos on any platform in no time.
No Castr Branding
We do not include our branding on your videos.
No Commitment
No contracts. Cancel or change your plans anytime.
24/7 Support
Highly skilled in-house engineers ready to help.