Stream keys are generated when you create a new stream. A stream key is used to import into the broadcasting software, telling the software the destination of the stream. Stream keys also normally associate with an RTMP URL address or RTMP information.
In this article, we will walk you through how to locate your stream key on popular platforms and how to manage your keys. With the RTMP details and the key, you can livestream or multistream from Castr to any platform.
It is important to always keep your stream key secret. Anyone with this information can have access to your account and start streaming from it.
How to Find Your Stream Key on YouTube
To start streaming to YouTube Live, make sure you have verified and enabled Livestreaming for your YouTube channel. If you have not done this, simply go to https://www.youtube.com/verify, get the verification code using your phone number, and complete the verification process. Then click Create > Go live, enable livestreaming and wait 24 hours.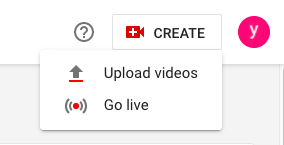 Once the channel is all set, go to your Youtube Stream Dashboard by clicking Create > Go live. 
In Stream Setting, you can find the stream key generated and hidden by YouTube. Next, click Copy to send the key to the clipboard and paste it into Castr or your encoder.
You can reveal the key by clicking the Eyeball icon; then YouTube will reveal the 16-character string for 10 seconds only. An RTMP Stream URL and a back up one are also available right below the stream key in case you need it.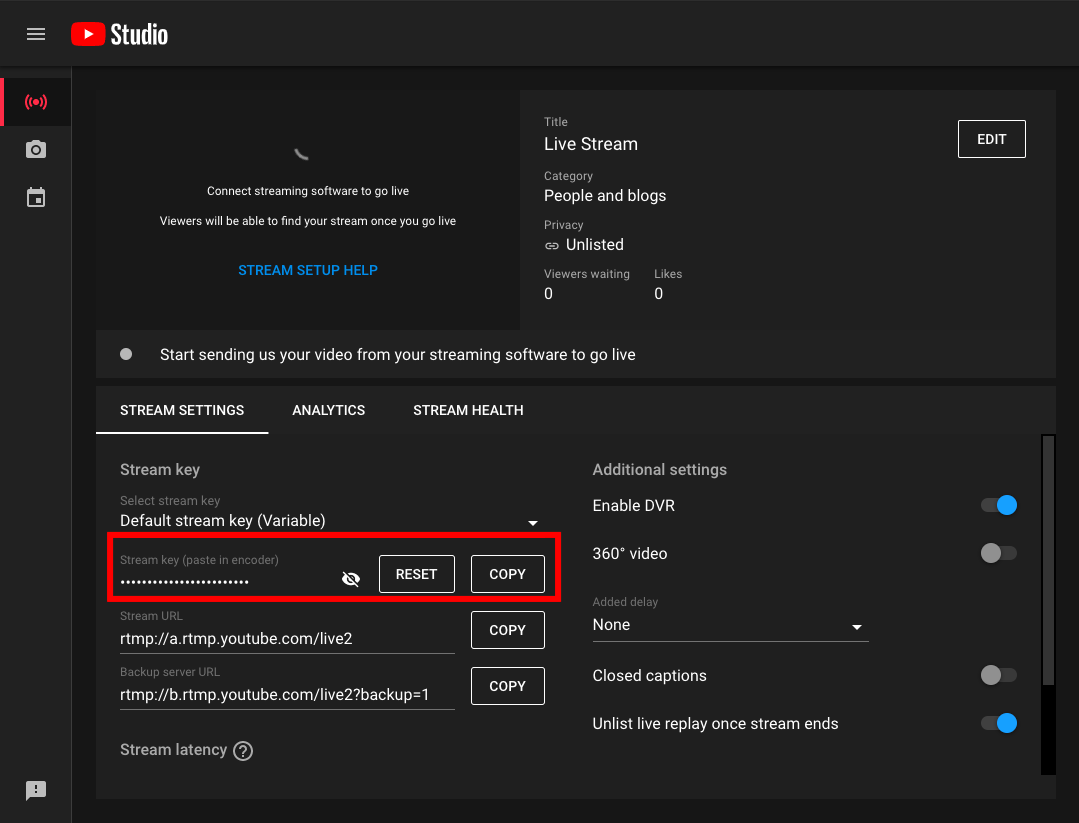 Finally, edit the details of your livestream and run a test stream to make sure you have everything set up right.
How to Find Your Stream Key on Twitch
Twitch is a familiar name for streamers and anyone interested in livestreaming. With a growing community of streamers and viewers, Twitch is the Internet's favorite livestreaming platform right now.
To begin, you can easily find your Twitch stream key and all the important details in one place. First, log in to your Twitch account and go to the Creator Dashboard under your profile picture.
In the left side menu, go to Preferences > Channel. After that, you see the stream key right at the top of the settings.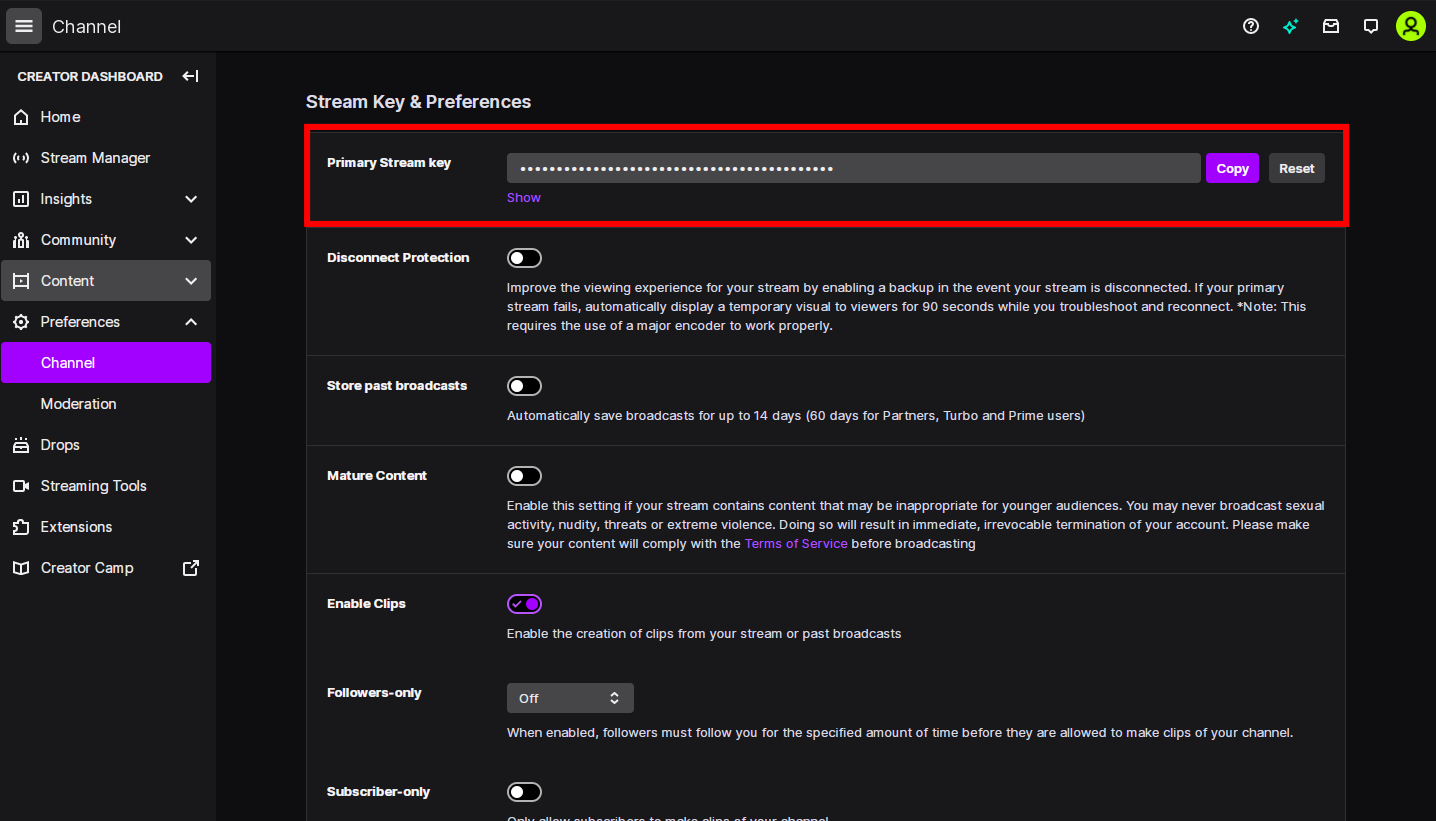 Because this stream key is your primary one, remember to keep it private to protect your account. If you think you've accidentally leaked the key, click the Reset button to get a new one and secure your account.
Note: In terms of RTMP URL for streaming with Twitch, you should follow Twitch's suggested ingest server here. The platform provides the closest server based on your location to ensure you get the most reliable stream possible.
To see a step-by-step of how to livestream to Twitch from Castr, check out this blog.
How to Find Your Stream Key on Facebook Live
On the Facebook homepage, go to the Live Producer by clicking the Live Video button or this link. In the Get Started section, you get 3 options: Use Stream Key, Use Webcam and Use Paired Encoder. Choose Use Stream Key to get the stream key details.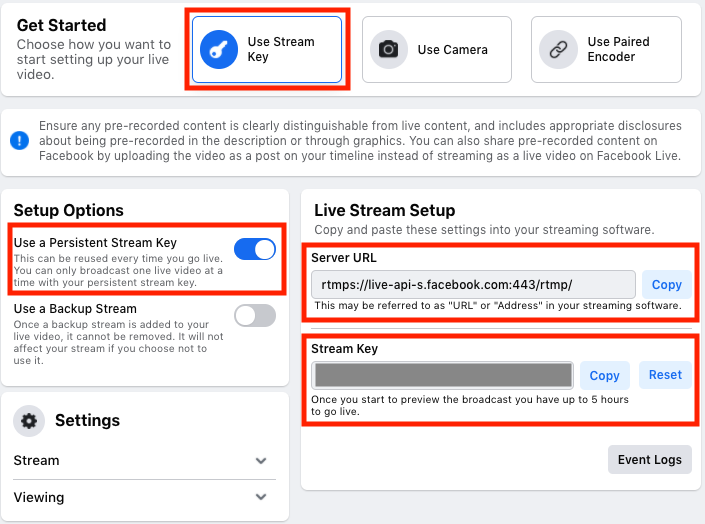 Here, remember to toggle on Use a Persistent Stream Key to ensure connection for your future streams. To learn more about how to connect and stream from Castr to Facebook, please follow this blog.
How to Find Your Stream Key on Vimeo
To be able to livestream on Vimeo, you need a live-enabled membership for your account. Get started with streaming by going to your homepage and select Create Live Event.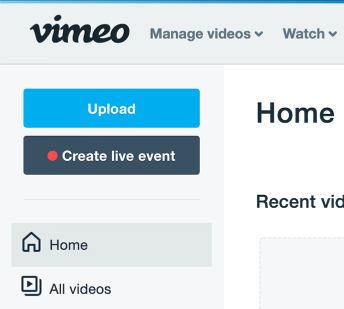 On Vimeo, you can choose to create a one-time or recurring event. In the process of setting up a new stream on Vimeo, you'll arrive at the live preview page. As Vimeo's default is the Webcam view, you need to switch to Connect (RTMP) to get the URL and the Stream Key.
How to Connect Castr to Any Platform with a Stream Key
Castr supports API connection with major platforms like YouTube, Facebook Live, and Twitch. If you need to connect to other platforms using the Stream Key and RTMP URL, here's how to do it.
1. Make sure you have the stream key and RTMP URL ready for connection from the destination you are streaming to
2. Sign in to Castr Dashboard, choose a multistreaming or livestreaming project
3. Check if your platform is available in Castr's platform list. If so, you'll only need the stream key to complete connecting
4. Add a new platform using the Custom Encoder option and fill in the information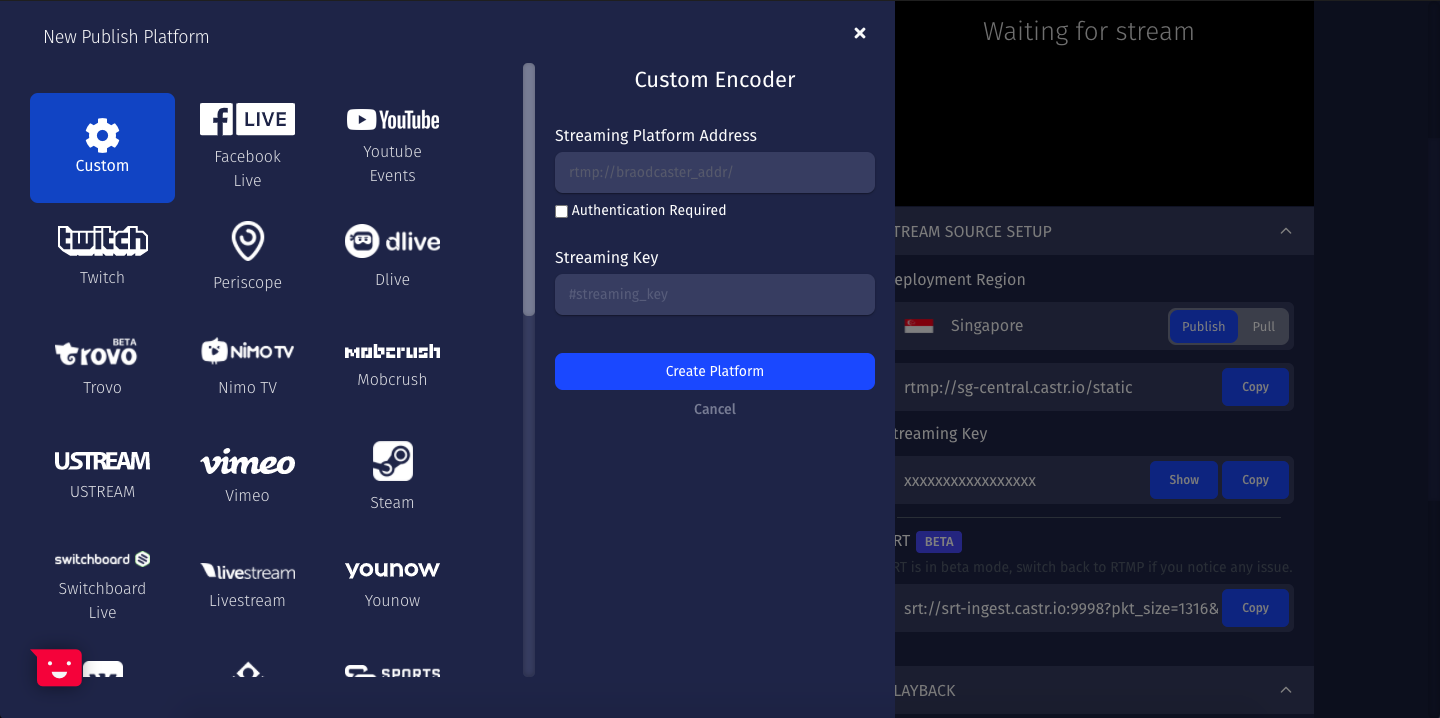 5. Click Create Platform to finish and start streaming!
Conclusion
Castr is designed with versatility in mind so that anyone can start streaming on any platform in no time and without difficulties. Using the Custom Encoder option, you can stream from Castr to any platform using the RTMP information and stream key.
Sign up now and get yourself a free 7-day trial with Castr's livestreaming solutions. If you need more help with Castr's functionalities and how to fully take advantage of these features, check out this overview introduction of Castr!
Join 200,000+ streamers worldwide
With Castr, you can easily livestream videos on any platform in no time.
No Castr Branding
We do not include our branding on your videos.
No Commitment
No contracts. Cancel or change your plans anytime.
24/7 Support
Highly skilled in-house engineers ready to help.