Video game streaming takes up a significant part in the streamer community. Streaming gameplay content can attract a large number of viewers on social platforms like Twitch, YouTube, and Facebook. The most known platform to watch and stream video games is obviously Twitch, with more than 3.8 million streamers as of February 2020.
Anyone can go live on Twitch with a simple setup and stream directly from their PC or console as the very first steps of becoming a streamer. Using Castr, you can multistream your gameplay content to many streaming platforms at the same time.
How to Multistream to Twitch from Castr
Twitch is one of the 30+ platforms supported by Castr as a destination for multistreaming. Here's how to connect and start streaming to Twitch from Castr.
Connect automatically using Castr API
1. Log in to Castr Dashboard
2. Create a new livestream/multistream or open an existing project.
See how to get started with Castr in this blog.
3. Click Add Platform > Twitch
4. Make sure you are logged in to your Twitch account, then click the Connect to Twitch button.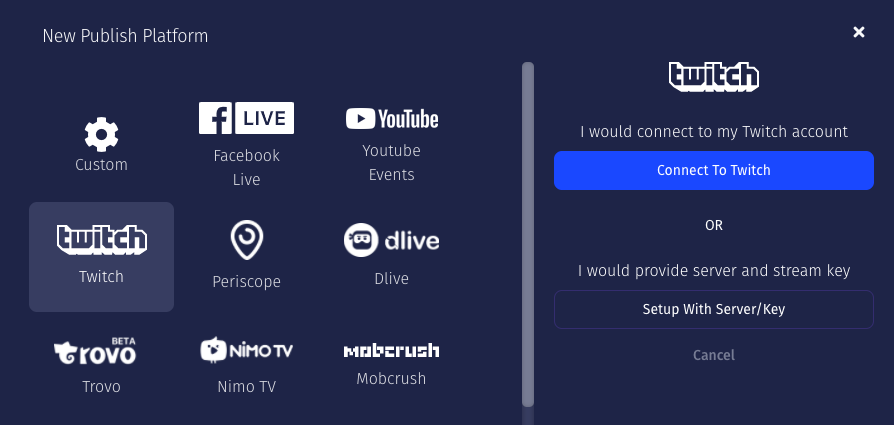 5. Castr will automatically connect with your Twitch account in a few seconds. To complete, choose the closest streaming server from the drop-down list, put in your Stream Title, and the Streaming Game.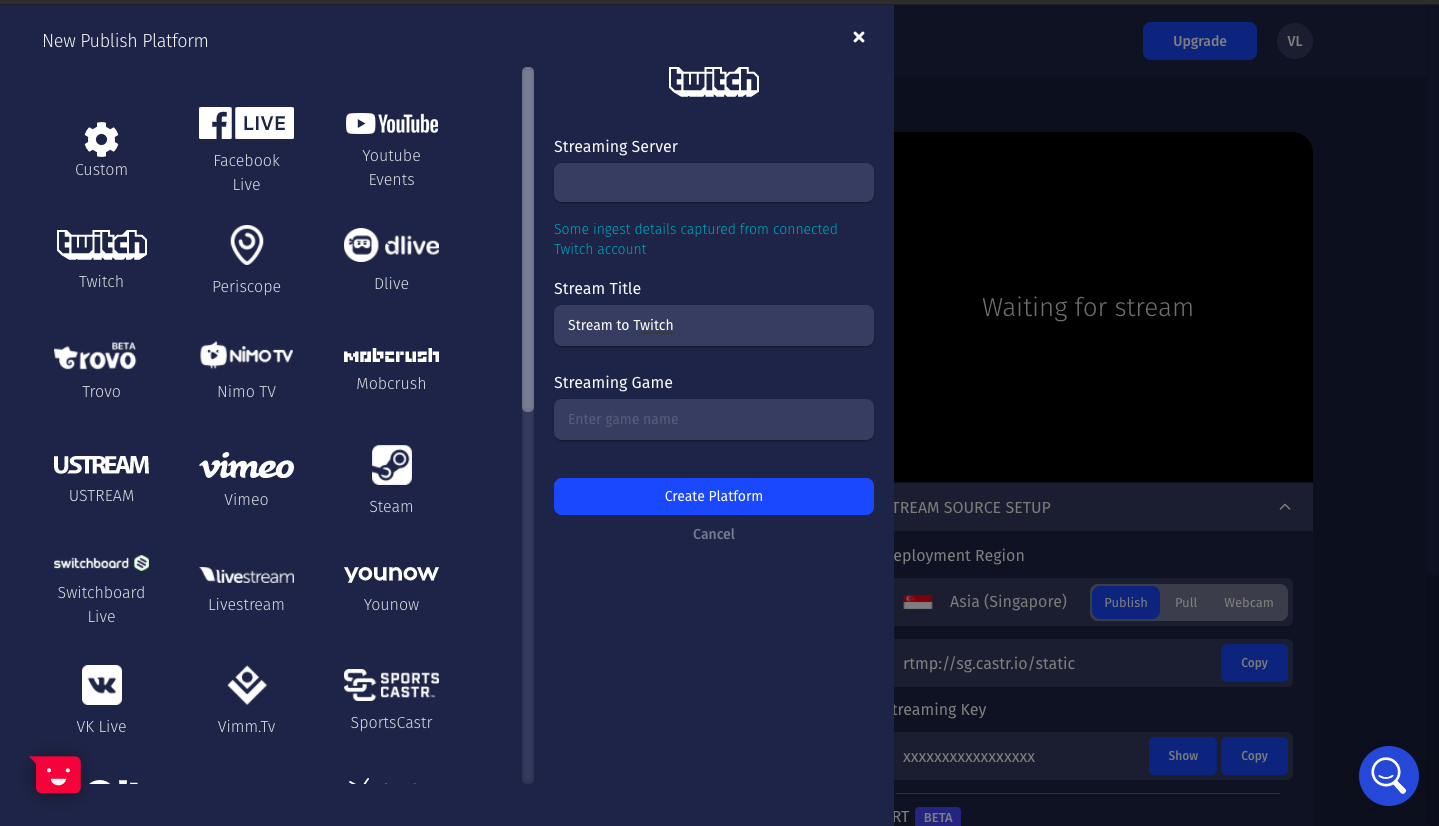 6. Click Create Platform, and you are all set! Here's a tutorial on how to set up OBS when streaming with Castr.
Connect using Stream Key | How to find your Twitch Stream Key
You can connect to Twitch using the stream key as a custom RTMP destination. First, find your unique stream key from Twitch:
1. Sign in to your Twitch account, then go to the Stream Dashboard.
2. Go to Preferences > Channel. The Stream Key for your account can be found at the top. Remember to keep your primary stream key to yourself for security.

3. Copy the key and head over to Castr
4. Choose Setup with Server/Key
5. Choose the closest Streaming Server to your location, and paste the copied key to Streaming Key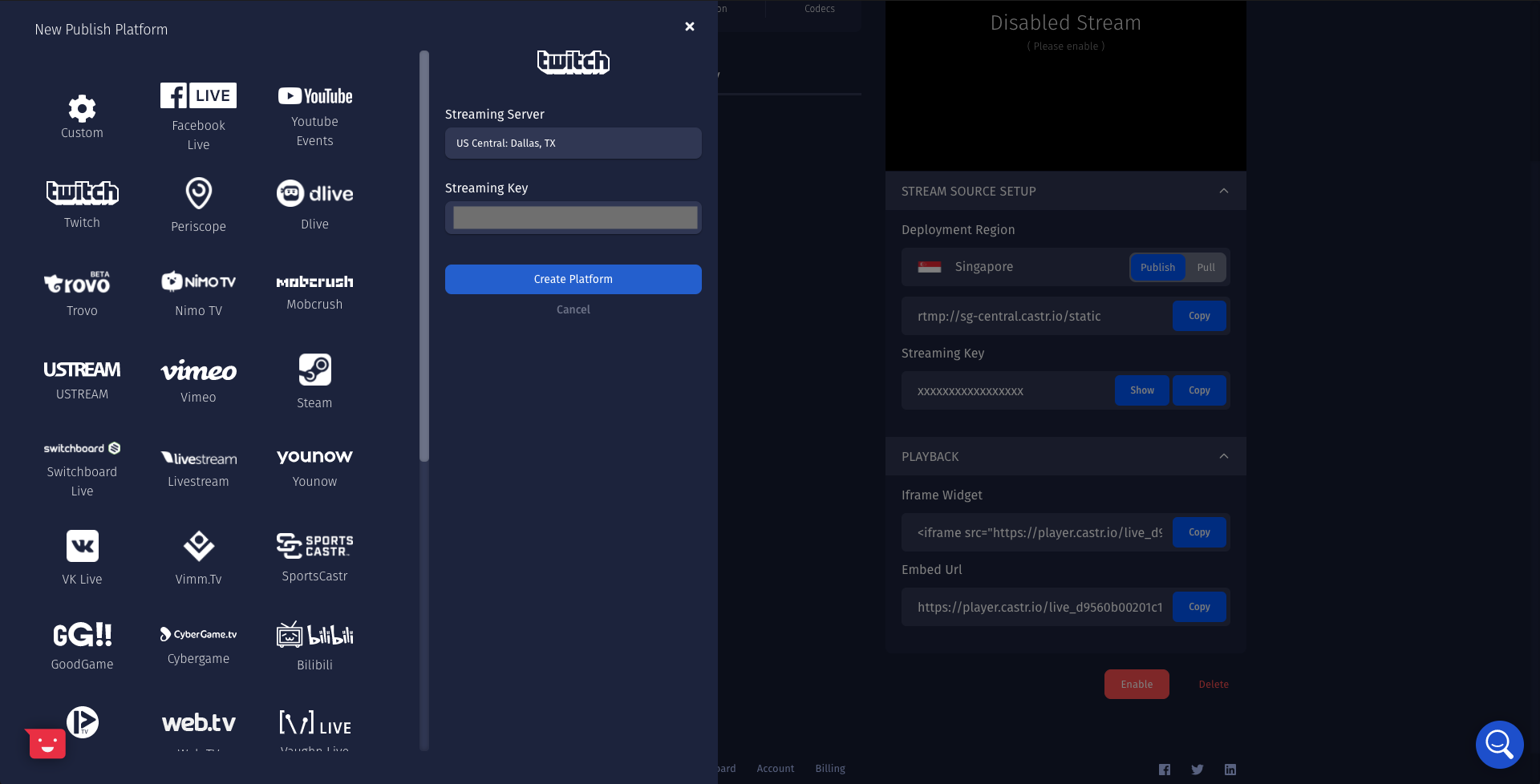 6. Click Create Platform, and you're done!
Note: If you connect with Twitch manually, you will have to set up the stream's description in Twitch's dashboard.
How to Schedule and Stream Prerecorded Videos to Twitch
1. Log in to Castr Dashboard
2. Create a new Scheduled Stream or open an existing project.
3. Click Add Platform > Twitch
4. You can connect to Twitch through API or Custom Stream Key similarly as above.
5. Upload the streaming file to Castr and choose the Scheduling Mode as your preference.
Infinite loop: The video will be stream as a loop
Schedule Date Time: Schedule a specific date and time for your video to go live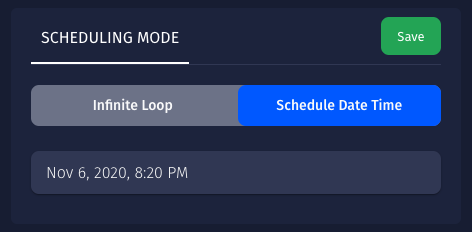 6. Add more platforms to multistream if needed.
Final Thoughts
We hope this article is helpful for you to get started with live broadcasting to Twitch smoothly with Castr. If you need further help, check out the Help Center or contact our 24/7 live chat for support.
What's next? Learn more about How to Stream on Twitch With OBS: PC, Mac, Xbox, PS4, or How to Build an In-house Video Production Studio.
Join 200,000+ streamers worldwide
With Castr, you can easily livestream videos on any platform in no time.
No Castr Branding
We do not include our branding on your videos.
No Commitment
No contracts. Cancel or change your plans anytime.
24/7 Support
Highly skilled in-house engineers ready to help.