By streaming through devices like Roku, Apple TV, Amazon Fire TV Stick, or Google Chromecast, you can increase your viewers by 60% or more.
If you've ever watched videos from a streaming device, a smart TV, or a gaming console, you were consuming OTT media.
The powerful impact of OTT content has dominated the broadcast media industry.
As the demand of OTT mushroom, tech giants have manufactured devices — known as "digital media players" — that make this type of video streaming more accessible. You may have known of these devices under the names of Roku, Amazon Fire Stick TV, Apple TV, or Google Chromecast.
In this article, we will explain what OTT is, why you should consider OTT as a streaming destination, ways that you can leverage OTT to optimize your video reach, and how to connect Castr to digital media player devices via HLS URLs.
What is OTT Streaming?
OTT stands for over-the-top. An OTT streaming service is a service that broadcasts content directly to viewers via the internet. The phrase "over-the-top" is in reference to OTT devices going over cable boxes.
You may have known of this concept through the terms "subscription-based video-on-demand" (SVoD) or "video-on-demand" (VOD), which means services that offer access to television content and films through advanced payments.
The idea of OTT also encloses "skinny bundles". Skinny bundles refer to cable-less services that stream live TV channels over the public internet, instead of a closed, private network and a set-top box or cable box. You may have seen or used skinny bundles through the names of YouTube TV, Hulu TV, Philo, Dish's Sling TV or AT&T's DirecTV Now.
History of OTT
The term OTT originated way back in the 2000s. YouTube was first launched in 2005, Apple TV in 2006, Hulu in 2008, Netflix's migration from DVDs to online streaming in 2007, and Roku TV in 2009.
The second wave of OTT streaming ignited in around 2012 when connected TVs constituted 25 percent of American households. This wave also saw the launch of Sling's Skinny Bundle and Amazon's Fire TV Stick.
OTT videos have gone mainstream since the third wave in 2016 with the reign of the streaming-video "big four's": YouTube, Amazon, Netflix, and Hulu.
What makes OTT such a favorable medium to both video creators and consumers? Any content can be delivered through any device. From personal computers, smartphones, tablets, digital media players (e.g., Roku), or Smart TV, OTT can be made accessible.
But OTT is not limited to video content only. It also exists in the form of ad-based platforms like YouTube, audio like podcasts and radio stations, instant messages like Whatsapp, or Voice over Internet Protocol (VOIP).


Four Ways to Leverage OTT to Boost Your Viewers
OTT media has surpassed traditional cable TV in growth. Therefore, adding OTT as one of your streaming destinations should be part of your strategy. By incorporating OTT streaming, you will be able to reach more audiences, boost your revenue, and even have more control over your media content. Here are four ways you can apply OTT to your streaming strategy:
#1: 24×7 TV channel
Thanks to the reduced cost for data bandwidth, continuous streaming is no longer a challenge for media broadcasters. Whether it's a tv show, sports event, or music session, you can stream videos 24×7 to bring content to your users anytime possible.
An American adult spent on watching television in Q3 2019 was almost 12 hours per day, on average. In the midst of the COVID-19 scenario, companies' work-from-home policies allow for even easier access to TV. A remote worker in the U.S., on average, spends over 25 hours each week on connecting with traditional TV. And with the cascading threats of COVID-19, this kind of media consumption behavior will continue to rise.
#2: Library or channels of videos
Dividing and grouping videos, webisodes, or a large library of content into small channels or categories is another way to deliver your video content.
Media consumers nowadays are no longer bound by passive media consumption. Viewers want to have more control over what they want to watch. They also want to have multiple options. This is when OTT comes in to fulfill this instant gratification. By delivering your videos in small chunks in a list that your users can choose from, your viewers can decide what and when to watch.
This is why platforms such as YouTube, Netflix, Amazon and Hulu have only increased in their user growths, according to a survey by eMarketer. As of September 2020, Netflix saw nearly 169 million users on their site, more than 130 million viewers on Amazon, 94.5 million on Hulu, 72.4 on Disney+, 18.8 on Apple TV+ and 15.9 on ESPN+.
#3: Live events
Thousands, if not millions of conventional in-person live events have been canceled since the beginning of 2020. And organizers have brought all types of events — from concerts, meetups, classes, and conferences  — to digital platforms.
The same goes for OTT streaming. By creating your own channels and hosting them on an OTT media service, you'll be able to expand your viewership in another streaming platform.
There are several ways that you can monetize your events:  ad-based, subscription-based, and pay-per-view. YouTube advertisements are typical examples of ad-based monetization. The content creator will receive payment from the ad's sponsor, in return for showing the ad before or during their video.
Subscription-based are similar to Netflix, Hulu, or Amazon Prime Videos. Your viewers will pay a certain amount of subscription fee to gain access to your content.
Another common way to monetize OTT videos is through cost-per-view. Think of the times when you rent a DVD. You pay to watch that specific DVD, then return it. Most online concerts, webinars or professional workshops follow this one-time charge model.
#4: Schedule event
Finally, you can leverage some video streaming platforms like Castr to schedule your OTT videos at a specific time. This method is similar to 24×7 streaming, except that there will be intervals between sessions.
If continuous streaming isn't your jam, scheduled streams are still an efficient way to connect with your viewers, and broadcast on a regular basis while not having to overspend time on creating content.
How to Stream OTT Videos With Castr
Castr provides HLS links for users to connect to digital media players like Roku, Apple TV, Amazon Fire TV Stick, or Google Chromecast.
HLS stands for HTTP LiveStreaming, and is a protocol developed by Apple. HLS has become a preferred method to send video and audio data from a server to viewers. Two major benefits of using HLS URLs for streaming is that you can scale up your video stream, accommodate a large audience, and achieve flexible video delivery quality with adaptive bitrate streaming.
With Castr Livestream plans
To use HLS in Castr, first, you'll need a 2TB Livestream plan or any higher plans:
5TB Livestream
10TB Livestream
Enterprise Livestream
After subscribing, when you sign in to your Castr dashboard, you'll see the HLS URL section on the right widget. Copy and paste this URL while you set up your digital media player device. Learn more about Castr pricing
With Castr Video Hosting plans
Castr's Video Hosting plans allow you to upload multiple videos and play them back-to-back on your own website. You can also set passwords to your streams, as well as blocking or allowing viewers based on their geographic location.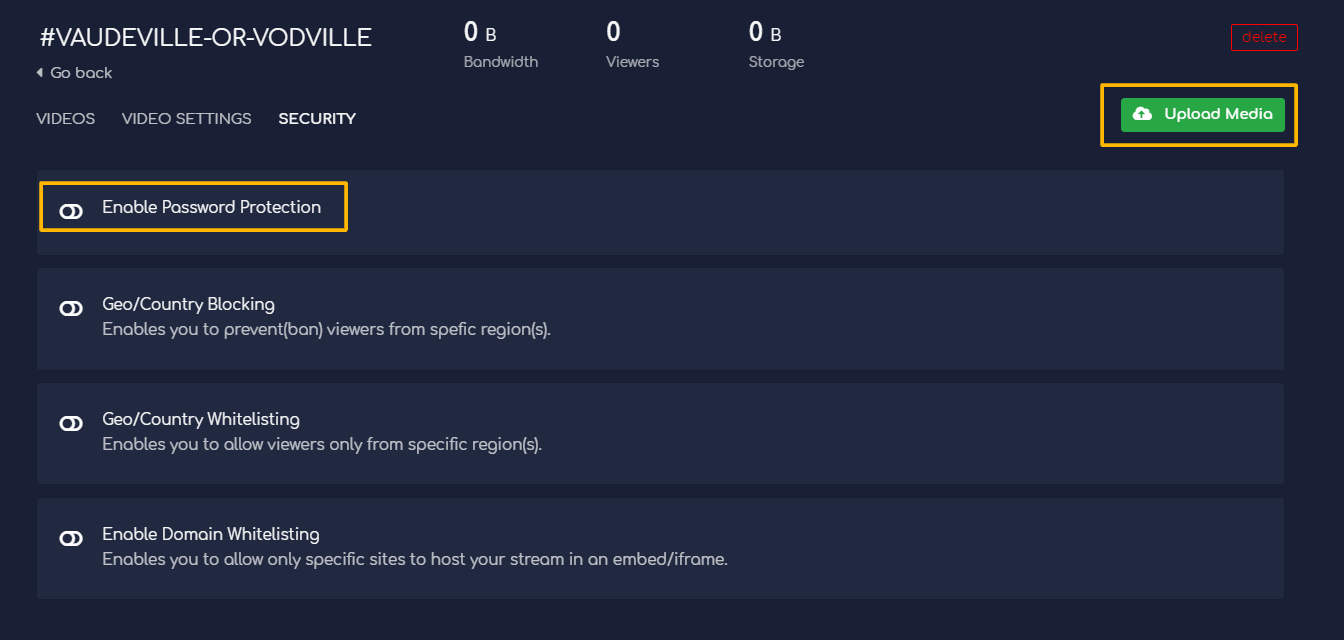 Key Takeaways
An OTT streaming service is a service that broadcasts content directly to viewers via the internet. The phrase "over-the-top" is in reference to OTT devices going over cable boxes.
Adding OTT as one of your streaming destinations should be part of your strategy.
#1: Stream your videos 24×7 as a TV channel to create continuous content and more interaction with your viewers.
#2: Stream your videos in small playlists or video libraries
#3: Stream (and maybe monetize) live events through OTT streaming platforms
#4: Schedule your events to go live at a specific time on a regular basis
Join 200,000+ streamers worldwide
With Castr, you can easily livestream videos on any platform in no time.
No Castr Branding
We do not include our branding on your videos.
No Commitment
No contracts. Cancel or change your plans anytime.
24/7 Support
Highly skilled in-house engineers ready to help.