Facebook's streaming service is going hard after the live platform crowns, and everyone's taking notice. Over the last two years, Facebook Live's viewer counts climbed up to 2 billion. And since most people on the planet own a profile, rapid growth is a no-brainer.
But what else can you do as a lone streamer trying to get your share of attention? Well, that's where Facebook's additional social tools come into play.
To unleash the full power of Facebook Live, visit Castr here.
Facebook Live Videos Helps Strengthen your Brand
Facebook Pages are a strong foundation for reaching out to new fans. They put your content in one timeline and feature the most popular posts. Like other social platform algorithms, the spread of your page is dependent on user interaction and the content.
The same can be said about groups but on a closer level. In groups, users can only join if they're invited or ask to join and are approved. If you have friends you like to stream with and unique fans who firmly support you, adding them to a group is a great idea.
To make sure your Facebook Live experience goes smoothly, it's advised to understand their community rules and best practices to avoid unexpected problems.
Facebook Livestream Algorithm
But let's get back to the heart of content reach: algorithm. Algorithms rule all social platforms, but Facebook made changes to their system. Liking a page is a good indicator for the system to bump your page's new viewers. The good old go-to of sharing pages is another factor that the algorithm uses to get your post in front of other people.
But in addition to those methods, smaller gestures like reactions and comment chains are also being prioritized. Once all these factors shuffle into the algorithm, they're used to find users who express interest in similar posts.
How to Optimize Your Facebook Video Posts
There are several ways to approach how to live stream on Facebook, but first, let's tackle length. The perfect length for a livestream, according to the data, is 15-20 minutes. Game streamers may feel like this is too short, but the platform treats live game streaming as a separate entity.
For vloggers, businesses, or public personalities, 20 minutes is great for content. It's a decent length for product presentation, IRL vlogs, or mini live shows.
Picking the right title is integral to reaching the most interested viewers. It's best to be straight-forward, but giving people a little intrigue leads to curious clickers. After you get them hooked, make sure to encourage conversation in your chat room.
Being consistent with your streams is also a must, especially if you mention to your viewers that you'll be back soon.
Castr Streaming to Pages and Groups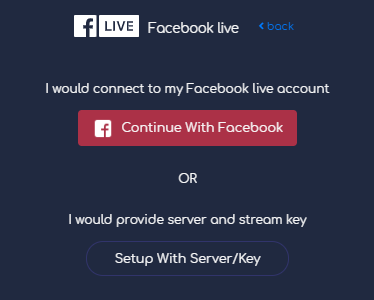 Figuring out how to livestream on Facebook groups and pages is easy on Castr. Once you log in to the account, which has control of both Facebook Live and Castr, add a platform on your dashboard. Then pick the page or group from the down menu. After that, you can fire-up your encoder and stream it to your preferred destination.
You can also stream to pages where you maintain a manager role. It's an excellent way for groups of close-knit streamers to post content to a single group or page.
Join 200,000+ streamers worldwide
With Castr, you can easily livestream videos on any platform in no time.
No Castr Branding
We do not include our branding on your videos.
No Commitment
No contracts. Cancel or change your plans anytime.
24/7 Support
Highly skilled in-house engineers ready to help.