A captivating title and description of your livestream can contribute to piquing the interest of your viewers and garner more attention. You've planned incredible content for your stream. Your configuration in Castr to Facebook is ready. But now you'd like to change your stream's title or video description.
All of this is doable from Castr's dashboard.
The title and description in your Facebook Live are referred to as "metadata" in Castr.
How to Update or Change Facebook Live Metadata
Before you begin:
Updating or changing a Facebook stream's title or description is possible in both Livestream and Multistream projects.
Make sure you've added Facebook as a publish platform on Castr
In your Castr dashboard:
Toggle the Facebook platform (or any other platforms that you're streaming to) to OFF
Click Show Metadata
Update your title and description and click Save in each section
Turn on or connect your encoder (for example, OBS) to Castr
Wait for the stream preview. This should take around 10 to 15 seconds due to the latency from your encoder to the destination site via Castr.
Check if your metadata or title and description are updated.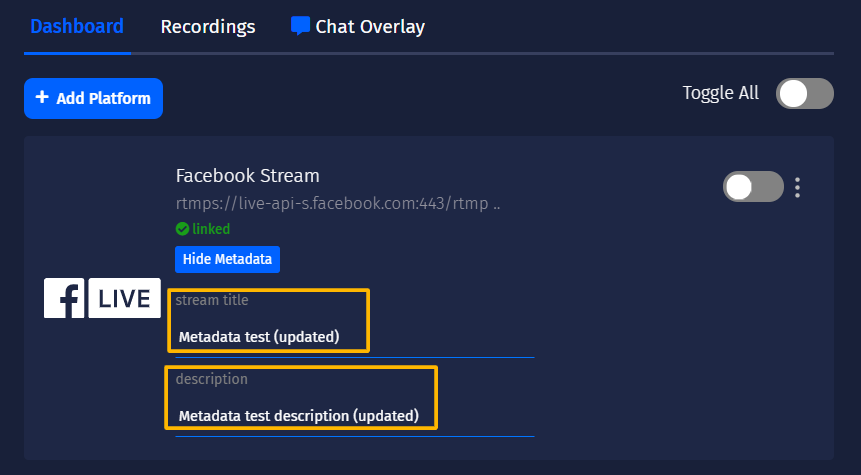 Note: You can change the metadata when streaming on a Facebook Page or Group but not on your timeline. This is due to the technical issues related to Facebook API.
For more tips on streaming with Castr, check out the Tips & Tricks section in our blog, or visit Castr's Help Center at docs.castr.com.
Join 200,000+ streamers worldwide
With Castr, you can easily livestream videos on any platform in no time.
No Castr Branding
We do not include our branding on your videos.
No Commitment
No contracts. Cancel or change your plans anytime.
24/7 Support
Highly skilled in-house engineers ready to help.