The age of digitalization opened numerous opportunities for broadcasters around the globe. With the rise in online streaming channels, the demand for high-quality and professional-grade video content has surged remarkably. However, the broadcasting realm still needs to catch up on potential issues ranging from lost packages to high latency and jitter.
A solution to these roadblocks is evolving rapidly in the form of RIST (Reliable Internet Stream Transport). RIST allows broadcasters to combat these challenges by integrating the robustness of traditional broadcasting into the versatility of an IP network. Furthermore, its ability to establish multiple links has propped it up as a remarkable tool. It can scale up for global broadcasts or trim down for localized applications.
This article is devoted to thoroughly understanding the RIST protocol, its security measures, and the reasons behind its increasing adoption.
What is the RIST Protocol?
RIST stands for Reliable Internet Stream Transport. It is a game-changer for the video industry. RIST is a novel technology designed to enhance video streaming over less reliable networks. In essence, it's a state-of-the-art, UDP-based technology. Its key function is to utilize the current internet bandwidth. This is done to enable professional-grade, low-latency live video streaming.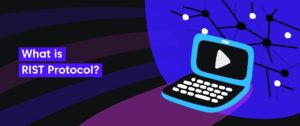 What distinguishes RIST from its counterparts is how it was developed. It has been created focusing on standards. This guarantees technical soundness and interoperability. Video transport vendors are offered unique flexibility. They can tweak their offerings yet still maintain compatibility with other implementations. This fosters continuous improvements within the video streaming sector.
The live video streaming world is often challenged with buffering and caching issues. These are mainly due to fluctuating network conditions. These disruptions impair the stream's quality or even cause its termination. To address this, RIST has developed sophisticated measures. These allow for efficient control over buffering and caching.
RIST is designed on the principle of ensuring interoperability. Users can thus adapt their streams seamlessly under variable conditions. In addition, the protocol introduces retransmission bandwidth throttling. This contributes to efficient internet bandwidth usage. It accommodates video streams of diverse quality levels. Hence, RIST exceeds the limitations of traditional streaming protocols. It ensures that minimal bandwidth is consumed. Thus, RIST certainly holds promise to shape the future of the video industry.
RIST Protocol Security
Known for exceptional security, Reliable Internet Stream Transport (RIST) is gaining popularity in the video industry. The protocol stands out with its dual security approach. It supports Pre-Shared Key (PSK) and Datagram Transport Layer Security (DTLS) certificate-based encryption.
DTLS, in particular, is lauded for its high security levels. This fact is proven by its extensive usage by banks, among other financial institutions. When DTLS is applied to RIST, it acts as a safeguard for the precious video stream. This encryption method significantly promotes the security of RIST transmissions.
Furthermore, the heightened security levels are clear of video transmission's flexibility over the public internet. This unique combination augments RIST's capabilities. It proves especially advantageous for broadcasters that use IP networks for video transmission.
The encryption provided within the RIST protocol serves as a strong defensive line. This assurance secures users' peace of mind regarding protecting their streams. Encryption ensures that such video content remains secure, whether the broadcast is local or global.
Indeed, as technology progresses, security demands will increase, too. However, its unique encryption blend makes RIST ready to face these demands. It appears prepared to handle today's security challenges and gear up for future advancements. Consequently, in today's video streaming and broadcasting landscape, RIST is becoming a reliable partner. It promises a more secure future in the industry.
Why choose RIST?
RIST protocol brings various benefits for video providers delivering high-quality video streams. It promises higher bitrate capabilities, making itself an ideal choice for live sports feeds and professional media workflows that require top-notch quality.
Built on existing RFC standards, RIST has impressively low technical debt. This attracts real-world experience, providing a concrete codebase for developers. They can build and enhance, creating future technologies based on solid standards.
RIST breaks new ground by being the first open specification with interoperable implementation. It enables using Adaptive Repeat Requests (ARQ) in multi-vendor contexts. This is critical in handling packet loss. RIST leverages ARQ technology to selectively retransmit lost packets. This ensures the latency remains low and consistent.
When it comes to bandwidth considerations, RIST provides effective solutions. It includes null packet deletion, which helps maintain minimal bandwidth. This warrants minimal service impact, which is crucial in transport streams.
RIST applies seamless switching techniques to recover lost packets. This ensures minimal service impact, enhancing the overall end-user experience. These seamless switching mechanisms let video providers deliver video content effectively. It even improves the overall broadcast production quality.
RIST boosts its power by integrating measures to protect data privacy and enhance security. Given the rise in cyber threats in today's digital world, this adds a layer of trust. RIST embodies various advantages – it assures quality, offers an open, secure, and standardized approach, and promises an enhanced user experience. By adopting RIST, video providers equip themselves to deliver top-grade services and thrive in the evolving market.
Conclusion
The realm of video streaming has been revolutionized with the advent of the RIST protocol. It assures consistent, high-quality video streaming even in fluctuating network environments. Its stringent security standards, including PSK and DTLS encryption, are a game-changer in the video industry, providing the utmost safety and mitigating the fears of potential cyber threats. The RIST protocol stands out due to its remarkable ability to efficiently utilize the available internet bandwidth, ensuring minimal latency in broadcasting.
Its unique interoperability allows the customization of video streams under versatile conditions without compromising compatibility with other frameworks. Furthermore, the protocol's mechanisms for maintaining minimal bandwidth and handling packet loss efficiently are crucial for seamless video streaming services. Built upon solid standards, RIST demonstrates impressively low technical debt, making it an attractive base for future advancements in the digital broadcasting landscape.
With its multifold benefits and ability to adapt to future demands, RIST is positioning itself as the go-to solution for video streaming and broadcasts. The protocol shows great promise in transforming the current landscape and driving the broadcasting industry toward a more reliable, efficient, and secure future.