Pre-recorded live video is a variation of livestream. Besides the direct livestreaming method on YouTube, streamers can also publish a pre-made video as a livestream. Here's how.
Why Live Pre-Recorded Videos?
What is a pre-recorded, or live recorded video actually? Live, but recorded?
When you upload a video file that you made in advance; and the video is presented as a livestream, you are broadcasting a live pre-recorded video.
A live pre-recorded video is a video created in advance and broadcast as a livestream.
So why would you want to stream live pre-recorded videos? Pre-recorded videos can help you avoid unexpected issues when streaming live. Even though with careful planning, technical problems can still occur anytime during your livestream, causing disruption in your engagement with the audience. For example, you might get a connection lost or you simply forget your script halfway.
Live pre-recorded videos also help clear up your mental capacity to focus on activities like answering live chat questions while the video is playing. Audience engagement is pertinent to closing the emotional gap between the streamer and the viewers. By having your video up and running, you'll have more time and control to interact with the real-time comments and reactions.
Social media algorithms also tend to favor live videos. Therefore, the major streaming platforms like YouTube Live, Facebook Live, or Twitch have enabled the pre-recorded video streaming capability.
Pre-recorded videos give you the benefits of livestreams:
Higher engagement rate. Livestream content tends to generate higher traffic and higher user engagement.
Creating a more authentic, in-person feeling compared to on-demand, offline videos.
Less expensive compared to hosting a live broadcast event.
Saves time. A huge benefit of live recorded videos is that you can schedule the live time whenever you want.
However, keep in mind that there are values that live pre-recorded videos cannot deliver. Livestream videos offer a more organic, natural, real-time human interaction. You may also integrate apps — such as polls, quizzes, surveys, playing games — into your livestream to enliven the whole viewing experience.
How to Stream Pre-Recorded Videos to YouTube from Castr
Now let's dive into how you can use Castr to stream live pre-recorded videos on YouTube.
Step 1: Create a YouTube channel
Make sure you've had your YouTube channel set up. To create a YouTube channel:
Sign in to YouTube
Click on your profile picture on the top right > Your Channel. You'll be asked to create a channel.
Confirm your account information.
Step 2: Create a Castr account
Go to castr.com and create a free account or log in if you have an account already.
Note: Castr's Scheduler feature is available in Multistream Broadcast x2 and higher plans. If you don't have a subscription just yet, you're welcomed to use our 7-day trial.
Step 3: Create a Scheduled project in Castr
Click Create New to start a new Scheduled project > New Scheduled Stream.
Name your stream > Save
Step 4: Set up your dashboard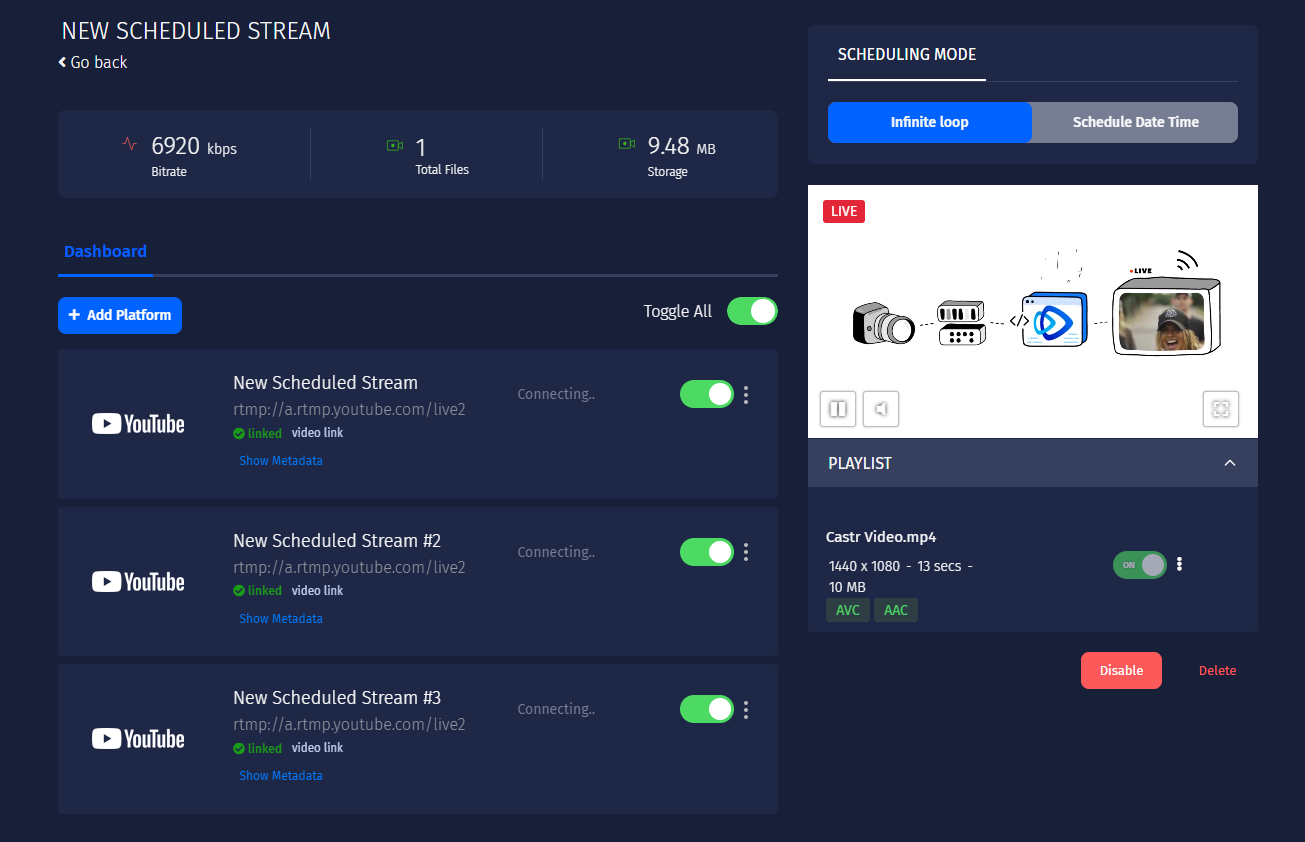 Click Upload Video and import your file.
Note: Castr's Scheduler only supports mp4 files. If you have a different video file format, you'll have to convert it to mp4.
On top of the preview section, you'll see two modes: infinite loop and schedule date time. Select infinite loop to stream a looping video. Select Schedule Date Time to start your stream at a specific time.
Click Add Platform > YouTube Events > Connect to YouTube Events.
Note: Make sure you've already signed in to your YouTube channel.
You'll be directed to a new page. Allow access and close the page.
Under the Select Event dropdown, choose Create New Event or an existing event > Save.
You may add other platforms to your scheduled stream.
Step 5: Livestream pre-recorded video

In your dashboard, click the Enable button under the preview window.
Choose the stream you want to broadcast to and switch the toggle to ON. You may also click Toggle All. Your schedule stream will start shortly in your YouTube channel.
To disconnect your stream from YouTube, switch off the toggle(s), disable, end the stream from your YouTube Studio, or end the stream from your encoder.
Want to Learn More? Check Out These Articles:
Join 200,000+ streamers worldwide
With Castr, you can easily livestream videos on any platform in no time.
No Castr Branding
We do not include our branding on your videos.
No Commitment
No contracts. Cancel or change your plans anytime.
24/7 Support
Highly skilled in-house engineers ready to help.