One of the most common questions new streamers have is, "What's the best upload speed for streaming smoothly?" Apart from a good setup and software, having a fast and reliable internet connection is another crucial element that helps deliver the stream successfully to the viewers without interruptions.
Finding out the best upload speed for live broadcasting videos can take a few more extra steps than it seems to be. The answer takes into account many other details of the stream you want to produce.
A good upload speed ensures that your stream is delivered in high-quality yet does not demand more than your connection bandwidth can handle.
If your upload speed is greater than the bitrate for given video quality and video file size, you should be able to stream that video quality without having any issues. You can use our video bitrate calculator to find the correct bitrate for a given internet upload speed.
What are Internet Speeds? How to Test Your Upload Speed
Back to the basics, internet speed means more than how fast a page loads when connected and online. There are two types of data transfers when a device ingests or uploads data: Download rate and upload rate.
Downloads
Download rate represents how many bits of data your device can receive from the internet using the connection. When you receive information from the internet, you are downloading that content in the form of bits. 
That means, whenever your device retrieves data from the web for any type of content – text, images, or videos, it depends on the download speed to define how fast they load. 
Uploads
In contrast to the download rate, the upload rate is the process of sending information or data from your device to the internet. The upload speed is the most important when considering your connection to the internet.
From posting an image, sending an email, uploading videos, to broadcast live using the local connection, the upload rate is the make or break element for you. 
How to test your upload speed
Both download and upload speeds are measured in megabits per second (Mbps). Most of the time, upload rates are lower than download rates due to the asymmetric design of most modems.
No matter which sites you are live broadcasting to – YouTube, Facebook, Twitch, or more, streaming will require much bandwidth from your network for a decent upload speed. This site provides a quick test with details of your current connection speeds. Remember that the upload number is the most important part that you should pay attention to. 
The Anatomy of Uploading Bandwidth for Live Broadcasting
Encoding is needed for streaming content to the internet. Both the video and audio content must be compressed to lower the consumption of uploading bandwidth and create a smooth stream for the viewers. There are two options for encoding streamed content: software encoder (OBS) or hardware encoder. Each codec has its advantages and disadvantages. 
More than compressing your streaming content without sacrificing quality, a codec also gives you control over the resolution and bitrate, which will require different upload speeds for the desired quality.
In other words, to know how much upload bandwidth you need from your internet service provider will depend a lot on encoding, the resolution, frame rate of your stream. In addition to that, these aspects are closely related to the stream bitrate and the content you want to stream. 
The three most popular platforms for live broadcasting in the present are YouTube, Facebook Live, and Twitch. 
Here are the recommended bitrates for a basic 720p30 stream from each site:
Facebook Live: A max video bitrate of 4,000 kbps with a max audio bitrate of 128 kbps. 
YouTube Events: A range of video bitrate between 1,500 and 4,000 kbps, plus 128 kbps for audio.
Twitch: A range of video bitrate between 2,500 and 4,000 kbps for video plus 160 kbps for audio.
The Best Upload Speed for Livestreaming
There is no absolute answer to this issue, as it depends greatly on many other variables. A good upload speed is the one that allows you to deliver a reliable stream when the viewers access it. 
Let's say you are broadcasting a live video at a resolution of 720p, 30 frames per second. You will need an upload speed that can handle up to 4200 kilobits of data per second. However, if your internet connection is not stable, it is crucial to have a 35% to 40% buffer. That means an upload rate around 5.7mbps would secure your stream better in case of fluctuation. 
Before diving into the best upload speed for streaming, here's a simple rule of thumb: The more frames per second your stream needs, the higher the bitrate will be, and the faster the upload speed has to be.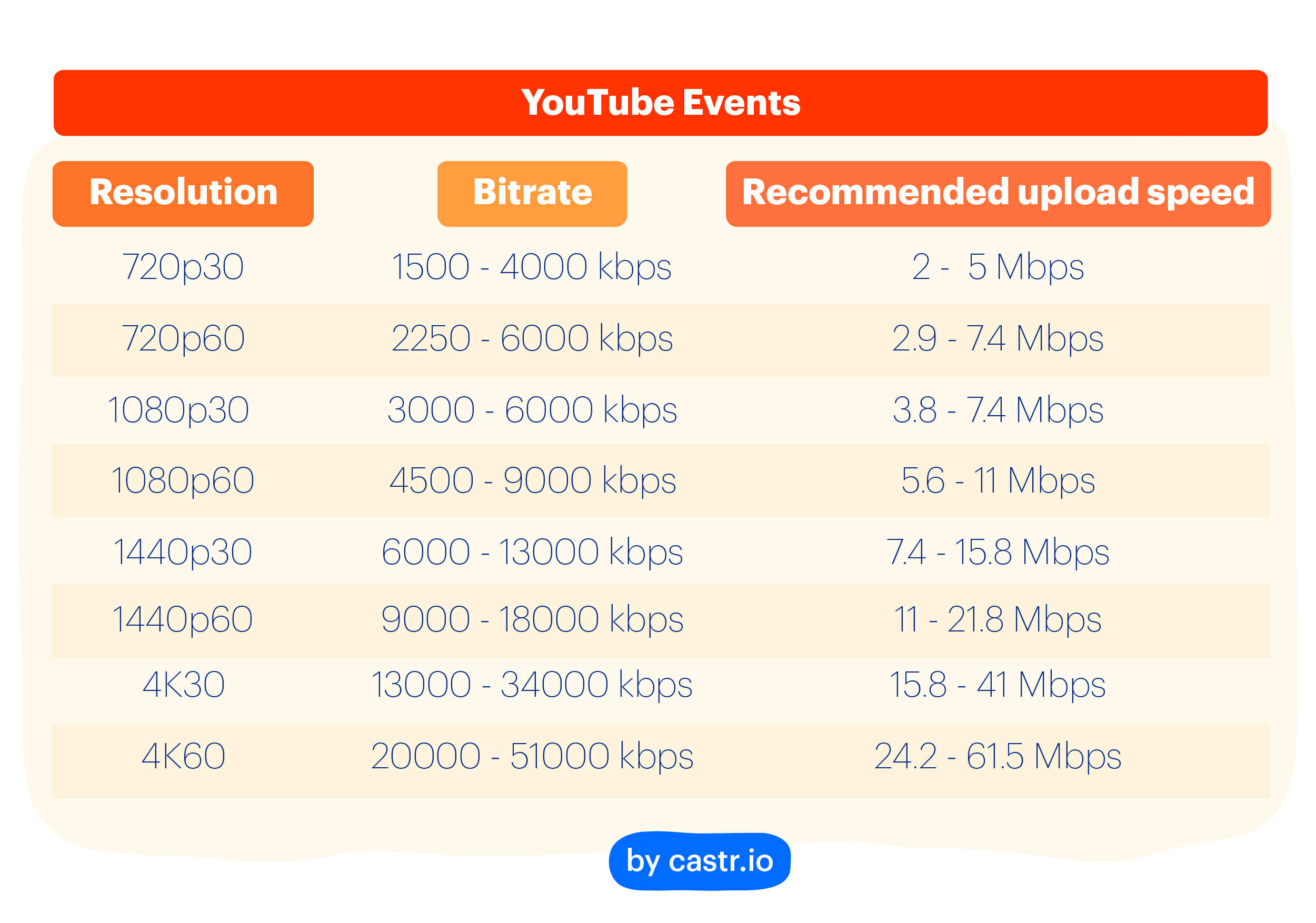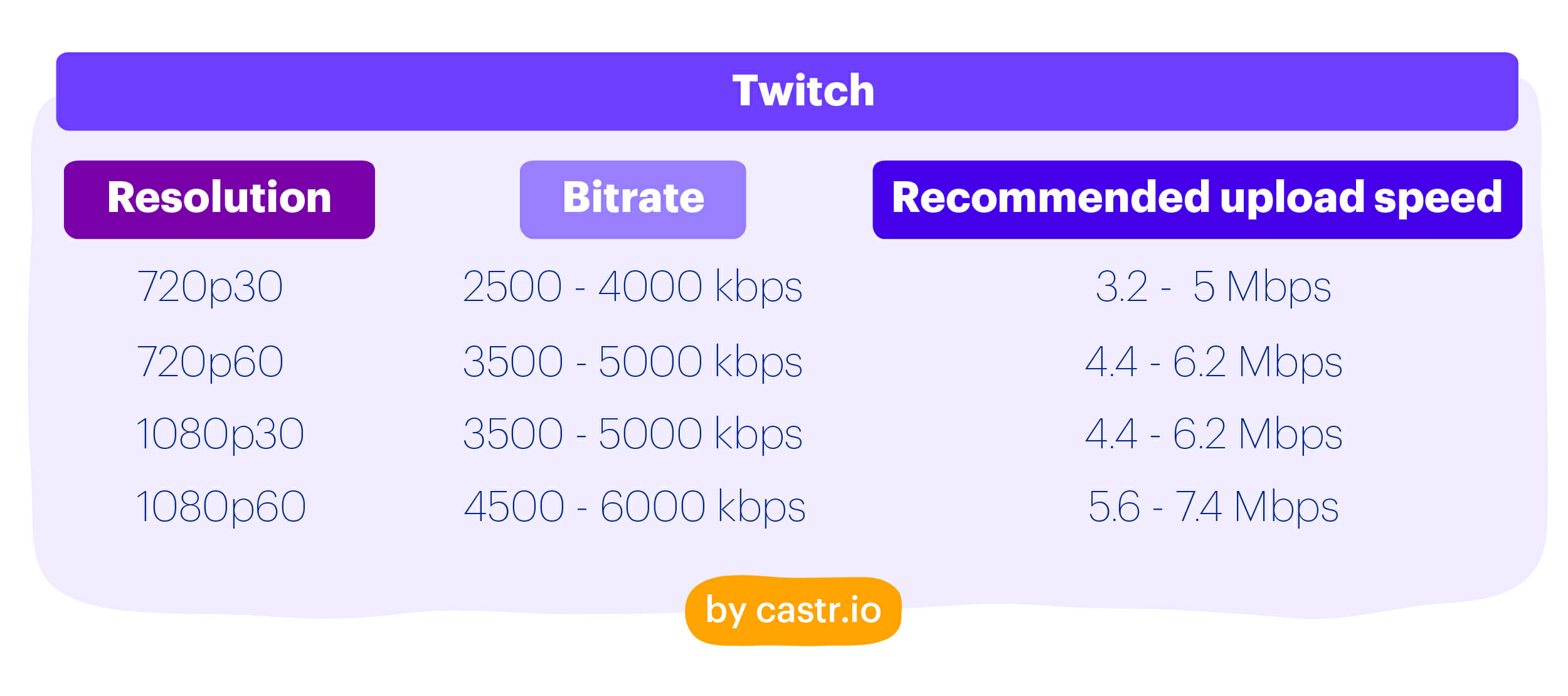 How to Best Utilize Your Upload Speed for Streaming
The results of your speed test might not match with the numbers that your internet service provider (ISP) claims to have. Therefore, remember to run several tests and comparisons to see how much your connection can handle. The maximum upload speed depends on the service packages you get from your ISP, which varies from time to time.
Here's how to solve slow upload speed and give it a boost for streaming.
Use wired connection
Wireless connection is convenient for simple tasks without much demand for stability and quality. Livestreaming with quality relies strongly on how stable your connection is. A wired connection is a must to provide the best downloading and uploading speeds without interruptions.
Remove excess tasks from the network and your device
The bandwidth of your network is shared among the devices it is connected to. Make sure your connection is private with password protection and check for any hidden connection that is hogging your network. 
The computer that you are streaming from is another important factor that affects your upload rate. It is best to close the unnecessary programs when streaming and leave space for your encoder.
Secure yourself from harmful malware
Running a full check for malware will be highly helpful in removing them from your computer. Pop-up ads and online tracking can be consuming your upload bandwidth as well. Remember to have ad blockers and privacy tools in place to prevent these unwanted programs.
Use the latest software and devices
Broadcasting live videos could be a massive task for an old computer. The slow processing of the device can cause disruption to the speed of your stream, including old modems for the connection. Make sure to use up-to-date hardware and software for livestreaming to get the highest quality possible. 
Final Thoughts
Many factors decide the internet speed you need for a smooth live broadcasting: the platform you are streaming to, the bitrate, the quality you are aiming for, and so on. 
If you plan to broadcast simple content, creating a smooth livestream might not require the fastest upload speed. Ideally, it takes a few test runs to figure out the best upload speed that fits your content and the settings you have.
Join 200,000+ streamers worldwide
With Castr, you can easily livestream videos on any platform in no time.
No Castr Branding
We do not include our branding on your videos.
No Commitment
No contracts. Cancel or change your plans anytime.
24/7 Support
Highly skilled in-house engineers ready to help.