Many social platforms have strict standards you need to meet before you can go live. While they aren't hard locks that prevent you from broadcasting, they can mess with the streams on your social platforms. Issues like dropped frames or lags can be caused by a poor understanding of encoder settings.
With this in mind, here are the settings you need to figure out how to livestream on Castr, or almost every streaming service.
How to Livestream Videos: The Basics
To boil down how this service works, Castr connects to your encoder through the dashboard and broadcasts the signal that you send. It provides a stream key and URL like the ones you collected from your social platforms.
Open Broadcaster Software (OBS) can be set to connect to Castr's servers using the options on the stream page. All you need after that is your stream key from the dashboard you created. For other encoders, Castr has to be set as a custom 'RTMP' link if they provide the option. In this case, the URL and key are both necessary to connect to the software.
A rule of thumb: regardless of which service you use, never share your stream key and URL If you want to keep your streams secure. Keep it to yourself and the people you trust.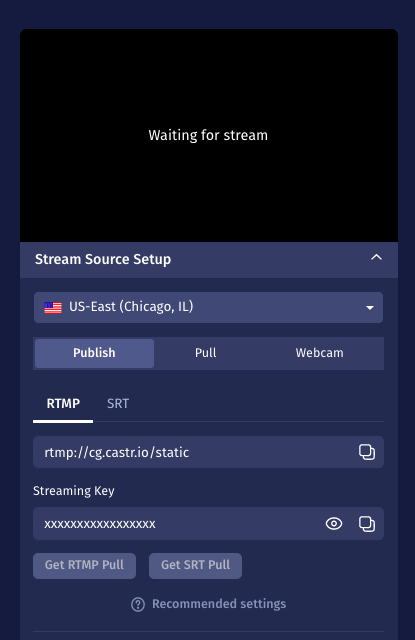 (Streaming user-interface on Castr. Learn more at castr.com)
HD Resolutions, Bitrates, and Keeping Good Frames
Since global internet speeds are becoming faster and more stable, streaming and viewing at HD resolutions is easier. It's always better to have 1080p FHD streaming smoothly. But you may not be aware of what keeps those settings stable.
With that in mind, let's talk about stream resolutions. 1080p requires at least a 3 mbps to 6 mbps bitrate to stream at 30 to 60 frames per second. Remember that these are the max settings for 1080p, or FHD. But if you're willing to downgrade, 720p can run smoothly on 3.5 to 5 mbps so that 30 to 60 fps broadcasts easily.
On either resolution, you can edit your output and video page on OBS. Different encoders should also let you change these settings as well.


Bitrates, Your Internet Speed, and Stability
As much as the internet has evolved, you can still run into walls when learning how to live stream. Wifi can be fast, but a lapse in the connection can show up as a big delay between the broadcast and your stream. A wired connection ensures a smoother experience for you and your viewer.
Regardless, it's advisable to know your exact upload and download speeds. The suggested settings for the resolutions and bitrates above are solid. So stacking heavy programs on top will result in lag and delay.
Running a simulcast stream is easily possible as long as you understand the difference between your desired stream and what you can output smoothly. You can always check how solid your internet is through tools such as www.fast.com.
Do These Settings Affect Video Livestreams on Castr?
As a short answer, no. Once you have your stream setup and ready to go, Castr will broadcast your signal with no issue. The settings above are for accommodating your internet speed and the resolution you want to stream with and have no effects on Castr.
Join 200,000+ streamers worldwide
With Castr, you can easily livestream videos on any platform in no time.
No Castr Branding
We do not include our branding on your videos.
No Commitment
No contracts. Cancel or change your plans anytime.
24/7 Support
Highly skilled in-house engineers ready to help.