According to the Global Web Index, more than 80% of consumers said they watched more video content in 2020, especially in the situation of the pandemic outbreak. Among the video content, the live-streamed videos have received a surge in production and consumption, making it one of the few industries that grew significantly in the last year.
There are many livestreaming platforms for both streamers to put their content out and for viewers to entertain and follow their favorite influencers. With that being said, Facebook, YouTube, and Twitch are the three most common platforms with the largest pool of users on the Internet out there. For new and small streamers, it can be difficult to pick a platform to get started with livestreaming that can reach as many viewers as possible.
This is where multistreaming comes to the scene. Simply put, multistreaming is broadcasting your livestream to more than one platform at the same time.
Should you start multistreaming to Facebook, YouTube, and Twitch at the same time? What are the benefits? How to start streaming to these platforms in just a few steps? This article will walk you through it all so that you can decide for yourself!
Why stream to Facebook, YouTube, and Twitch at the same time?
Multistreaming can help unlock many benefits without you putting in too much effort in the setup part and focus on perfecting your content. Plus, you can also maximize the reach and take advantage of each platform and gather more insights and feedback on your content from a diverse group of users.
Depending on your content and the audience you are aiming to, your choice of platforms can vary. The combination of Facebook and YouTube, the two biggest social platforms with a diversified user pool, is ideal for businesses or streamers who want to reach more audiences.
For example, Facebook heavily prioritizes live video content over other types of content on the platform. Therefore, you can easily reach more potential viewers if you decide to include Facebook as one of the multistream destinations.
How to multistream to Facebook, YouTube, and Twitch at the same time with Castr
Castr offers livestream solutions for all streaming demands: Livestreaming, multistreaming, VOD hosting, or IP camera streaming. Its interface is streamlined for livestreaming without any technical requirement to stream to more than 30 different platforms.
Castr can be easily connected with any encoder and stream from worldwide servers for the best delivery quality no matter where you are.
4 steps to start streaming to Facebook, YouTube, and Twitch at the same time:
Log in, or create a new Castr account 
In the dashboard, create a new stream. To learn more about going live with Castr, check out this blog.
After setting up the Stream Name and Server, you can begin to add platforms to your stream using API integration or Stream Key and Stream Server.
Set up OBS Studio for streaming as your preferences, and connect with Castr:
Using RTMP URL: In OBS's Stream settings, choose castr.com as the Service then paste the Stream Key generated in the Castr dashboard to finish connecting.
Using SRT URL: In OBS's Stream settings, choose Custom in the Service dropdown. Paste the SRT streaming URL generated by Castr and leave the Stream Key box empty to finish connecting.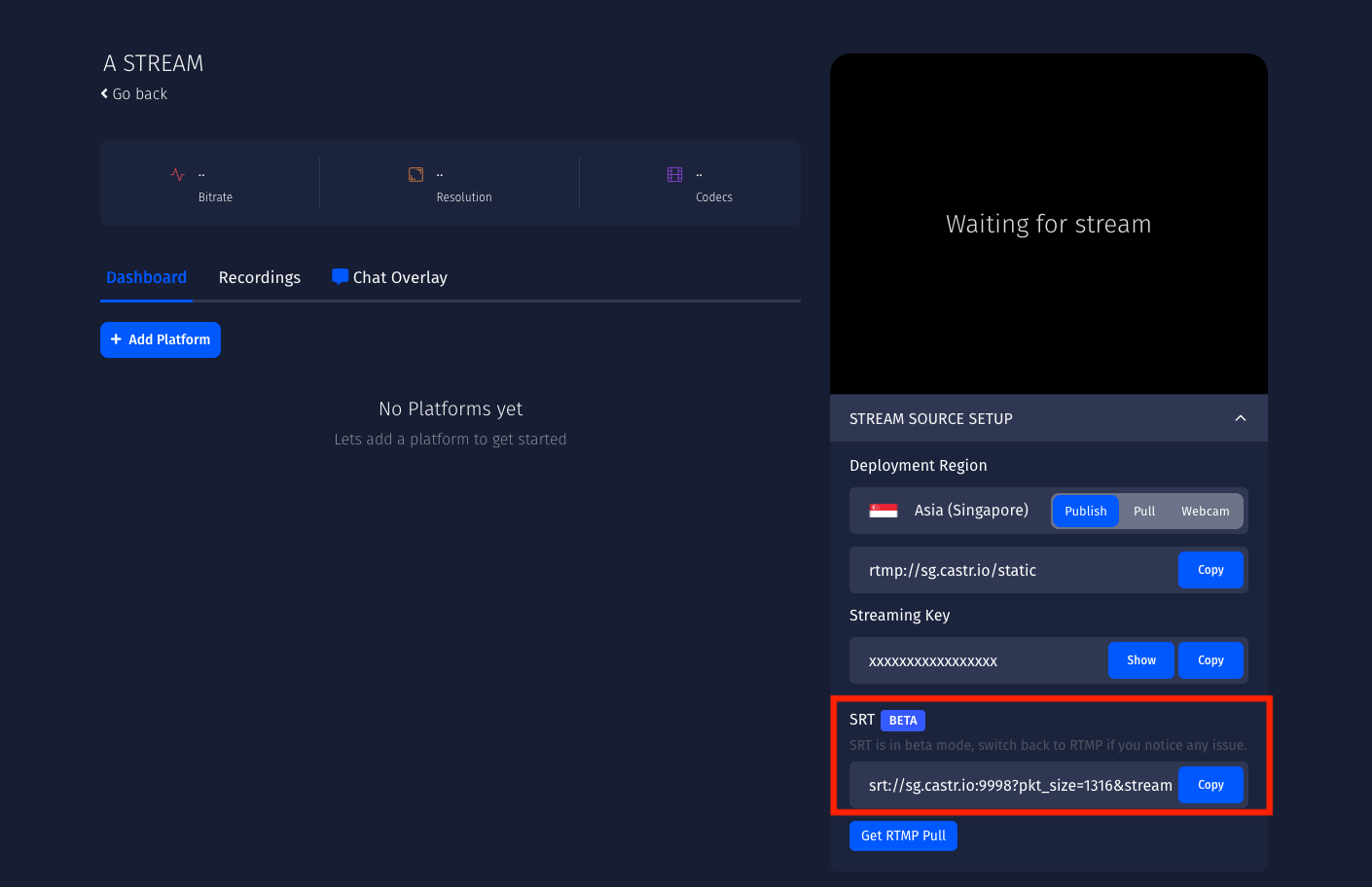 See our suggestions on how to set up OBS when streaming with Castr, here.
Extend streaming from Facebook, YouTube to your Website at the same time
Besides the multistreaming features, Castr also provides embeddable players for you to add the streaming video anywhere you like. Here's how to get the HTML5 player for your stream: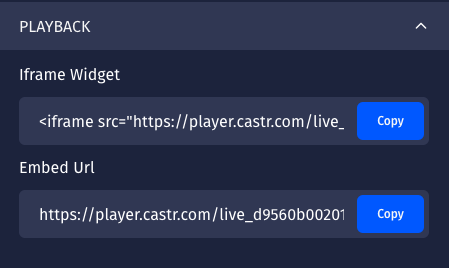 Livestreaming with Castr is secured with features like Password Protection, Geo/Country Blocking, and Domain Whitelisting. Even better, the playback player is hosted by Castr without any ads so that your stream is not interrupted for the viewing experience. To learn more about the benefits Castr offers for your livestream needs, check out this blog.
Conclusion
Streaming to Facebook, YouTube, and Twitch at the same time helps you make the most out of all the great benefits these platforms have to offer. Why choose just one when you can steam to multiple platforms at once? You can get Facebook's extended reach, YouTube's quality and insights, and Twitch's centralized users–all of these advantages are achievable with multistreaming.
The last step for multistreaming is choosing a solution provider that meets your needs with ease of use for users at all levels. You can check out Castr with the 7-day free trial for both livestreaming and multistreaming. Get started in no time and reach more viewers with Castr now!
Join 200,000+ streamers worldwide
With Castr, you can easily livestream videos on any platform in no time.
No Castr Branding
We do not include our branding on your videos.
No Commitment
No contracts. Cancel or change your plans anytime.
24/7 Support
Highly skilled in-house engineers ready to help.