An overview of streaming with Castr
According to Cisco's Annual Internet Report, it is forecasted that video content will be 80% of all Internet traffic in 2021. The steady growth of live content, both for creational and business demands, is making livestreaming platforms more important in the coming years.
Castr offers streaming solutions for a variety of use cases: Church Streaming, Live TV Streaming, Sports Streaming, Games Streaming, and Education Streaming. In terms of products, Castr offers livestreaming, multicasting, video hosting services, and more—all easily accessible by anyone without prior experience.
Castr leverages the latest technologies and user-friendly dashboard to deliver streams with the highest quality and viewing experience. Here are the nine reasons why you should start streaming with Castr now.
Why you should livestream with Castr: The 9 benefits
Reach new audience cross-platform
For those who just started streaming or those who already gained followers, broadcasting your content to new audiences is always a good thing. The more your audience grows, the better it leverages your exposure to more people who have not known of you yet.
Livestreaming does not have to be limited to a single platform with one type of audience only. Using Castr to deliver live content gives you the option to stream on multiple platforms simultaneously.
1. Multistreaming with Castr
By definition, multistreaming is having more than one destination or content delivery network (CDN) for your stream. In Castr, multistreaming is also defined as simulcasting.
Multistreaming takes regular livestreaming to the next level with same-time broadcasting technology. You can mix up streaming between the social platforms and more live broadcasting dedicated sites. This helps to reach not only the "regular" audience on social media but also the more "niched" viewers on other streaming platforms, and vice versa.
For example, suppose you are a gamer, and you have been streaming your gameplay content on YouTube for quite some time. In that case, multistreaming allows you to reach a broader audience on Twitch—another renowned gameplay streaming platform.
2. 30+ platforms integrated for all purposes
Castr has extensive integrations with many streaming platforms for any need for sharing content. Whether the stream's content is about social, business, gaming, or lifestyle on Facebook Live, Livestream, or Vimeo, Castr's users can integrate natively and quickly in no time.
See how to connect to multiple platforms and the list of Castr's supported platforms in this blog.
Besides the supported platforms, Castr also lets you stream to any custom platform. All you need are an RTMP entry point to connect with Castr and the stream key. The custom RTMP setup applies to almost all destinations except for Instagram, which has not supported RTMP yet.

A scheduler for pre-recorded content
We know livestreaming does not always have to be live. Many content creators stream their previously scripted, recorded, and edited to offer their audience the highest quality.
Streaming pre-recorded content gives you the flexibility to control the production, the pace, and the time it goes live without you having to monitor it constantly. It works best for those who target a group of viewers that lives in an entirely different timezone. Scheduling the stream ensures the video is broadcast to its exact audience with minimal concerns.
Castr comes with two Scheduling Modes: Infinite Loop and Schedule Date Time.
Infinite Loop: If you choose this mode, the pre-made video will be streamed live to the assigned platforms as a loop. The stream can go on endlessly for 24/7 channels—reaching viewers at all destinations and without interruption.
Schedule Date Time: This mode simply means Castr will stream your video at the scheduled date and time. First, you upload the MP4 video to Castr, select the platforms you want to stream on, set the date and time you want, and Castr will take care of the rest.
Stream in HD with smooth quality
Adaptive bitrate streaming (ABR)
Adaptive bitrate streaming offers many benefits for both the streamer and the viewers. It minimizes latency and prevents lags or stutters for the stream, making it a smooth viewing experience for all viewers.
Castr offers HLS built-in that enables ABR for your stream with ease. In Castr's Video Settings tab, simply toggle on the Multi-Bitrate Transcoding button to start enjoying streaming with multiple bitrates.
Powered by Akamai and Fastly
Castr users get Akamai and Fastly CDN support out of the box. That means your stream is best optimized for both performance and security. Akamai and Fastly are two major content delivery networks that enable smooth video streaming experiences with the slightest delays.
Worldwide servers/ingests
Castr has servers for streaming all over the world. Especially for the US market, there are 4 different servers distributed alongside the country. Multiple hosting helps deliver your stream smoothly with the shortest passage possible and decreases latency as well.
"We are using castr.com for our live stream productions with out any problems, the latency is great and the fact they have servers around the globe allows for stable streams even from the US to Europe, etc."—Timothy Ross, VP – Esport Battlefield International
Stream recordings stored on the cloud
Do you know that your ownership of the live content on Facebook Live and YouTube Live is restricted? "By providing Content to the Service, you grant to YouTube a worldwide, non-exclusive, royalty-free, sublicensable and transferable license to use that Content"—YouTube Terms of Service.
Castr offers you unlimited cloud recording for your streams. After you finish streaming, it automatically records the streamed content in the MP4 format and stores it on the cloud. That means you entirely own your content, which can be downloaded anytime and reupload anywhere you want.
Embeddable HTML5 player for your websites
For businesses and enterprises, the need for branding and customization for customers is one of the most important factors when it comes to livestreaming. To best tackle this demand, businesses are steering to stream video on their own website using embedded players.
The embedded players come included in Castr's livestreaming solution. All livestream video is provided with a URL to embed the broadcasting player to any website—while simultaneously streaming on other sites if needed.
Stream ads-free and branding-free
It does not benefit your brand if the viewers can only see the YouTube logo or log in to a social platform to start watching your stream. Plus, going live on other platforms risks the chance of unwanted advertisement from the hosting service. These minor details can affect your viewing experience substantially without you noticing it.
Besides providing top quality for the streams, Castr does not include any branding or advertising in the video player and the content. You're free to create your own branded content, broadcast it to the viewers, and get the best quality without any unwanted detail.
Gain insights and analytics of the streams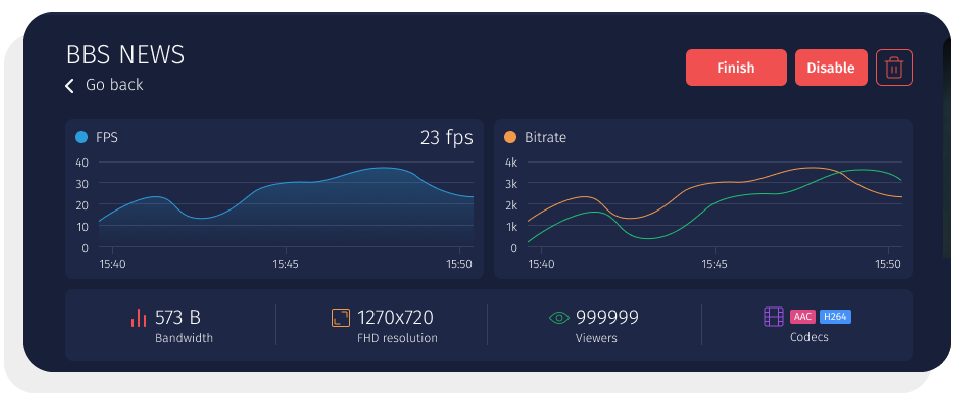 You can easily view the analytics of all your streams inside the Castr web app. The data is automatically collected and displayed in the Analytics tab with visual demonstrations for more insights.
Additionally, you can also connect and enable Google Analytics easily in Livestream. The in-depth analytics of your embed player is accessible with a simple toggle in the Settings tab. Castr believes the insights and analytics are valuable for the streamers to improve their content quality further the right way.
Stream with Security
Castr Dashboard has a dedicated Security tab to help you secure the stream easily and effectively. In the Security tab, users can easily find and turn on the protection they want:
Password protection
Geo-blocking
Geo-whitelisting
Domain whitelisting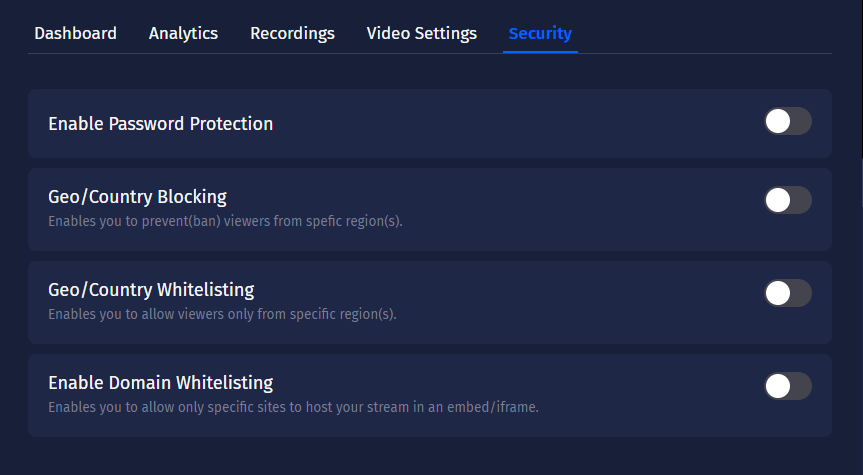 Stream with 24/7 support
For new streamers, Castr understands that there's a lot to learn. From the brand new terms and definitions to the setup requirements to have the highest quality for the stream, plus attracting an audience of your own as well.
If you go live with Castr, there's one less thing for you to worry about. Our highly skilled in-house engineers are available for assistance 24/7. You can also find help in our docs and blog to discover new features as well as the best practices to have a successful livestream with Castr.
Conclusion
Castr is growing steadily and gaining trust from many customers from different backgrounds and demands. With a well-designed pricing plan for all scope of use, Castr fits both individuals and at all sizes to begin streaming.
Get your own 7-day free trial with Castr and experience the streaming platform for yourself!
Join 200,000+ streamers worldwide
With Castr, you can easily livestream videos on any platform in no time.
No Castr Branding
We do not include our branding on your videos.
No Commitment
No contracts. Cancel or change your plans anytime.
24/7 Support
Highly skilled in-house engineers ready to help.