In the content industry, video is undoubtedly an important element. It is a kind of content that the user in any format can view. However, it is not easy to access video content because it needs high-quality internet bandwidth.
Video broadcasting is a popular form of content distribution in the digital age. With higher data rates and larger bandwidths, video streaming has become more accessible to many people worldwide.
In content delivery, VOD Streaming is the latest innovation in video broadcasting. It allows for high definition, live streaming of whatever you want to watch so that it can be watched at any time on your computer or mobile device! VOD Streaming platforms also provide an archive of previously broadcasted content, making for easy access and convenience.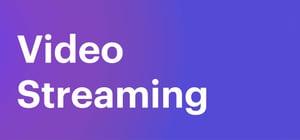 Video on demand (VOD) streaming is the future of content delivery and broadcasting. In the video streaming industry, it has already become the dominant player. With its unbeatable quality and convenience, VOD Streaming is sure to take over the entire content industry in the near future!
As VOD technology is going to lead the next wave of innovation in broadcasting and content delivery, it is important to stay ahead of the curve and learn all you can about this exciting technology!
This blog will look into the history of VOD Streaming, what it is, and how you can use Castr's VOD service! Let's get started!
What is VOD Streaming?
When you listen to the term VOD, several questions are likely to come up in your mind- what does VOD mean? What is VOD Streaming? What types of video on demand (VOD) streaming services are available nowadays?
In essence, VOD stands for Video On Demand. It's a form of streaming that allows users to watch video content on their computer or mobile device whenever they want. This means that the video is not live, but rather it has been pre-recorded and made available for streaming at a later time.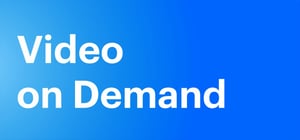 Netflix, Hulu, and Amazon Video are just some popular streaming services that provide access to VOD content.
Through each one of these providers, users have access to a library of movies and television shows that can be streamed at any time. The only difference between them is the content that they offer.
VOD hosting platform is the program that enables you to stream videos on demand from your website. Besides, it allows monetizing, video hosting, delivery, video management, video analytics, and much more. These video hosting platforms use Content Delivery Network- CDN to provide you with the best video streaming experience. CDNs have servers located worldwide that help stream videos more quickly.
And it's not all! VOD services can be used for various applications such as video conferencing and online gaming, healthcare, and educational programs. So you see, this technology is very versatile in its application.
Castr is the video hosting platform that enables businesses and individuals to upload, share and monetize their videos. Castr's live video streaming service also offers VOD capabilities for users to store and watch on-demand content.
Top 3 Monetization Models of VOD Streaming Services
When it comes to VOD streaming, providers use three popular monetization models- subscription model, advertising model, and transaction model. Let's take a look at each of these models.
SVOD-Subscription Video On Demand
SVOD stands for Subscription Video On Demand. In this revenue model, providers charge users a monthly fee (often yearly) for accessing VOD content.
Netflix is an example of such VOD platforms as it provides its subscribers with unlimited online streaming and does not charge them per individual video.
TVOD-Transactional Video On Demand
TVOD stands for Transactional Video On Demand. This VOD model is based on users paying to watch a single video or a limited number of videos.
An example of this type of VOD platform would be iTunes, as users can purchase and rent movies and television shows individually.
AVOD-Advertising Video On Demand
AVOD stands for Advertising Video On Demand. This model often incorporates aspects of both TVOD and SVOD business models. It allows users to watch videos free of charge with short advertising breaks between the video content.
Rentals on iTunes are an example of this type of service, as they allow users to watch a movie or television show for a set period without ads.
Besides these three, based on industry verticals, VOD can be categorized into the following segments:
Media & Entertainment
E-Learning Platforms
Others
Growth and Future of Video on Demand Business
Video on Demand is a booming sector in the video streaming industry. Business prospects of VOD companies have constantly been rising, and so has the competition. However, the industry space for these companies is huge, and there's ample room for everyone to grow. The boom in the industry started with the launch of Netflix, which revolutionized movie watching to a great extent.
Video hosting platforms like Castr makes the streaming of videos on VOD easy. A report of Marketsandmarkets states that the global Video on Demand market size will grow to $87.1 billion by 2024.
VOD services like Netflix, Disney+, Paramount, Sony, and other popular Digital Cinema Initiative will dominate the digital video distribution market.
The growth in the industry can be attributed to factors like an exponential increase in demand for HD quality videos, increasing internet speeds, increasing smartphone penetration, growing popularity of streaming services, etc.
Advantages of VOD Streaming service
There are many benefits of Video on Demand services. Some major ones include:
VOD access to a Wide Range of Devices:
Today's VOD services are available on a wide range of devices. You can watch them on your smartphone, laptop, TV set-top box, etc.
VOD has No Hard-and-Fast Time Limitation:
Video on Demand streaming service allows you to watch videos at any time without expiry. You can take as much time as you want to watch a video.
VOD Can Be accessed from Anywhere:
You no longer have to be at your home to watch a movie. With VOD services, you can watch them on the go.
Immediate and-Fast Service:
User can access their favorite content without waiting for it to download. The videos are available in real-time, which means they can be accessed anywhere, anytime by anyone.
VOD Provides Unlimited Viewing Access:
Unlike DVDs or other video formats, you don't have to worry about the number of times you can access your content. You can watch the videos as many times as you want with VOD services.
VOD Services are Cost-Effective:
VOD services are way cheaper than purchasing DVDs or buying videos in the form of hard copies. You can avail any number of films under a fixed subscription plan which is affordable.
Reach to Wider Audience via VOD:
VOD services offer a wider audience and greater reach for distributing your content. They give you more exposure and potential target customers, which you can't achieve through any other medium.
High Conversion Rate:
A VOD streaming platform gets the highest conversion rates for any form of content. If you have a good library, your audience will watch every video and be interested in learning more about your product or Service.
Conclusion
Since its inception, Video on Demand has been evolving and has become one of the most popular streaming services. The advantages it offers over other mediums are many, which is why its popularity will continue to grow in the years to come. If you're looking for an excellent way to reach out to your target audience, VOD is the way to go.
Castr offers an easy-to-use VOD streaming platform that helps you reach out to your target audience with ease. With our high conversion rates, you're sure to get the most out of your investment. Sign up and get our best services.