What is VOD?
VOD, short for video on demand, is a media distribution system in which videos are made available online at all times for the viewer's convenience. Anyone with an Internet connection and access to the content can simply hit play and view the content on their demand.
In other words, VOD means that anyone can access the content anytime and anywhere. In contrast with the outdated method of using a physical DVD or player, media content can be delivered quickly and easily through the internet without any constraint of timing or scheduling.
VOD technology has broken through the broadcast television industry by combining content distribution via the internet by storing data online.
What are VOD Streaming Platforms?
VOD streaming platforms store the video in their library for their users to access at any time. Netflix, YouTube, and Hulu are some of the platforms that use the VOD model. While some platforms have their video library accessible by everyone for free like YouTube, others have certain subscription models, like Netflix and Amazon Prime Video.
However, the uses of video on demand are not limited to entertainment content only. New employee training programs, online learning, and customer education programs are common applications of VOD models for businesses and enterprises.
The Benefits of Video-on-Demand Streaming
With VOD, the streaming content is completed without flaws and is always available whenever your users need it. VOD lets you leverage the power of post-production to the fullest. You can polish, edit, and give the video the concept you want to deliver your message.
Whereas with livestreaming, impromptu performance might be stressful for those without public speaking and performing skills.
The VOD model is a great way to generate profits from the video content instead of using it for pure marketing purposes. VOD libraries are available perpetually and without limit. You are the one who decides whether or not the viewers have to be subscribed or signed up to access your media asset.
VOD streaming also makes it convenient for the audience to watch videos whenever they want, pause, and come back at any time as well. It is clear to see how Netflix and Hulu have overthrown traditional TV services, thanks to its convenience and varied content types.
Live Streaming vs. VOD: Choosing the Right Method
While livestreaming provides the audience with a sense of real-time connection, VOD streaming serves its opposite. With VOD streaming, the viewers can watch on their own schedule, with the pace they'd like, and on any device they have.
Although the two terms explain different streaming methods, livestreaming and VOD should not be exclusive from one another. Especially for businesses that are getting into livestreaming to connect better with the audience, VOD is a great addition to best utilize the content available after the live sessions.
Livestreaming is an effective way to engage with the audience with real-time interactions. Combining livestreaming with VOD streaming takes it to a higher level by repurposing the live content after the stream sessions. You could reupload the content on any platform to make it on-demand videos so that anyone can rewatch or watch it later if they missed the livestream.
OTT vs. VOD: Same Same but Different
OTT, short for Over-the-top, is a term for streaming content over the internet. OTT's applications mostly leverage video content and media assets. The term OTT is developed when the internet becomes more popular for businesses. It is a cheap, easy, and effective way for businesses to create and distribute useful content to the consumers.
Compared to traditional cable and telecom networks, OTT makes it much more simple to make the content reach a sizable audience without much cost.
The two terms VOD and OTT, can be easily confusing for those who are just getting started with streaming. That is because OTT stands for the distribution model, explaining how the video content travels from one destination to another over the internet. Meanwhile, VOD is the consumption model that describes the video content that can be played back on demand.
OTT makes it possible for video content to be distributed over the internet, hence streaming services like Netflix and Disney+. This is where it gets overlapped with VOD streaming. However, note that the content delivered with VOD is never streamed live that can be applied to enterprise settings as well.
Three Monetization Models of VOD Streaming
As mentioned above, VOD is an ideal approach to earn an extra profit off of your content. There are several models that apply VOD and earn revenue from the content to best utilize streaming and its benefits.
Subscription Video on Demand (SVOD)
Subscription Video on Demand, or SVOD, allows for unlimited access to the video content for a recurring charge. This approach is the best fit for the services with a big video library like Netflix, ESPN+, or HBO Go.
SVOD is most familiar with viewers using streaming services to access the exclusive content produced and made available only on that platform.
Transactional Video on Demand (TVOD)
Transactional VOD is the concept of pay-per-view streaming content. This type of streaming is usually ad-hoc, which includes boxing matches, concert broadcasts, or cinematic releases.
Advertising VOD gives users free access to the streaming content with advertisements included. With AVOD, businesses can earn revenue through advertising without applying paywalls or ongoing subscriptions for users.
Get Your VOD Project Started with Castr
Castr's video hosting service allows you to host video content securely and deliver it globally with minimal effort. Castr's VOD Hosting solution not only stores your media, but it also provides an embed player, HLS URL, and Geo-Blocking plus Password Protection for security.
Here's how to upload your MP4 files to Castr and begin streaming to OTT delivery platforms like Roku, Amazon Fire TV, Apple TV, and more.
Upload video files to Castr
Log in to Castr Dashboard
Go to the Video Hosting tab
Create a new folder and give it a name > Save
To add video files, click New > Choose to Upload from your device or Import from Cloud storage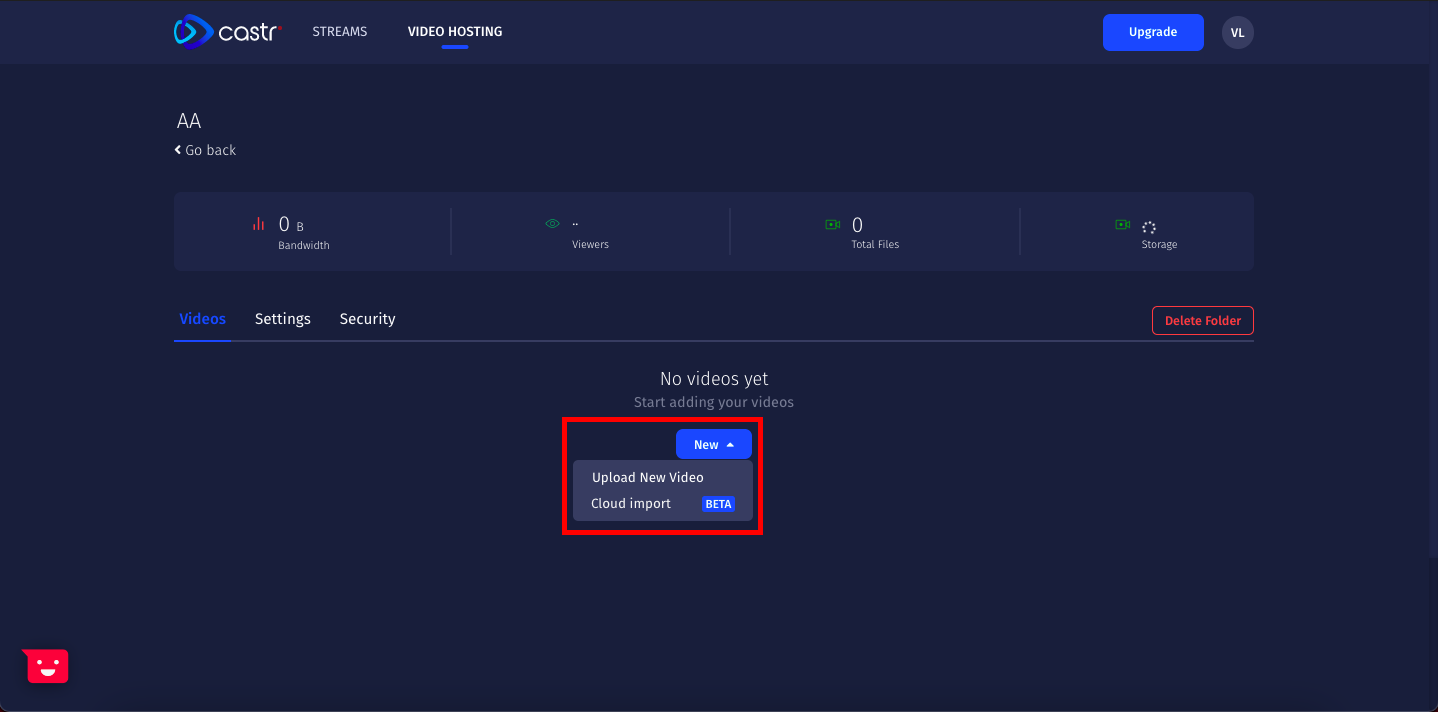 Get embed URL and iFrame code snippet
Once the video is uploaded, click the More button.
Here you will find the embed URL and iFrame snippet, and other details of your video files. Copy the links and paste onto your website or any hosting domain.

Check out Castr's Blog and Help Center for more details and features of livestreaming using Castr.
Join 200,000+ streamers worldwide
With Castr, you can easily livestream videos on any platform in no time.
No Castr Branding
We do not include our branding on your videos.
No Commitment
No contracts. Cancel or change your plans anytime.
24/7 Support
Highly skilled in-house engineers ready to help.