Video-on-demand is the technology of storing video online for users to select and watch at any time and from any device. Hosting VOD content is an excellent way for businesses to offer content to their users using such simple practices.
By making content always available, it is more accessible and more practical for users to get useful information at their convenience, thus improving their experience and engagement.
VOD is also an effective way to monetize video content. Businesses can choose various VOD models from which they can best leverage the available content and apply it to fit their user base. To learn more about the definition of video-on-demand and how it works, check out our blog here.
Besides the livestreaming and multistreaming features, Castr also provides Video Hosting plans for teams and businesses of any size and varied needs. Here's how to begin hosting your video-on-demand content on Castr.
How to Host Video-on-demand Content on Castr
Powered by Akamai and Fastly CDN, Castr's VOD Hosting supports storing MP4 video sources with an embeddable player and an iframe snippet for playback on any website and hosting domain.
Besides the playback URL, Castr users also get various security features for hosting their videos (available starting from the 5TB plan): Password protection, Geo-blocking, Geo-whitelisting, and Domain whitelisting without any unwanted branding from Castr.
How to upload and host VOD content with Castr
1. Log in to Castr Dashboard
2. Go to the Video Hosting tab
3.  Create a new folder and enter a name > Save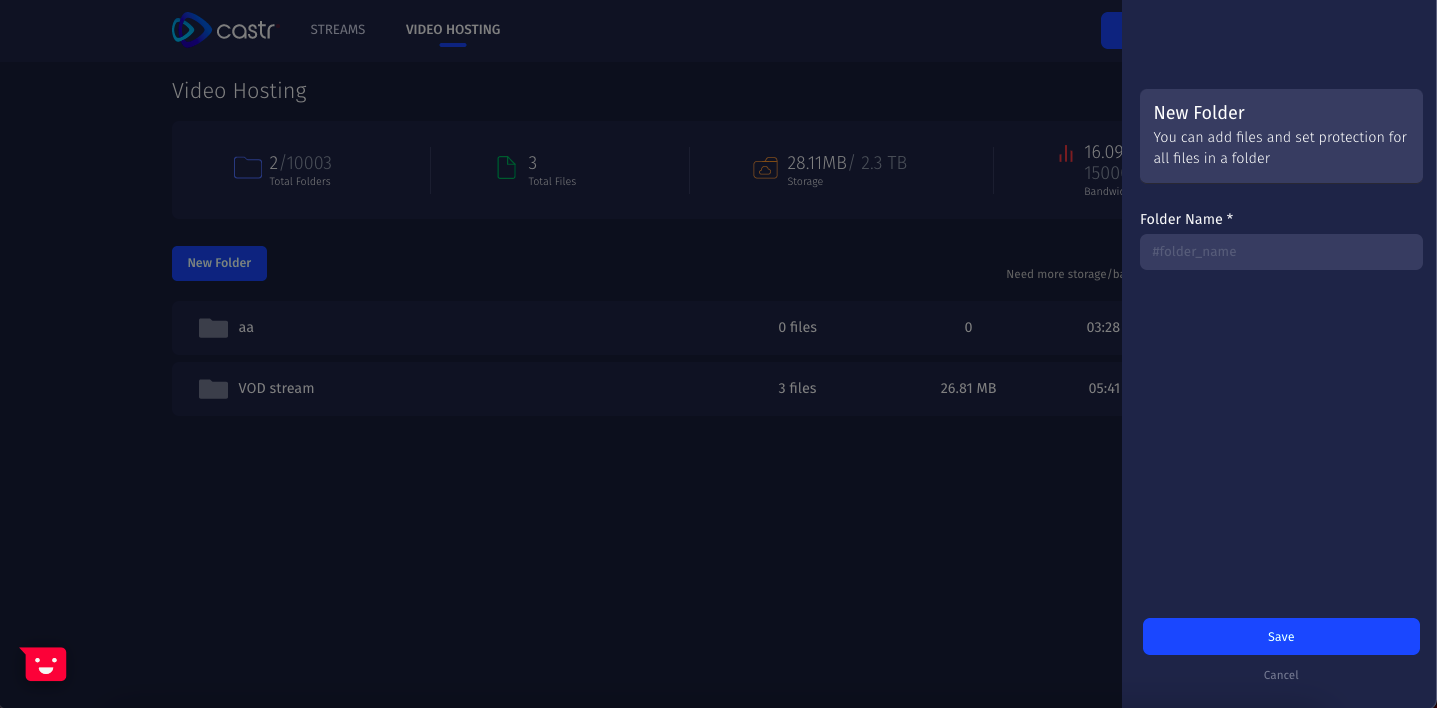 4. Click New to start adding video files. Here, you can upload videos from your device or import them from Cloud storages like Google Drive and Dropbox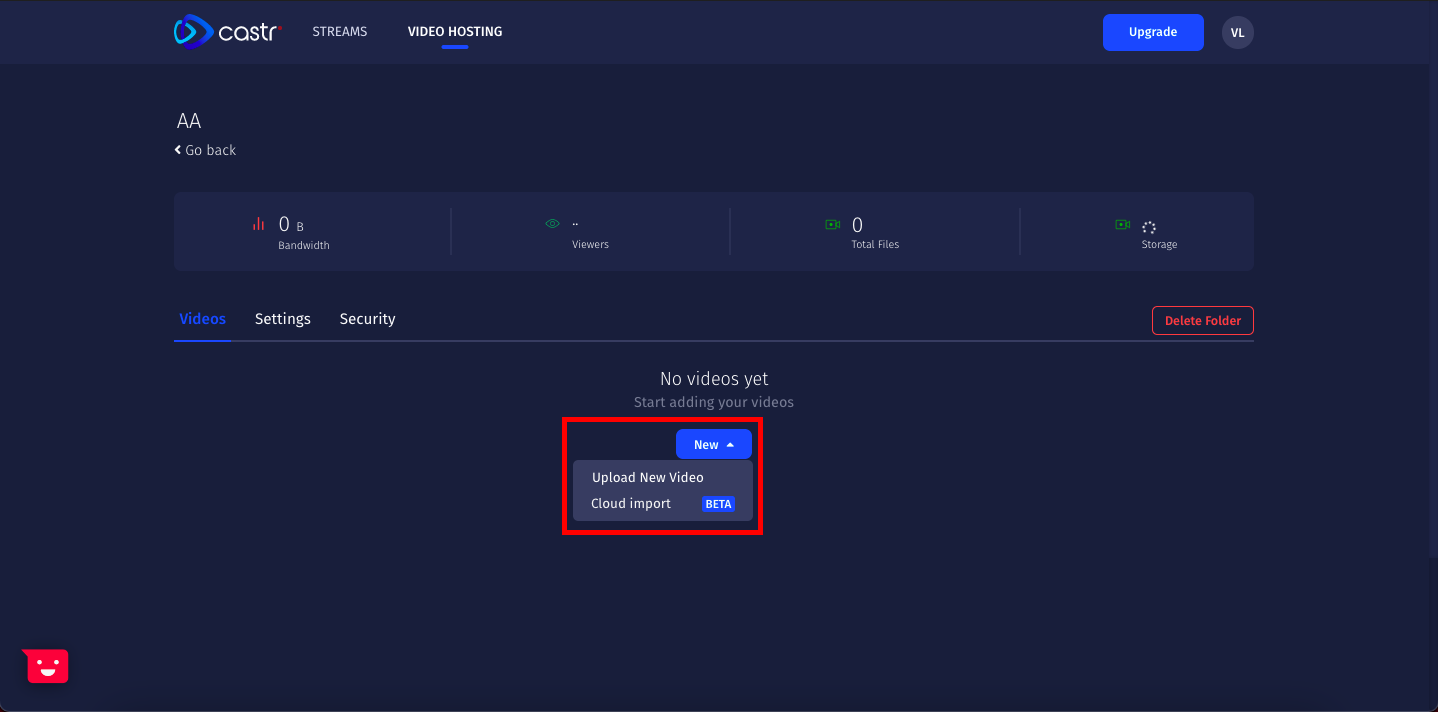 How to get embed URL and iFrame code snippet
1. Once your video is done uploading, click More
2. Here you will find the embed URL and iFrame snippet, and other details of your video files. Copy the links and paste onto your website or any hosting domain.

3. To control the security when hosting your VOD content, go to the Security tab
Password Protection: Secure the video with passwords. You can make the VOD available exclusively to users with passwords only.
Geo/Country Blocking: Restrict or block user's access and viewing based on their geographical locations.
Geo/Country Whitelisting: Allow access and viewing of users from specific countries.
Domain Whitelisting: Make the embedded player playable only on specific domains.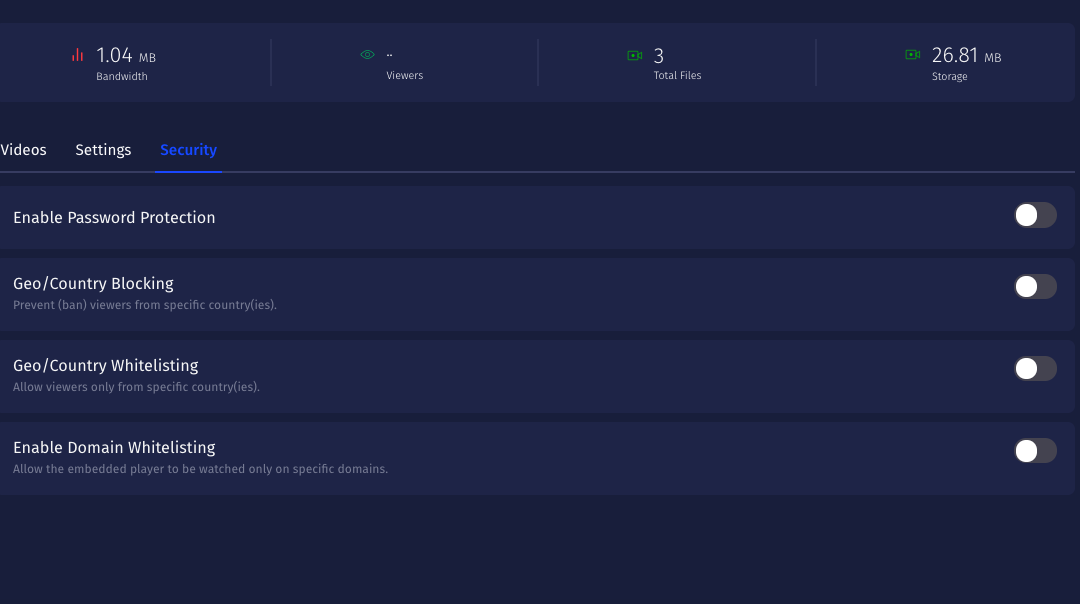 Note: The settings you set are applied to all videos added to the folder
4. Your videos are successfully uploaded and ready for streaming on any destinations of your choice.
Final thoughts
We hope this article is helpful for you to upload and host media files easily with Castr's VOD Hosting feature. If you need further help, check out the Help Center or contact our 24/7 live chat for support.
What's next? Learn how to boost viewers by 60% with OTT streaming or how to deal with video bitrate in Castr Blog.
Join 200,000+ streamers worldwide
With Castr, you can easily livestream videos on any platform in no time.
No Castr Branding
We do not include our branding on your videos.
No Commitment
No contracts. Cancel or change your plans anytime.
24/7 Support
Highly skilled in-house engineers ready to help.