OBS is a great tool for gamers and live streamers alike. It's open-source software that an individual can record video or audio content. OBS has quite a few recording formats to choose from, but users are usually left wondering what the best OBS format to use is.
We will list all of the different OBS recording formats in this blog post so you can make an informed decision about which one to use!
What is OBS?
OBS stands for Open Broadcasting Software. It is open-source, which means that it is free for anyone to use! Live video production, live streaming, and video recording are all possible with OBS.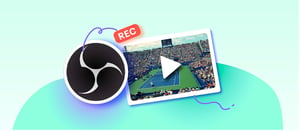 OBS also has a wide variety of plugins that you can use to enhance your recording or streaming experience. These plugins include video quality enhancements, audio filters, and scene switching.
OBS is a great all-in-one solution for anyone looking to get into live streaming or video recording.
Video Formats in OBS Recording:
There are a few different video formats that you can use in OBS:
FLV: FLV stands for Flash Video, a file type designed to store video. These files are usually used on websites or in web-based applications. FLV files can be huge depending on your settings for OBS and your internet connection speed.
MKV: MKV stands for Matroska Multimedia Container Format, but it's just a container within which many different multimedia formats can be stored! It means that an MKV format uses other codecs like H264 to encode video data into a single package. The benefit here is that one single file holds multiple media types in one place, whereas if these were separate, they would take up more space and bandwidth requirements when streaming online. MKV supports multiple audio tracks.
MP4: MPE stands for MPEG-based video file. This is the most common video format that you'll see around, which means it also has a wide variety of uses! 
MOV: MOV files are Quicktime movie video files. They use the H264 codec for video compression and tend to be high quality but also significant in file size.
TS: This is the transport stream format. It usually contains multiple video and audio streams in one file, which can be used to store broadcast-quality TV content!
M3U8: This is a streaming format that can be used to stream video or audio content. The MPEG-ts part of the filename stands for MPEG transport stream, which means it has multiple media types within one file!
What is the Best Recording Format for OBS?
There is no definitive answer to this question. Different people have different preferences. Moreover, OBS recording settings that work well for one person might not work as well for someone else. Some of the most popular recording formats include FLV, MP4, and MKV. Ultimately, it's up to you to decide which format works best for you. Just ensure that you choose a format compatible with your obs software. Otherwise, you may run into trouble when trying to playback your recordings.
If you're unsure which format to choose, experiment with a few different options until you find one that meets your needs. Keep in mind that some formats are better suited for certain types of content than others. For example, MP4 is a good choice for videos that contain a lot of movement, while MKV is a better option for high-resolution content.
Whatever format you decide to use, make sure to test it out beforehand to ensure it works properly with your obs software. If you encounter any problems, don't hesitate to ask for help from the OBS community and forum. There are plenty of people who are willing to offer their advice and assistance. Ultimately, the best recording format for obs is the one that works best for you. So experiment until you find something that suits your needs.
What should My Bitrate be for Recording OBS?
Again, there is no definitive answer to this question. Bitrate refers to the number of bits processed per second in digital audio or video files. It's important to choose a bitrate appropriate for your internet connection speed. If you choose a bitrate that is too high, it will result in poor-quality recordings. Conversely, if you choose a bitrate that is too low, your recordings will be grainy and pixelated.
The best way to determine what bitrate works best for you is to experiment with different options. Start with a lower bit rate and work your way up until you find one that gives you good results. Keep in mind that higher-quality content typically requires a higher bit rate. Your bitrate for OBS recording and streaming should generally be 4000-6000 kbps, depending on your bandwidth, video resolution, and frame rate. 
Final Verdict
With the best OBS settings, you can make sure your videos come out as crisp and clear as possible. We hope this blog post has helped you learn the best recording format for OBS and how to configure it. If you have any questions about our advice or want help setting up your high-quality recordings, don't hesitate to comment below!
About Castr
Castr is a company that offers comprehensive live video streaming solutions for businesses, broadcasters, gamers, educational institutions, religious organizations, and many other users. Castr's cutting-edge innovations enable powerful live streaming, multistreaming, and video hosting.
Castr recently announced the launch of a new product, LiveAPI – an API platform that enables developers to build live video streaming apps with ease. The product offers an end-to-end experience that includes live streaming, video on demand, encoding, playback, analytics, etc.