Transcoding is one of the most crucial factors when you do live video streaming. For optimized delivery across multiple devices, video transcoding is very important.
What is Video Transcoding?
Transcoding is a process of converting video content to multiple bitrates and resolutions. During this process, the video gets converted to different resolutions, and this results in a smaller file/stream size.  
Why we need transcoding why it's important?
There are two types of transcoding in video streaming.
Live stream transcoding
Video transcoding
Live Video Transcoding
When you are live streaming, if you are streaming at 1080p 60fps, then you should stream at 8 Mbps for the best quality.
If you are streaming live at 8 Mbps, then most of the computers with a good network can play the stream without any trouble, but mobile phones might face issues, and there is no point for us to play an 8 Mbps stream on a mobile phone.
Using Castr, your stream gets transcoded into multiple bitrates, which means the stream gets available in 720p, 480p, and 360p with the following bitrates.
| Streaming Resolution | Bitrate |
| --- | --- |
| 1080P | Copied From Source |
| 720P | 5 Mbps |
| 480P | 2.5 Mbps |
| 360P | 1 Mbps |
Video Transcoding
When you record a video, you will be recording in the highest quality, a 1080P video of 10 minutes long might have a size of 7 to 8GB. When you upload the file to a Video Hosting solution, if they don't have the option for transcoding, then the stream will be delivered to the users in the same size. This means any user who watches the video will be consuming 7 to 8GB of bandwidth.
Video transcoding is required for smoother playback, and you will be able to save bandwidth. Users will be able to get a much better experience of watching your video.
When you upload videos to Castr, Castr video hosting solution will transcode the uploaded file to multiple bitrates. Also, it will reduce the file size drastically without losing quality.
You can refer to the below image, and you will get an idea of how transcoding works.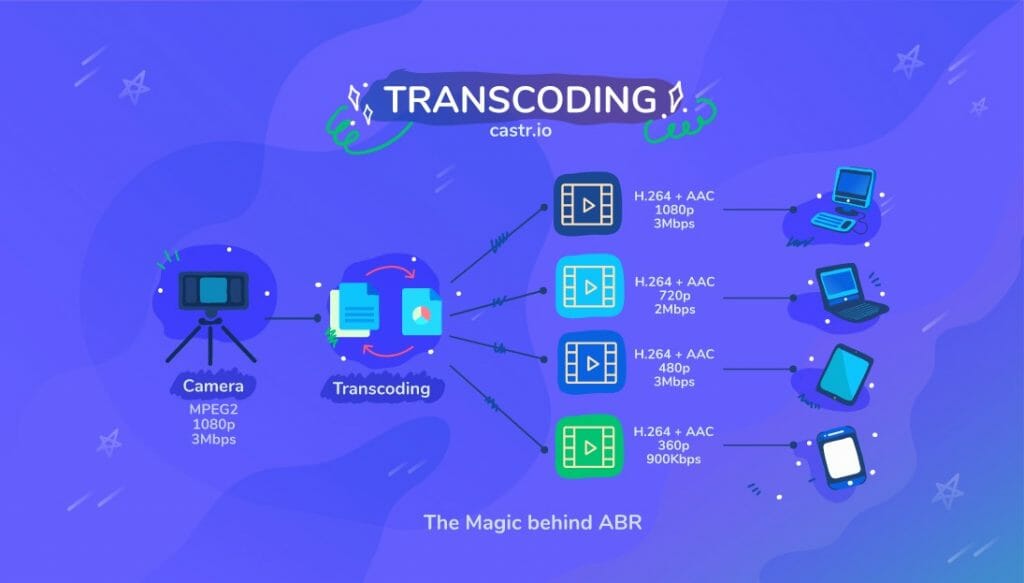 How Can I Transcode My Live Streams And Video files?
Castr offers transcoding out of the box in our Professional plan and onward.
That means Castr will handle all the transcoding for you, when you do a live streaming via Castr's player you will get the option to enable Adaptive Bitrate Streaming in the stream Settings.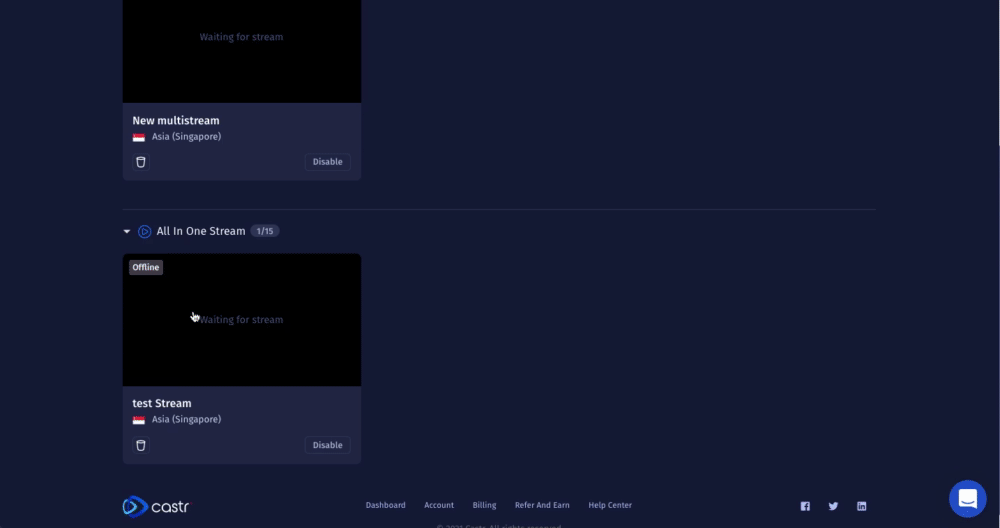 Join 200,000+ streamers worldwide
With Castr, you can easily livestream videos on any platform in no time.
No Castr Branding
We do not include our branding on your videos.
No Commitment
No contracts. Cancel or change your plans anytime.
24/7 Support
Highly skilled in-house engineers ready to help.
Try Castr for free