By streaming to Castr from Wirecast, you can easily leverage the mixing capabilities in Wirecast while reaping the livestreaming and multistreaming benefits of Castr.
Good news for Wirecast users: Castr is now integrated with Wirecast! Now you can set up your video source and stream directly from Wirecast to Castr.
Before this integration, the users of both tools can still connect Castr with Wirecast through the standard RTMP Server settings. However, by having an in-app connecting option ready, this update reduces some redundant steps while you're configuring your output settings in Wirecast.
Developed by Telestream, Wirecast is one of the most common software encoders currently used in the market. It is also a video mixer primarily for professional streamers. You can use Wirecast to mix media from different sources such as cameras, webcams, video files, audio files, microphones, etc. while adding other features such as graphics and effects to your streams.
By connecting these tools, you can easily leverage the mixing features in Wirecast while reaping the livestreaming and multistreaming benefits of Castr.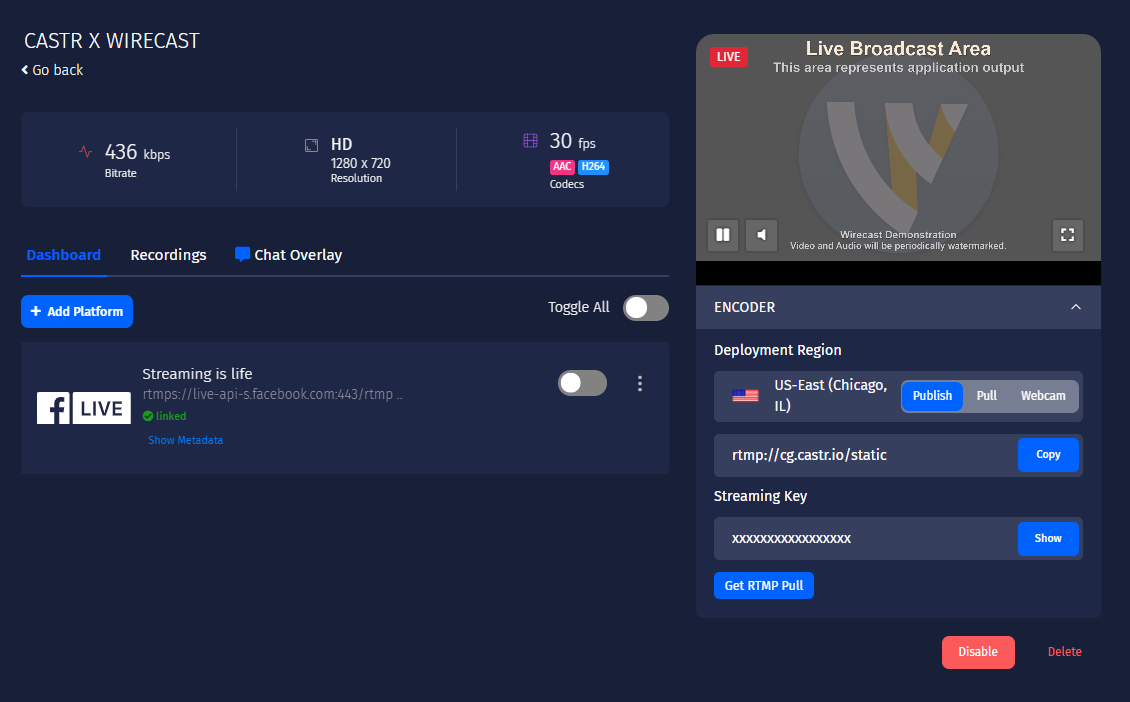 Key features of Wirecast:
Unlimited sources: cameras, microphones, IP cameras, webcams
Unlimited publish destinations
Stream and record at the same time
Graphics and titles with 100+ built-in elements
Chroma-key, QR codes and playlists
ISO recording
Live captions
Professional audio and video control surfaces
Guests conferencing and remote production
Available stock media library with 500,000+ media assets
Sports production effects: replay, scoreboards, clocks, timers
Social media comments
Desktop, NDI and web capture
Professional audio mixing support
How to Connect Wirecast to Castr
1. Open Wirecast. Download Wirecast here
2. Go to your project or create a new project
3. On the top menu, click the Output tab > Output Settings
4. Under Destination, select Castr
Note: If you don't see Castr in the dropdown menu, click More and select Castr from the list.

5. Under the Address and Stream sections, paste the RTMP URL and Stream key from your Castr's dashboard, respectively.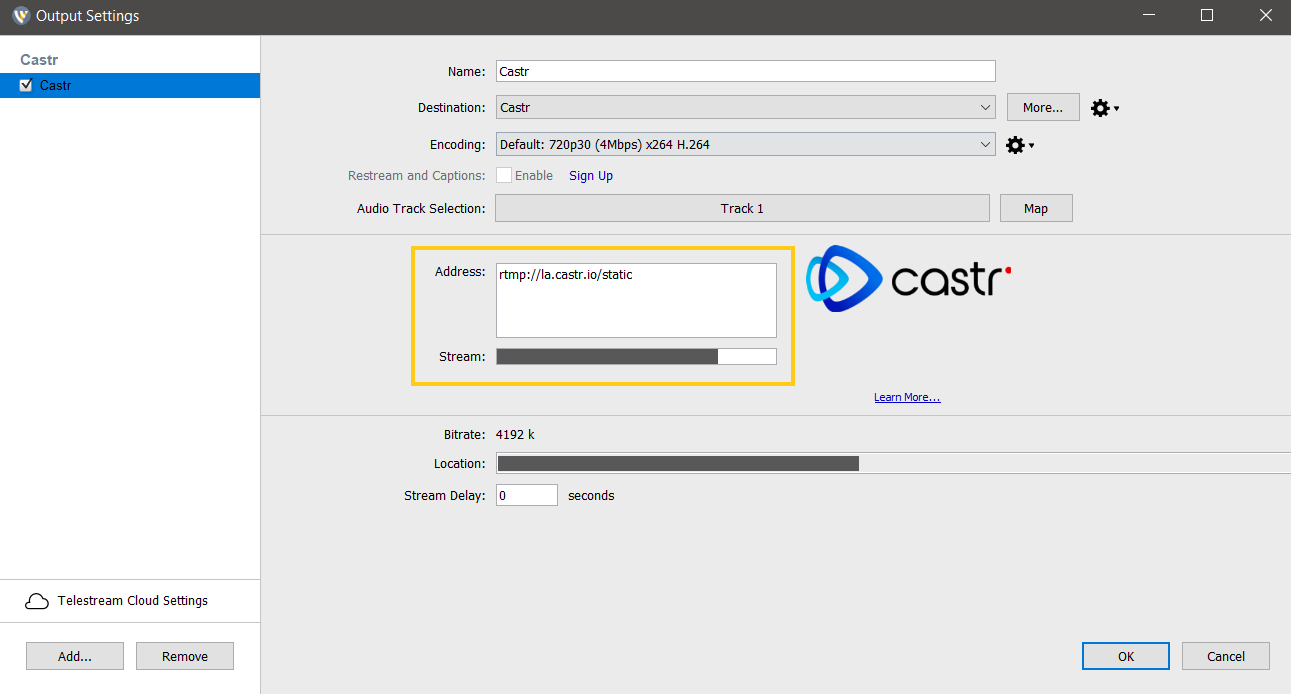 6. Make sure the Location field in Wirecast shows the full URL path. For example,
rtmp://la.castr.com/static/25faXXXXXXXXXXXXXXXXX
7. You are all set to go live!
Troubleshooting
If you experience issues with the stream quality, you may change your encoder presets. On the right of the Encoding section, click the settings icon > View Details > follow settings below:
Encoder: x264
Width:1280
Frames per second: 30
Average bit rate: 4000
Quality: 3 – (Very Fast encoding) Default
Profile: Baseline
Key frame every: 30 frames
Timecode every: 30 frames
Check the Timecode, Strict Constant Bitrate, and Keyframe Aligned boxes
Channels: Stereo
Target bit rate: 128
Sample rate: 48.000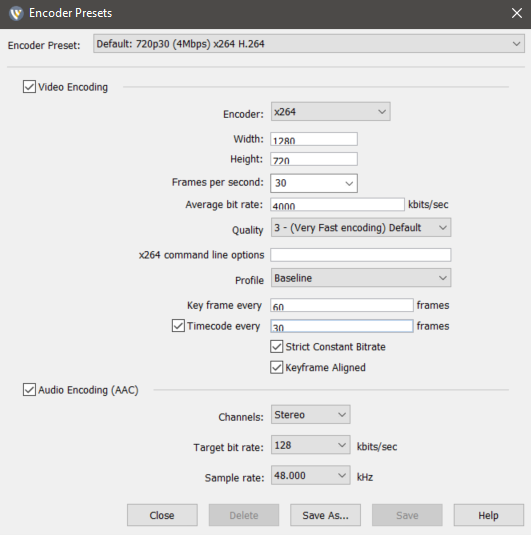 Sometimes, Wirecast may add an empty space at the end of the RTMP URL and stream key when you copy them. If you are unable to connect Wirecast to Castr, please double-check for empty spaces at the end of the Address and the Stream key sections. See the instructions below: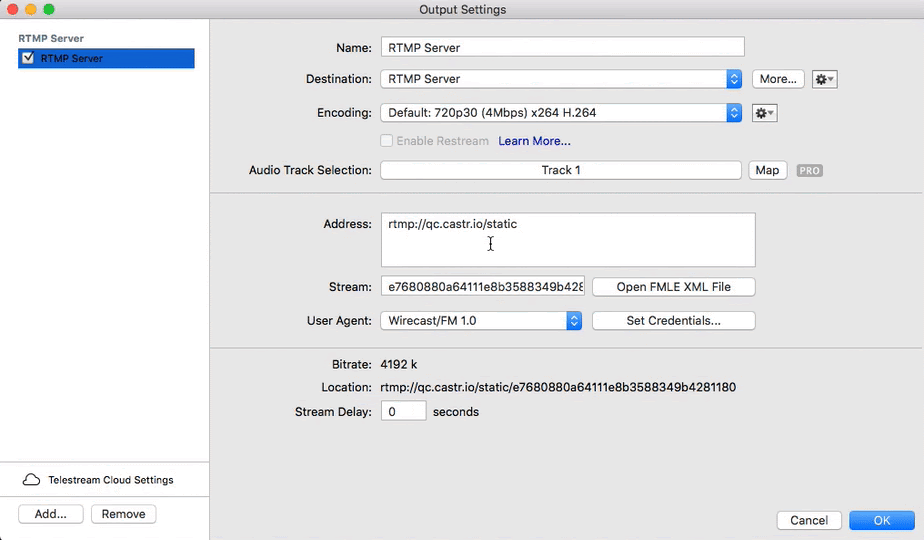 Join 200,000+ streamers worldwide
With Castr, you can easily livestream videos on any platform in no time.
No Castr Branding
We do not include our branding on your videos.
No Commitment
No contracts. Cancel or change your plans anytime.
24/7 Support
Highly skilled in-house engineers ready to help.