What's New?
This year, we received an overwhelming number of requests for the chat feature in Castr's video player. Now the chat mode for Castr HTML5 player is available in beta across all Livestream plans.
How Does it Work?
From now on, when you playback your stream on Castr's player, you will have the option to enable chat messages to engage with your audience in real time. Anyone who has access to your stream can join the conversation without having to log in to their social media account like before.
Anyone who participates in the chatbox will have the option to include a website URL in your profile. You may promote your company's website or your own portfolio in this feature. The chatbox enables you to tag and reply to other previous comments by clicking on a participant's username.
We also include in the chatbox a set of emojis, so that you can add your own twists of expressions, lighten the mood, or communicate when words fail—you name it.
This update is a replacement for the former Chat Snippet feature and is applied for Castr's Livestream subscriptions only.
How to Use
From your Livestream dashboard, click on the Video Settings tab > Enable Chat. To remove all previous messages history, click the Clear Messages button.
The new chat feature is integrated into Castr's HTML5 Player. On the right hand side, copy the Embed URL and paste onto your browser. You'll see the screen of your stream and your chat thread on the right.
To add a website link to your profile, click on this icon:
To include emojis in your messages, click on the smiley icon in the Message field: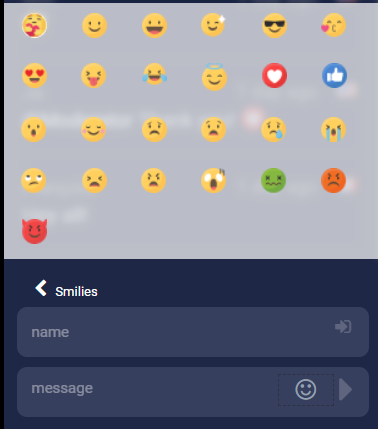 This feature is still in the beta version. If you have any problems or comments, feel free to let us know via our 24/7 Chat Support or Castr's feedback hub.
Join 200,000+ streamers worldwide
With Castr, you can easily livestream videos on any platform in no time.
No Castr Branding
We do not include our branding on your videos.
No Commitment
No contracts. Cancel or change your plans anytime.
24/7 Support
Highly skilled in-house engineers ready to help.