The Emergence of HTML5: Replacing Adobe Flash Player Era
After 20 years as the dominating platform for video and almost all other multimedia on the Internet, Adobe has announced the end of support for Flash Player by the end of 31st December 2020.
The decline of Flash had begun since 2007 when Apple was the first to refuse to support Flash Player on their products. Due to its underlying security and speed issues, other brands have followed Apple's footsteps and slowly limited their Flash support and built up the support for the more advanced HTML5.
Again, as Flash Player is slowly becoming irrelevant in the online video streaming scene, HTML5 has exceeded Flash to become the industry standard for video viewing on web browsers.
Why HTML5 is Important for End-to-end Video Streaming
HTML5 is continuously in development to be capable of delivering everything online without using any additional plugin from the web browser. HTML5 can send different types of content through the web browser, from animation to apps, music to movies–making it the preferred video player over Flash even before its end of support.
Customization Support
An HTML5 video player allows for customization of choice for you to include branding content easily. Having a customized video player makes it more professional for the viewers and improves the engagement better than those without.
If you plan to stream professionally and deliver a high-quality viewing experience with your live events, the HTML5 video player is much needed for the polished look to come through.
Streamlined Compatibility
In recent years, the HTML5 video player is considered an "all-device video player"–adding to the many benefits of using HTML5. An HTML5 video can be played on any browser and any device with RTMP and HLS support to deliver the highest quality possible.
As the goal of livestreaming is to bring the content to new audiences and engage better with the existing ones, HTML5's compatibility and accessibility make it the ideal choice for the browser video player. Making your live broadcast viewable on all devices means the content can reach even more audiences and potential customers.
Enhanced Security
One of the critical reasons that pushed Flash Player out of the scene is the security risks it has even though Adobe tried to improve Flash's performance over time. The development and improvements of HTML5 helped future-proof the online streaming industry from security threats.
Plus, the improved security makes it ideal for businesses to start looking into live streaming solutions. Livestreaming is the new model for companies to expand and reach more customers that will then convert into revenue for the investment they made.
Improved Performance
An HTML5 player with the RTMP ingest is the perfect combination for video content delivery over the internet. RTMP HTML5 players are compatible with most encoders with the highest performance.
It also allows for low latency delivery, which helps improve the viewing experience significantly when compared with Flash.
Castr's Embeddable HTML5 Player: All You Need to Know
As mentioned above, HTML5 has become the standard for video players on most online video platforms, including Castr. Besides the options for multistreaming on many media platforms at the same time, Castr users also get an HTML5 video hosted on our server.
Castr automatically creates the embed player and hosts it natively. This video is compatible with almost all playback devices, meaning your content is accessible for viewing on any browser or device of the viewers. This solution is optimized for businesses to broadcast live content to a larger group of audiences, with full customization capabilities and no third-party ads added throughout the stream.
To make the stream video player truly speak your brand, you can change the player theme color, add an embed poster, logo, or watermark. Castr's HTML5 player is secured with features like password protection, geo/country blocking, and geo/country/domain whitelisting.
In addition to all the advantages of livestreaming, viewing experience and engagement are other important details that add to a successful streaming session. You can interact live with the viewers better with Castr built-in Chat feature. Once the stream ends, Castr will turn the live video into a recording for you to download or save and host as a VOD on the Castr server.
Lastly, businesses can gain more insights into their live broadcasting projects with Castr Analytics and API integration with Google Analytics. These features give you an overview of your viewers on the live video in real-time.
How to Use Castr Embedded HTML5 Player
All of Castr's livestreaming plans come with a free embeddable livestream player. Here's how to start a livestreaming project on Castr and stream to your own website with an HTML5 player.
1. In Castr Dashboard, click Create New > Livestream
2. Choose a Stream Name and the closest Hosting Region to your location
3. In the Stream Source Setup, use the RTMP URL and Stream Key to connect with your encoder.
Read this blog to learn how to set up OBS and connect with Castr for livestreaming.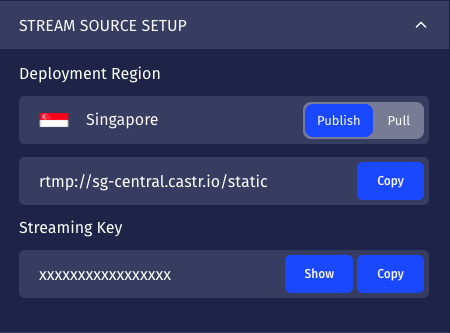 4. After successfully stream from OBS to Castr, you can find the Iframe Widget and Embed URL in the Playback Setup
To see how to multistream to multiple platforms at the same time using Castr, please refer to this article.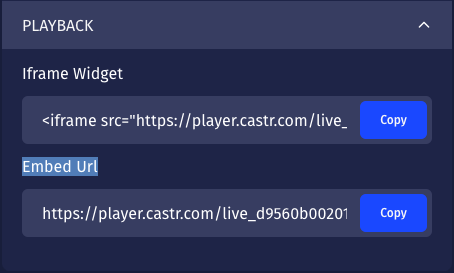 5. You are all set! Use the URL for direct access to the stream, or embed the player using the Iframe Widget provided.
Conclusion
In short, there are many ways to stream live video on your website via embedding and an HTML5 player. However, Castr's HTML5 player is built with both the broadcasters and viewers in mind to create a streaming experience with quality.
Sign up now to get a free 7-day trial with Castr's embedded player. Need more reasons to start livestreaming with us? Check out the 9 benefits that make Castr the best streaming platform for you!
Join 200,000+ streamers worldwide
With Castr, you can easily livestream videos on any platform in no time.
No Castr Branding
We do not include our branding on your videos.
No Commitment
No contracts. Cancel or change your plans anytime.
24/7 Support
Highly skilled in-house engineers ready to help.