When starting your first streaming with Castr, getting familiar with Castr Dashboard is step number one for multistreaming. No matter if you are using livestreaming, multistreaming, or scheduled stream, the dashboard is easy-to-use with simple and straightforward functions.
Getting Started
When you create a new stream and a hosting region, you will be redirected to the Stream Dashboard. In the Dashboard, you can find:
Add Platform: Add a new platform as a stream destination from our list of 30+ platforms.
Toggle All: Toggle ON or OFF the stream on all added platforms. Note: The stream is kept playing on Castr when OFF.
Toggle Individually: Toggle ON or OFF the stream on the chosen platform. Note: The stream is kept playing on Castr when OFF.
Disable: Stop the stream on Castr, disconnect all platforms and OBS
Recordings > Enable Cloud Recording: Turn on to get the recordings of the stream on Castr's Cloud.
Chat Overlay: Generate a web app URL to get viewers' chat from linked platforms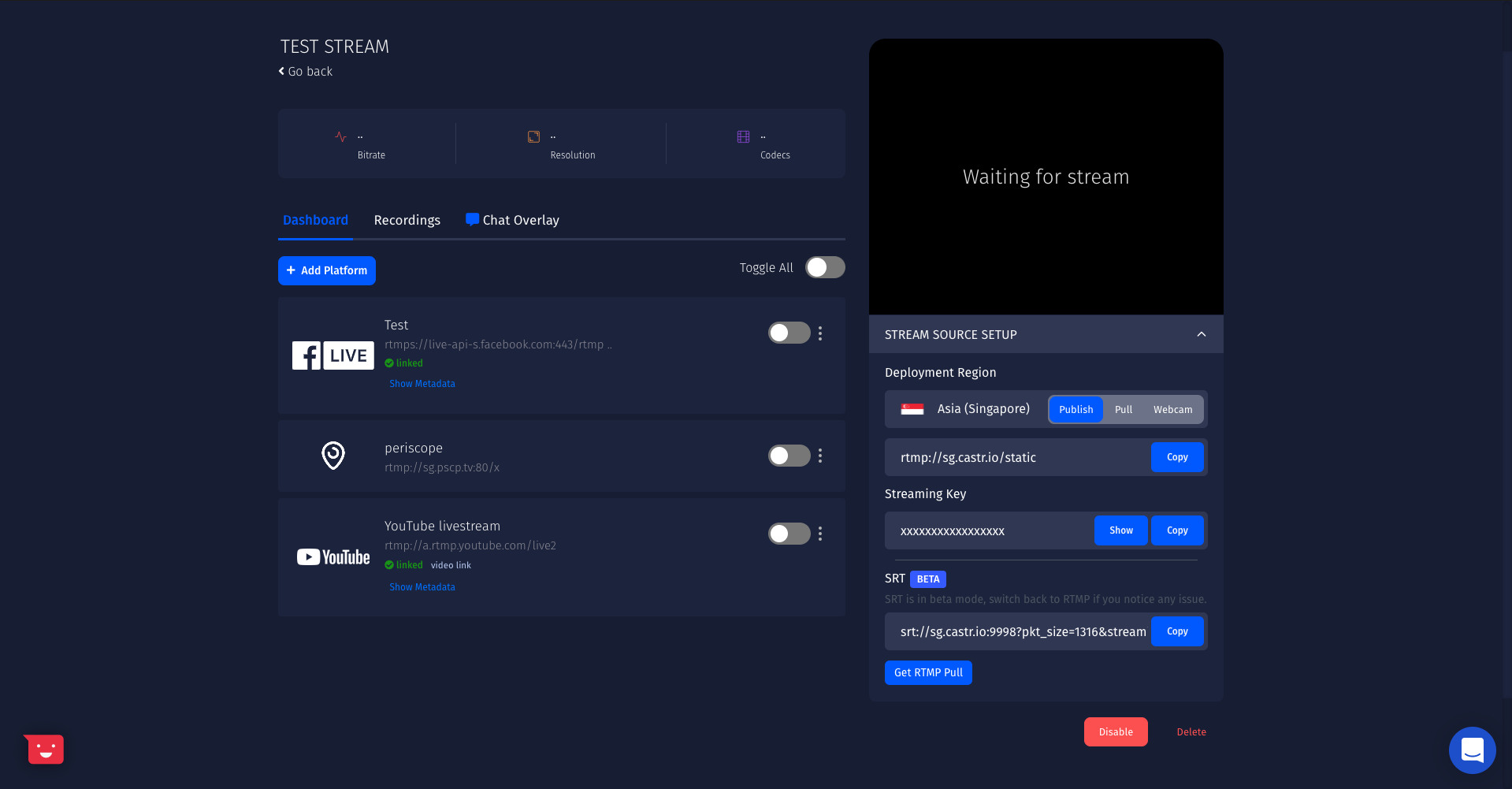 Stream Source Setup
Publish: You can find the Server and Stream Key for both RTMP and SRT streaming ingests here. You can also get an RTMP Pull of your current stream to distribute it to other platforms.
Pull: Castr support pulling your stream from another source. Simply put the source URL into the Pull Source box > Save.
Playback Setup
Here you can find the Iframe Widget and the Embed Url to add the stream player anywhere you want.
Frequently Asked Questions When Streaming with Castr
Here are some FAQs collected from our Help Center to help you better understand the basic features of streaming from Castr. These questions and answers are gathered from our 24/7 Support Service. If you have further questions, please contact us.
What is Push Immediately?
When you toggle on PUSH IMMEDIATELY, each new platform gets added to a stream is enabled right away, which means Castr will start sending data to that platform instantly.
If it's toggled off, any new platforms added to a stream is not enabled immediately. You will need to manually toggle on the platform and start streaming to the newly added destination.
What is a Livestream Pull Source?
Instead of using RTMP publishing, you can ingest multiple video protocols to Castr for livestreaming. For HLS URLs, you will be able to add it as a pull source and stream to multiple platforms or using your own player generated by Castr.
To do this, change the stream mode to Pull and paste the URL for ingest to Pull Source. After Castr has successfully connected to the source, your stream will be live in Castr.
This feature is useful for IP Cameras streaming. Castr supports RTSP ingests with an option for pull source connections.
What are Concurrent Viewers in Livestream?
In the Analytics tab for Livestreaming, you can find concurrent viewers as a data metric. Concurrent viewers are counted as the number of concurrent connections to one live stream.
Castr counts concurrent viewers by the number of connections that reach our endpoint.
What Integrations does Castr Chat Support?
The integrated chat application is supported in Castr's Multistreaming solution. As of now, Castr chat offers native integrations with Twitch, Mixer, YouTube, and Facebook Pages.
Note: You need to make sure that all platforms are successfully linked for the chat application to work in Castr.

If the platform is set up as a custom destination, then the Chat integration feature will not work.
Differences Between Multistream and Livestream in Castr
Multistream (Simulcast)
The multistream feature supports streaming to more than 30 social platforms, including Custom RTMP servers. If you are subscribed to a multistreaming package, you can add and real-time toggling for these platforms.
Livestream
If you create a livestream in Castr, you can get your embed player url / iframe code along with many other features like Cloud Recording, Adaptive Bitrate Streaming, etc.
Using the player embed you can integrate the player in your website, not just that we provide you with HLS URL (2TB+ plan onward) of your stream which you can use in Mobile App, Roku App, etc.
Users can also send data to social media platforms using this single pack, the are few limitations based on the pack chosen.
Final Thoughts
We hope this article is helpful for you when getting started with Castr. If you need further help, check out the Help Center or contact our 24/7 live chat for more support.
What's next? Learn how to connect Castr to Facebook Live with API and Custom RTMP or How to connect and stream from Castr to Periscope in this blog.
Join 200,000+ streamers worldwide
With Castr, you can easily livestream videos on any platform in no time.
No Castr Branding
We do not include our branding on your videos.
No Commitment
No contracts. Cancel or change your plans anytime.
24/7 Support
Highly skilled in-house engineers ready to help.