Streaming to Twitch is rather simple to set up. But some streaming-newbies could find the number of steps and gear requirements overwhelming. Here's our quick guide on how to stream on twitch for beginners.
Twitch has become one of the most popular platforms for video livestreaming — as of 2020. Originally a spin-off website of Justin.tv in 2011, Twitch has been adopted by more streamers every year, thanks to the cumulative popularity of its users.
Most of you may have known of Twitch as a top streaming platform for games. But recently, the amount of its content has expanded beyond watching dextrous gameplays from industry pros. Twitch's videos now involve music, sports, and even lifestyle.
What You Need
You'll need a few things before going live:
Streaming device
You can livestream from your mobile device, tablet, or computer. However, a PC or Mac will give you better control, such as adding overlays and higher stream quality. A sturdy laptop or desktop can encode your video and audio and send smooth streams to Twitch.
Twitch has several recommendations for PC and Mac as followed:
PC (basic): ASUS TUF Gaming Laptop, 15.6"
PC (midrange): ASUS ROG Strix G17 (2020) Gaming Laptop, 17.3"
Mac: MacBook Pro 13" 1.4GHz 8th Gen i5 128GB Storage
Good internet connection
A good, stable internet connection is essential for any livestream, be it a gaming or music stream. The faster the internet speed is, the better resolution your stream will turn out. If you have a choppy connection, your viewers will experience lots of delay and buffering, or even a sudden ending of your stream.
We highly recommend that you use a wired internet connection rather than wifi. That is, you will connect your computer to your internet router with an ethernet cable. Streaming from wifi may fail your stream.
You should have an internet upload speed of 5Mpbs or higher, according to Twitch's recommendation. A USB C Hub Adapter with Ethernet, HDMI and USB 3.0 ports will suffice.
USB Interfaces or mixers
An interface or mixer is vital if you use Twitch to stream music.
Interfaces will hook up your audio equipment (e.g. microphone) to your computer through a USB port. A basic interface starts at $29 (e.g. Behringer U-Control UCA 202), $150 (Yamaha AG03), to $299 (Steinberg UR44 Audio Interface).
Microphone
If narration is part of your video stream, then an adequate microphone should be another investment. We recommend that you get a microphone with a USB output to simplify the setup.
There are several types of microphones. Cardioid mics pick up sounds in front of it but cannot catch sounds from afar, making it more suitable for game narration recording. Meanwhile, a condenser mic can pick up multiple sounds from both near and far distances, which is more appropriate for music streaming.
Camera
Good visuals define the quality of your stream. You can use the webcam built into your computer, or consider investing in an external webcam or a DSLR camera. See our recommended external webcams here
Lighting
Don't overlook this final visual component. A good lighting setup makes a big difference in naturally enhancing your video quality, and even your face in the frame. You may leverage the light sources in your house such as multiple floor lamps, or invest in a flood light, ring light, or softboxes.
Streaming software
There are many streaming software options to choose from. You may start with a basic software encoder like OBS. Other options like Streamlabs OBS, XSplit and vMix are also viable. See our top five software encoders comparison here
Including a software streaming service like Castr can help you add more advanced features to your stream. For example, you can stream to multiple channels like Twitch and YouTube at the same time, track your stream analytics, or stream pre-recorded videos with Castr.

NVENC and x264
These are two encoders that you could use. NVENC is a graphic card that encodes video; and x264 is a free and open-source software library and command-line interface, also used for video encoding. X264 uses your CPU to provide quality preset settings from "ultrafast" to "very slow" or "placebo". In other words, the slower your x264 preset is, the more your CPU has to work; and the higher the presets, the CPU spends less resources but emits lower video quality. Meanwhile, the NVENC produces video quality that is close to the x264 medium preset.
Configure Settings in Twitch
Resolution and Framerate
Resolution refers to the height and width of your video on a screen. Framerates means how often a video frame is sent to Twitch (for example, 30 frames per second). The higher your framerates and resolution, the smoother your video quality is. However, keep in mind that your computer has to work more to meet the resolution and framerate requirements. Otherwise, your viewers will experience blurry images and disrupted streams.
Bitrate
Bitrate refers to the amount of data that you send to Twitch while streaming. Higher bitrates require more internet bandwidth. If your bitrate is low compared to your resolution and frame rate, you will have low-quality image frames. On the other hand, if your bitrate is too high, it will cause buffering or dropped frames.
How to choose the best resolution, framerate, and bitrate for Twitch?
Choosing an optimal configuration will help you maximize your video quality while avoiding wasted bandwidth.
But what is the right setting? The short answer is, it depends on the capacity of your streaming device and internet bandwidth. You may refer to Twitch's recommended settings and run a few test rounds with different settings until you find the combination that works best.
CBR and VBR
CBR stands for constant bitrate, and VBR for variable bitrate. Twitch suggests that you use CBR to ensure the final quality of your video streams.
How to Stream to Twitch
Sign up
Sign up for a Twitch account at twitch.tv. Once you've logged into your new account, go to your Setttings page to customize profile picture and bio description.
Then head to your channel page at twitch.com/[your username] to add personal links to your profile.
Go live
Here are a few ways you can start your Twitch stream:
Mobile phone or tablet: Download the Twitch app (available in both iOS and Android) > Log into your account > Tap your profile icon > Go Live!. You will be asked to add a stream title and set a category. After that, you're ready to stream live.
Dolby On: Download the Dolby On app on iOS or Android > log into your Twitch account > tap Go Live! Make sure you have another device available to set the category and respond to chat messages.
Desktop or laptop: For the best quality, you can use the native Twitch Studio or OBS as a streaming software. Twitch Studio will walk you through how to set up your webcam and audio sources.
How to find stream key on Twitch
If you use a software encoder like OBS or a software streaming service like Castr, you'll need a Twitch stream key to connect these tools. To find your stream key:
Click on your profile icon on the top right corner
Choose Creator Dashboard
On the left hand side, choose Preferences > Channel
You'll see your stream key immediately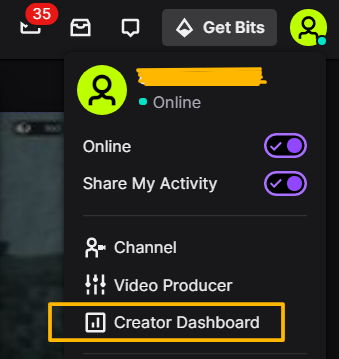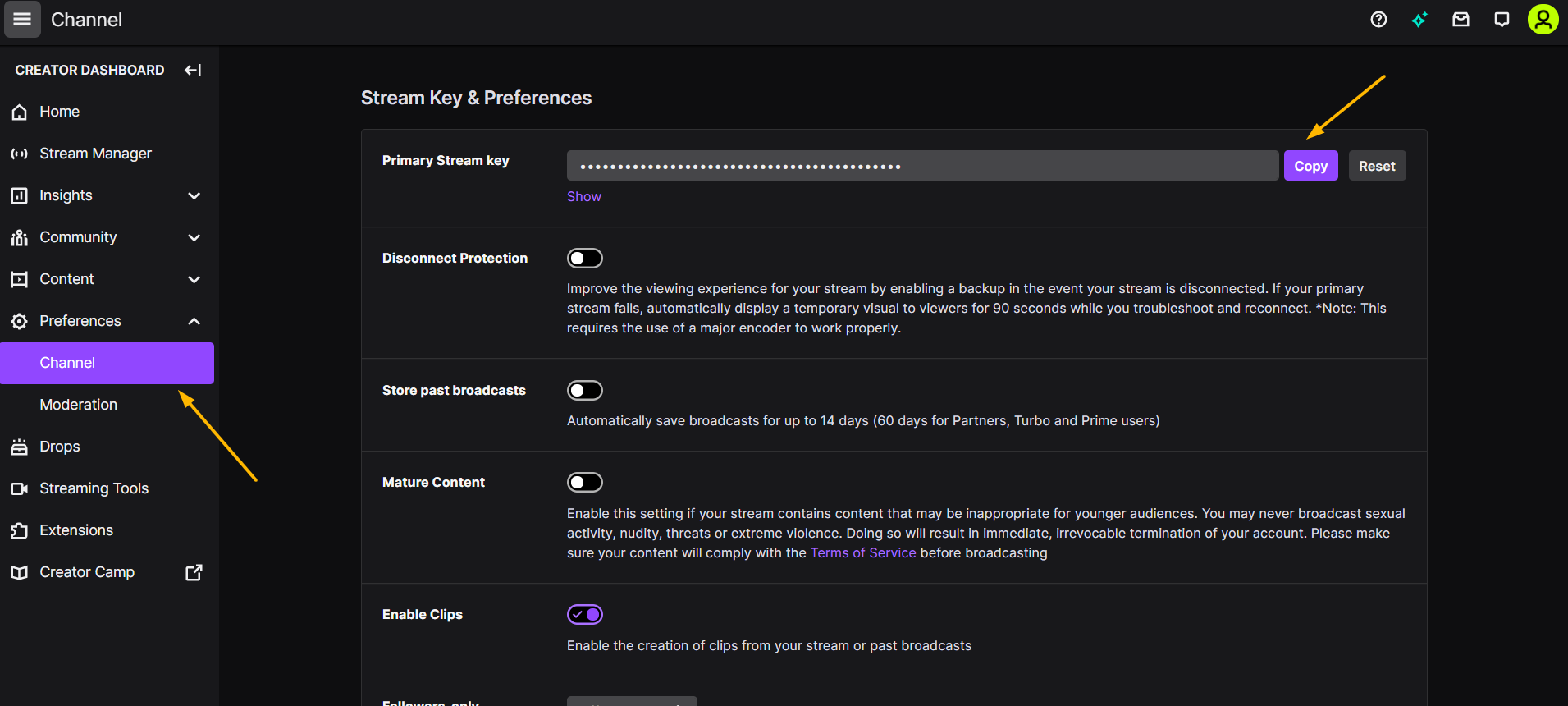 How to Engage With Your Viewers on Twitch
Now you've got your video content ready, let's talk about building connections with your viewers. Here are a few tips:
Notify your audience: Make sure that you tell your fans and followers about your schedule and encourage them to join your stream.
Build your followers: Remind your viewers to hit the follow button. This will notify them when you're live.
Have a set schedule: A consistent streaming schedule will engage your fans to tune in more.
Interact via chat: Make sure you read your viewers' messages in the chat box and interact with them during your livestream.
Raid other streamers: Twitch enables you to refer your viewers to another streamer at the end of your own stream. This will help you build connection with other fellow streamers in the community. In your chat, simply type /raid, followed by the name of the channel you want to hand over.
Moderate Your Community
Moderating your community is part of maintaining a safe stream viewing experience. And Twitch has a few features that help you with that.
Twitch recommends that streamers enable the Email Verification and Follower Only Mode on their moderation page in the channel dashboard. Automod is another safety tool that filters out words and phrases automatically. Twitch advises that you set your Automod to the highest level.
Key Takeaways
To stream to Twitch, you'll need to determine your streaming device (mobile, tablet, computer, etc.), a stable internet connection, a USB interface or mixer, a microphone, a camera (e.g., built-in webcam, external webcam, or a DSLR), lighting setup, a streaming software program or a software encoder.
To configure your Twitch settings, first familiarize yourself with the terms "resolution", "framerate", and "bitrate". Then run a few trials on different types of settings until you find one combination that works best with your device capacity and internet bandwidth.
To stream to Twitch, first create an account at twitch.tv. Then go to your creator's dashboard to go live.
You may apply several tactics to engage better with your audience and maintain a safe community.
Join 200,000+ streamers worldwide
With Castr, you can easily livestream videos on any platform in no time.
No Castr Branding
We do not include our branding on your videos.
No Commitment
No contracts. Cancel or change your plans anytime.
24/7 Support
Highly skilled in-house engineers ready to help.