Castr's Recording feature has been helpful in offering our users more options to make full use of their stream content after it is broadcasted. Now, with the latest upgrade from Recordings to Live to VOD in the Livestream plan, Castr is excited to make our solutions, livestreaming and VOD Hosting, even better than before.
The new Live to VOD tab has replaced Recordings on Castr Livestream Dashboard along with a few new exciting functions. This feature, plus VOD Hosting, is now available for all Livestream subscribers. Read on to see what's all the fuss about!
What is Live to VOD?
The old Recordings tab in Castr allows users to record their livestream and download the recording as an mp4 file. Now, you can choose to keep the recording as a VOD file hosted on Castr directly.
In other words, Castr is now able to convert your recording into a video on demand. You can then share it on your website and give the viewers access to re-watch your old streams whenever they need to.
Your stream is auto-recorded and saved as a temporary file on Castr for up to 3 days. You get to choose whether to keep the video as VOD or not. Plus, if you stream for a long time and wish to make parts of it as video on demand, simply trim your video as how you like it before saving. These videos on demand are kept permanently on Castr for your use until you delete them.
To learn more about VOD hosting and how to best monetize your videos, check out this article.
How Does Live to VOD Work?
Here's how to start a livestream project on Castr and make the best use of your content using our new Live to VOD feature.
Get Started with Livestreaming
1. Log in to your Castr account
2. Create a new Livestream or open an existing one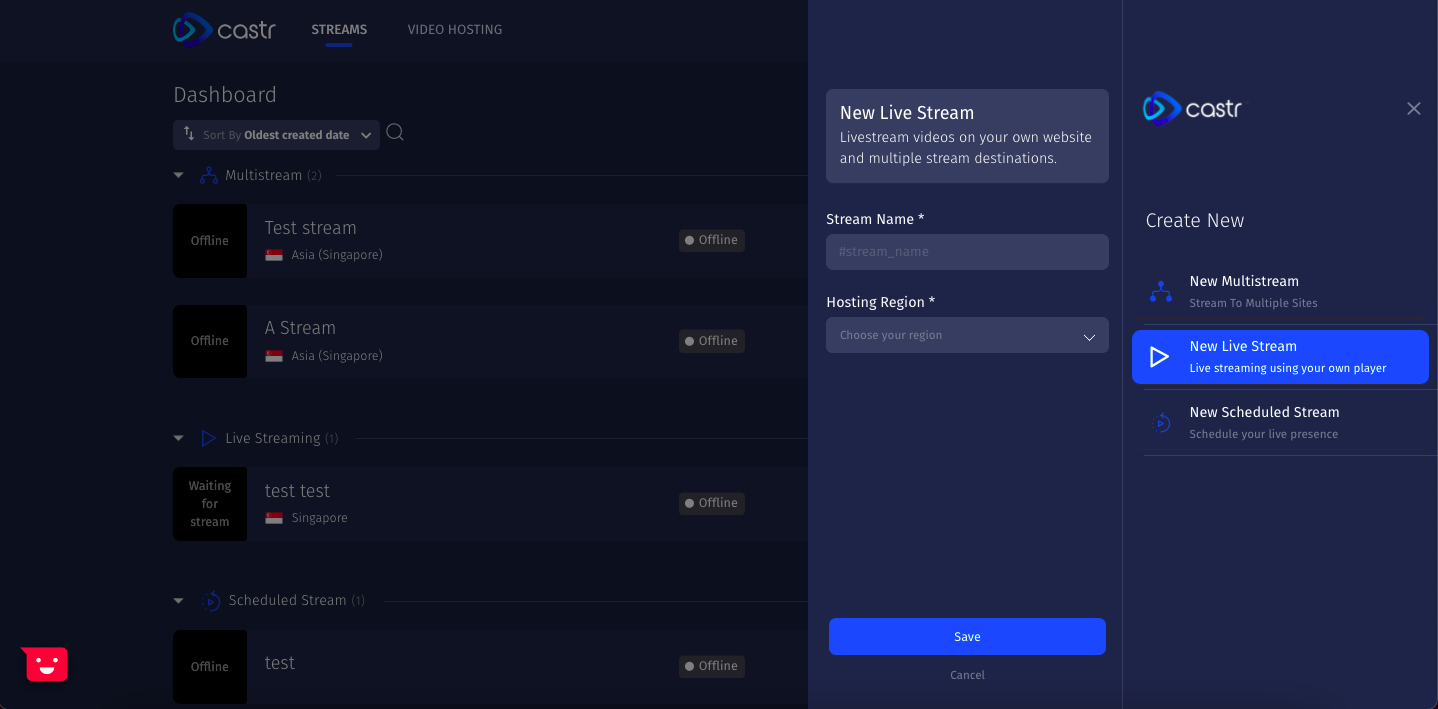 If you are creating a new livestream, enter a Stream Name, then choose the closest Hosting Region.
3. After clicking Save, you will be directed to the new Livestream Dashboard.
4. In the Dashboard, you can start adding new platforms/destinations for the stream and set up OBS Studio with Castr using RTMP or SRT ingest.
5. The details for Playback is also available in this Dashboard. You get both Iframe Widget and Embed URL to use the stream's HTML5 Player.
6. You're all set to begin livestreaming!
Live to VOD: Utilizing Content with VOD Hosting
1. After the stream ends, Castr automatically records and generates a temporary file in the Live to VOD tab for 3 days.

Note: You can record up to 96 hours with the maximum storage depending on your subscribed plan.
2. In the Temporary Files section, the recording will be displayed as below:

Save as VOD: Save the whole recording or part of it as a video on demand
Eye icon: Preview your recording
Download icon: Download the recording as an mp4 file. Note that downloading a new recording video is only available for 3 days after it is created.
3. Once you've chosen to save it as a VOD, the recording will be displayed as below: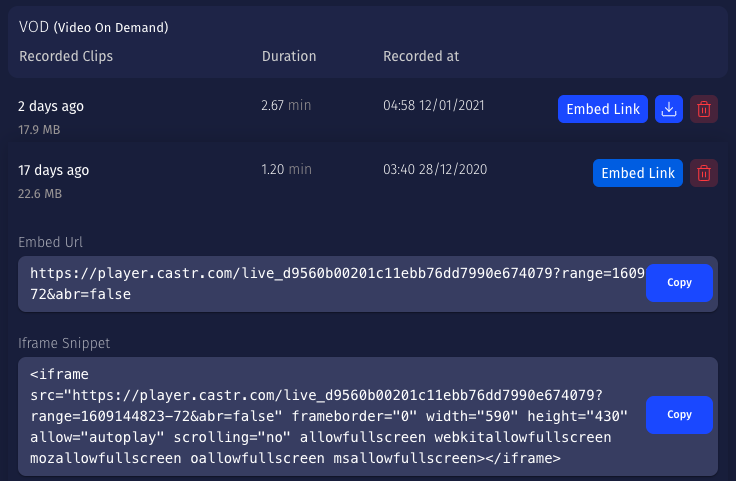 4. Click the Embed Link button to get the Iframe Widget and Embed URL for each recording
Note: Only permanent VOD files on Castr can be renamed.
5. You've successfully saved your stream recordings as video on demand files. Start publishing them for your viewers now!
Join 200,000+ streamers worldwide
With Castr, you can easily livestream videos on any platform in no time.
No Castr Branding
We do not include our branding on your videos.
No Commitment
No contracts. Cancel or change your plans anytime.
24/7 Support
Highly skilled in-house engineers ready to help.