A lot of users have asked us: Can I stream to Instagram from Castr?
In 2016, Instagram released Instagram Live — a sub-feature of Instagram Stories that lets you broadcast long-duration videos in real time. Not only individual content creators but also businesses of all sizes have turned to this platform to promote their content. With around 1 billion monthly active users, Instagram will undoubtedly continue to be a one of the leading destinations for livestreaming.
As popular as it is, there are still some limitations to Instagram Live. For now, users can only stream directly from their phones to Instagram Live. This could become inconvenient, especially when you need to stream from your computer, an encoder, or through a video streaming platform like Castr.
In this article, we'll show you how to make these things possible. With the use of Yellow Duck, you'll be able to stream from Castr to Instagram using RTMP connections.
Note: Using Yellow Duck is an unofficial workaround solution for streaming to Instagram. To learn more about Instagram's Terms of Use and Policies, please refer to their Help Center. 
We'll cover:
Why you can't stream from Castr to Instagram directly
Limitations and recommended settings for Instagram Live
Castr Plans that support streaming to Instagram Live
Stream from Castr to Instagram using Yellow Duck
How to set up Yellow Duck and Castr
How to connect OBS to Yellow Duck
Why Can't I Directly Stream to Instagram From Castr?
It's not possible to stream live to Instagram using Castr at the moment. The reason is that Instagram is not providing public RTMP entry points for livestreaming.
Once Instagram makes RTMP entry points available, direct streaming will be available in Castr. However, we don't know when, or whether, the Instagram team will make this feature available.
Instagram Live: Limitations and Specs
While Facebook Live allows you to stream up to 8 hours in a row, and up to 24 hours for YouTube Live, the maximum duration for an Instagram livestream is one hour.
After the livestream has ended, your audience will be able to rewatch it for up to 24 hours in your Instagram Stories. One way to save your livestream permanently on your account is by sending it to IGTV. Once it's on IGTV, it will become available on your channel until you decide to delete it.
Please also note that since Instagram livestreams are specifically designed for mobile, we recommend that you set your stream format to portrait display. Your aspect ratio for Instagram Stories video should be 4:5 or 9:16. Your resolution for portrait videos should be 600 x 750 minimum and 1080 x 1350 maximum.
Instagram Live maximum duration: 60 minutes
Recommended aspect ratio: 4:5 or 9:16
Recommended resolution: 600 x 750 or 1080 x 1350
Tip: Set your video frames to portrait modes
Which Castr Plan Should I Get to Livestream to Instagram?
Because Instagram is not included as one of Castr's publish platforms, we will count it as a Custom RTMP destination.
You'll need a Livestream or Multistream plan. See Castr's full plans and pricing here.
Castr Multistream plans:
Broadcast ($9.99/month): stream to 1 Facebook Page/Group or Custom RTMP destination simultaneously
Broadcast x2 ($14.99/month): stream to 2 Facebook Pages/Groups or Custom RTMP destinations simultaneously
Broadcast Infinity ($39.99/month): stream to 5 Facebook Pages/Groups or Custom RTMP destinations simultaneously
Broadcast Business ($109.99/month): stream to 15 Facebook Pages/Groups or Custom RTMP destinations simultaneously
Broadcast Enterprise ($109.99/month): stream to 15+ Facebook Pages/Groups or Custom RTMP destinations simultaneously
All Castr Livestream plans: stream to 2 Facebook Pages/Groups or Custom RTMP destinations simultaneously
Stream from Castr to Instagram Using Yellow Duck
Yellow Duck is a desktop application that allows you to stream videos to Instagram Live from a Mac or PC. With Yellow Duck, you can:
Use Instagram Live from any video streaming platform, in this case, Castr
Stream to Instagram using OBS, SLOBS, Wirecast, vMix, or any similar streaming services
Stream to Instagram without storing your login credentials on Yellow Duck
Yellow Duck is free to use. To install the app, click here or go to www.yellowduck.tv.
Please note: Yellow Duck is not affiliated with, authorized by, endorsed by, or connected in any way to either Castr or Instagram. Therefore, you may use the app at your own risk.

Connect Yellow Duck to Castr
Step 1: Log in to Instagram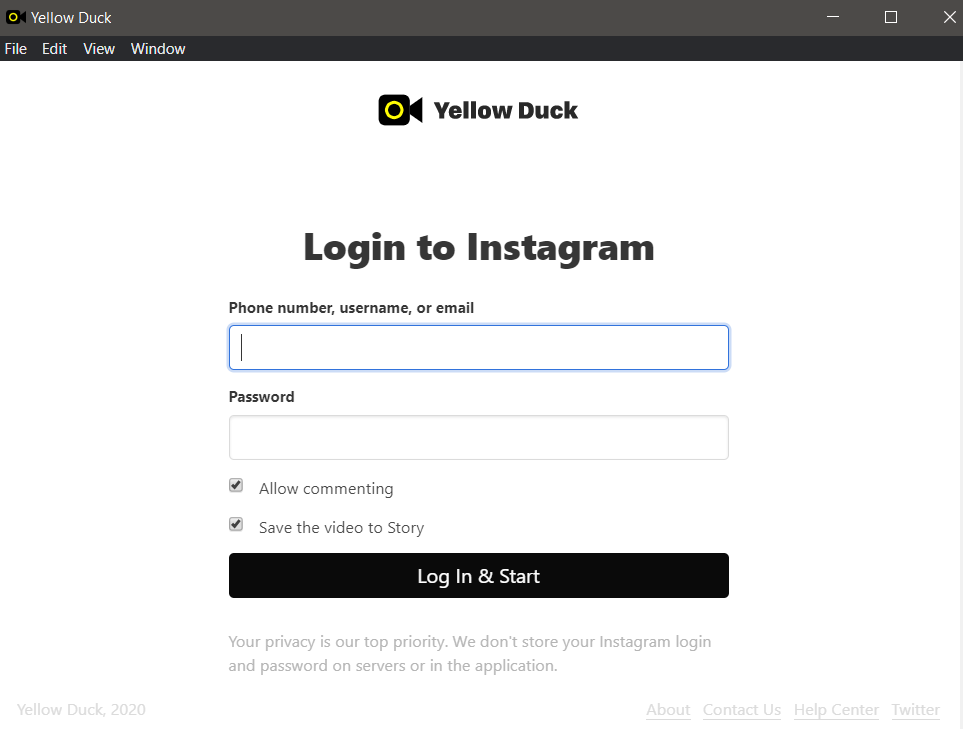 Step 2: Get RTMP URL and stream key
After signing in, Yellow Duck will give you an RTMP URL and a stream key. You will paste these keys into Castr's dashboard to connect.
Important: Your stream key will expire in a few minutes. So as soon as you're logged in to Instagram, you will have a few minutes to start your stream. It's best to have your video streams set up and configured beforehand.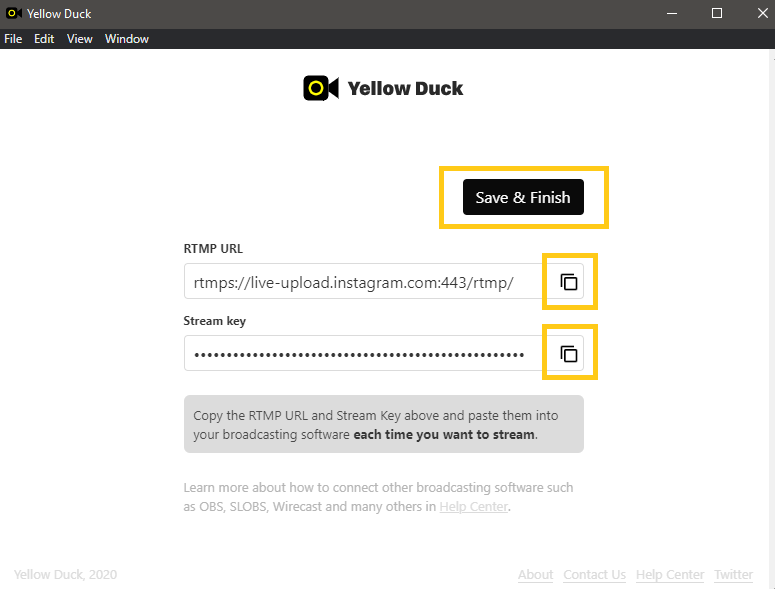 Step 3: Log in to Castr dashboard
Sign in to Castr here. If you don't have an account, sign up here.
Step 4: Connect Castr with Yellow Duck using RTMP
In your Castr Livestream dashboard, click Add Platform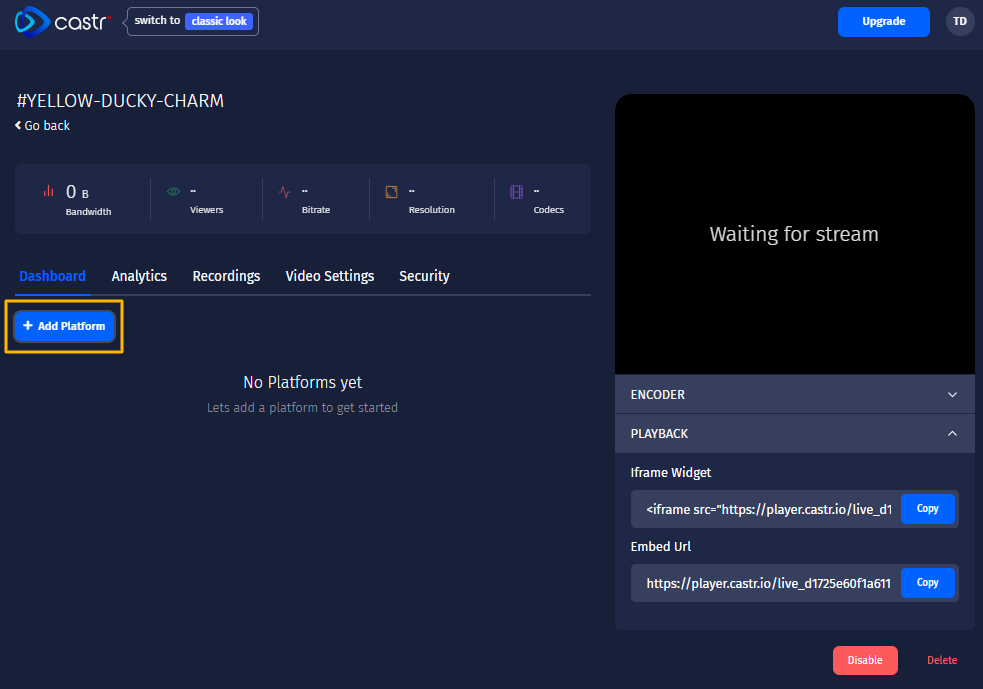 Select Custom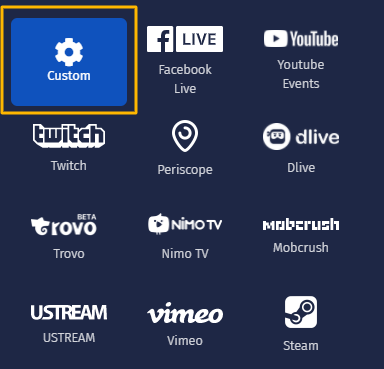 Then, paste the RTMP URL and stream key from Yellow Duck to the Streaming Platform Address and Streaming Key boxes. Please note that your streaming key should be kept in private all the time.  Click Create Platform.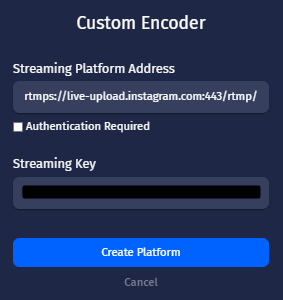 Your Instagram account will be connected to Castr under a Custom RTMP Destination. If you want to multistream, you can add some other destinations like Facebook, YouTube, Twitch, etc. to the dashboard.
Finalize your video source setup (e.g. lighting, frame, sound, visual, etc.) as usual, enable your stream, and you're ready to go live.
Tip: Add more platforms such as Facebook, YouTube, or Twitch into your Castr dashboard to multistream and maximize your audience reach.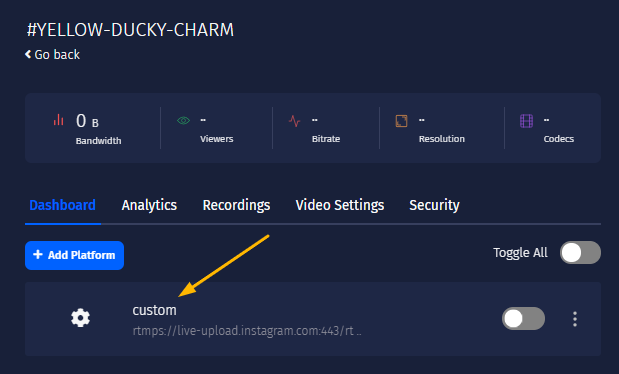 How to Connect OBS to Yellow Duck
Another flow you can use to stream to Instagram from Castr is through OBS.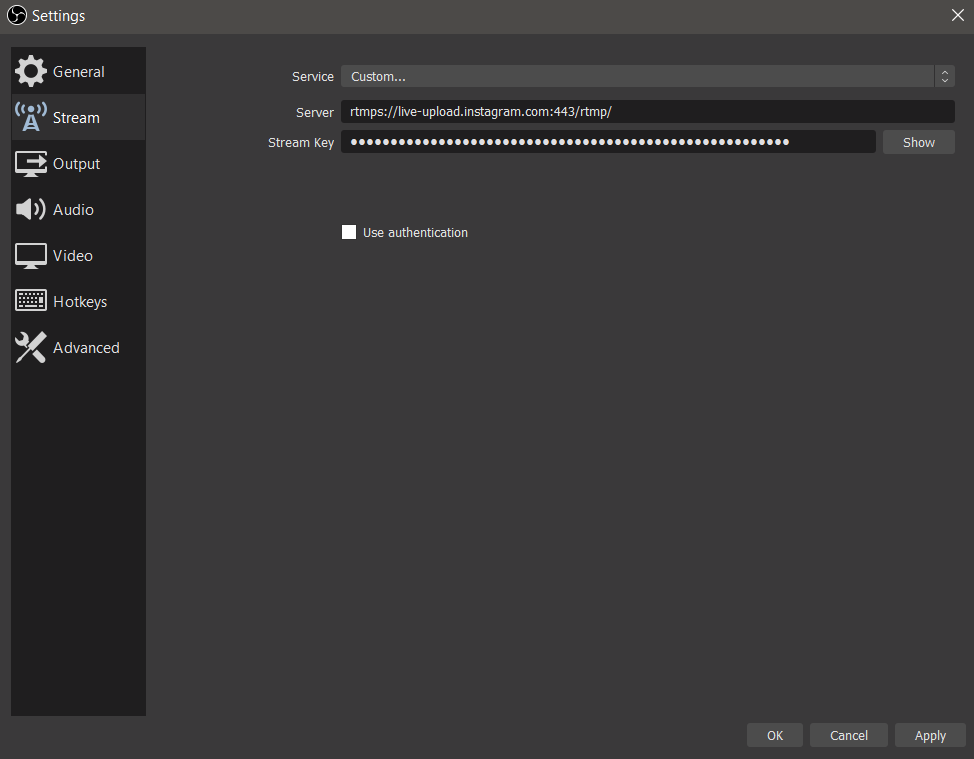 After signing in to Yellow Duck and having your RTMP URL and stream key ready, open OBS.
Go to Settings
On the right sidebar, click the Stream tab
Under Service, select Custom
Then paste your Yellow Duck's RTMP URL and stream key into the Server and Stream Key sections, respectively
Click OK and you're connected to Instagram
Connect OBS to Castr and start streaming as usual
Key Takeaways
Use Yellow Duck as a third-party app to stream from Castr or a computer to Instagram
You'll need a Castr Livestream or Multistream plan to get started
Yellow Duck is free to use
You can also connect Yellow Duck with OBS
To optimize your video reach, try adding several platforms and stream to multiple destinations at the same time
We hope this article resolves the burning desire of many users who want to add Instagram as one of their publish destinations. If you're new to Castr, you're welcome to trial our dashboard for 7 days free. To explore what else you can do with Castr subscription plans, please visit our pricing page.
Join 200,000+ streamers worldwide
With Castr, you can easily livestream videos on any platform in no time.
No Castr Branding
We do not include our branding on your videos.
No Commitment
No contracts. Cancel or change your plans anytime.
24/7 Support
Highly skilled in-house engineers ready to help.