Install a Software Encoder
Anyone can get started with livestreaming with a phone and start the live broadcast right away. However, this kind of "setup" is not ideal for the viewers as both the video and audio quality are degraded when the stream finally reaches their end. Plus, you can only record a single camera view using the smartphone, without much control over the recording itself.
That is why a software encoder is an important part of livestreaming, whether you are a professional streamer or not. The Open Broadcaster Software, or OBS, is the most suitable streaming software in the market right now for streaming church services.
OBS is free, simple, and easy to use, yet it comes with many handy features for recording and livestreaming.
No matter if you use Windows, macOS, or Linux devices, OBS can be easily installed and set up in just a few steps. With OBS, you can switch between cameras, scenes, and audio inputs by clicking a few buttons right on the dashboard.
Castr integrates seamlessly with OBS using either RTMP or SRT ingest. Check out our blog to see how to connect OBS with Castr and start streaming with ease. Here's our recommended setting for streaming from Castr to major social media sites with high quality and stable connection:
Encoder: x264
Rate control: CBR or Constant Bitrate
Keyframe Interval: 2
Bitrates and Resolution:
For 720p:
30fps with an average bitrate of 2500 to 4000 kbits/sec
60fps with an average bitrate of 3500 to 5000 kbits/sec
For 1080p:
30fps with an average bitrate of 3500 to 5000 kbits/sec
60fps with an average bitrate of 5000 to 6500 kbits/sec
Audio Bitrate: 128 kbits/sec

Set Up Recording Devices
The next item on the list is to set up your webcam and microphone for streaming. Having multiple cameras helps make the stream more engaging, thanks to the different views you showcase. Meanwhile, good audio quality from a professional microphone will significantly improve the audio quality, helping you spread the message to your audience better.
If you are having a hard time choosing the best webcam and microphone for your setup, worry not! We've compiled a list of the best webcams and the best microphones for streaming to make things easier for those who are just getting started.
Once you've had your devices, setting them up with OBS is another important step. You can start trying out different settings and arrangements to figure out the best combo for the live viewers.
Tip: In OBS, there are scenes to control the different views of your broadcast. Before streaming, switch to Studio Mode to see what you are going to show and how it will look before going live.
Promote Your Sunday Streams
There are many social platform options for churches to pick as their streaming destination. Some familiar streaming platforms are YouTube, Facebook, and Vimeo. Each of these websites has its pros and cons for streaming sermons and attracting new audiences.
To best promote your Sunday Streams, multistreaming is the optimal solution. Multistreaming means casting your live video to more than one platform at once. For example, you can simultaneously stream to Facebook and YouTube to reach the younger users on the two platforms while streaming it live on your church's website to best simplify access for anyone in your community.
All it takes for successful multistreaming have accounts on each platform and streaming software that takes care of the delivery for you. Castr, an all-in-one livestreaming software, is the solution for churches to start livestreaming.
How to Livestream Church Services With Castr
Trusted and chosen as the multistreaming solution provider for churches around the world, Castr makes it easy to stream with high quality and stability to any destination. You can also take it to a higher level with livestreaming with Castr's embeddable HTML5 player, stream scheduler, and video on demand solutions available within just a few clicks.
Get rid of the worries of choosing a platform to stream to and reach more people on social media by multistreaming with Castr. Plus, you can also dedicate a livestreaming part on your church's website and stream straight to it. Leveraging streaming software makes it easier for people to reach your content and share it further among their community.
Here's how to get started with Castr in 5 steps:
1. Sign in or sign up for a Castr account.
Check out our solutions and customized plans here.
2. Create a new All in One stream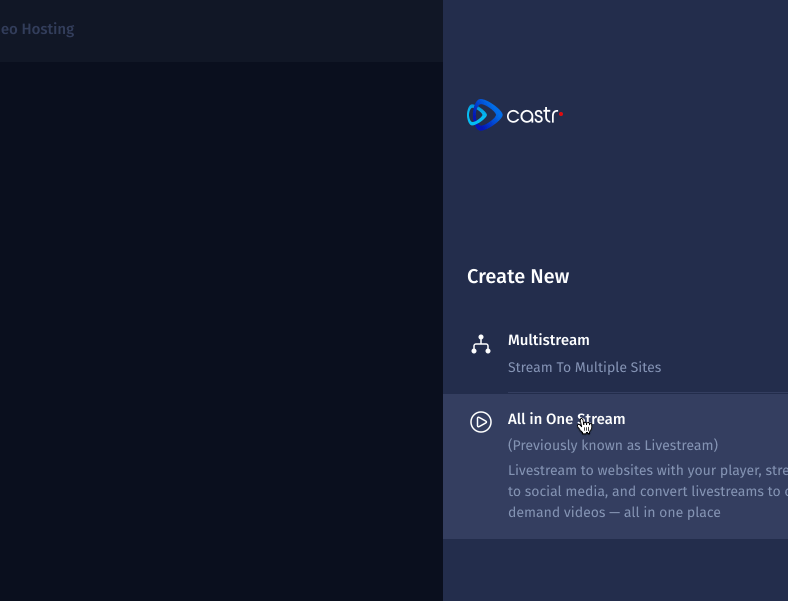 3. Connect Castr with OBS using the RTMP or SRT URL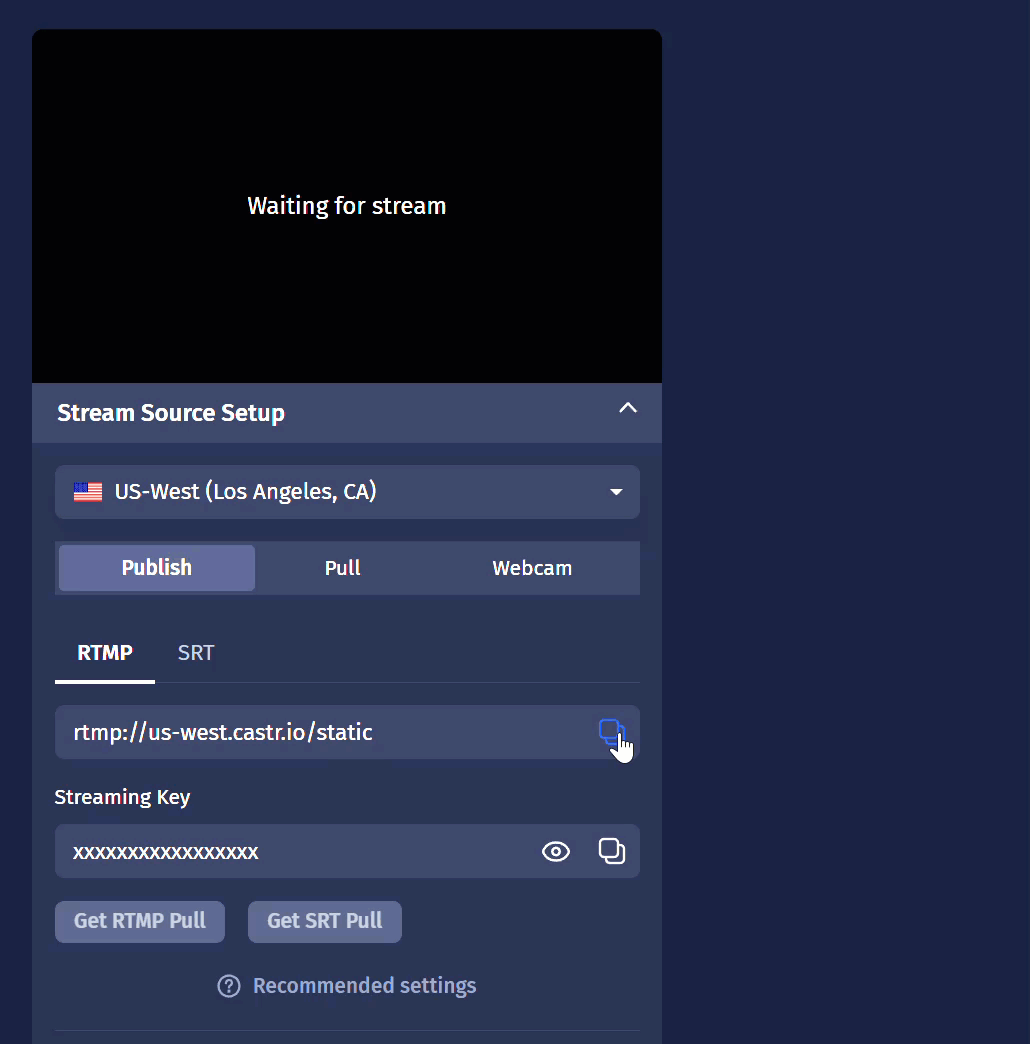 4. Add new platforms for your livestream. Remember to toggle ON each destination for Castr to go live immediately when the stream starts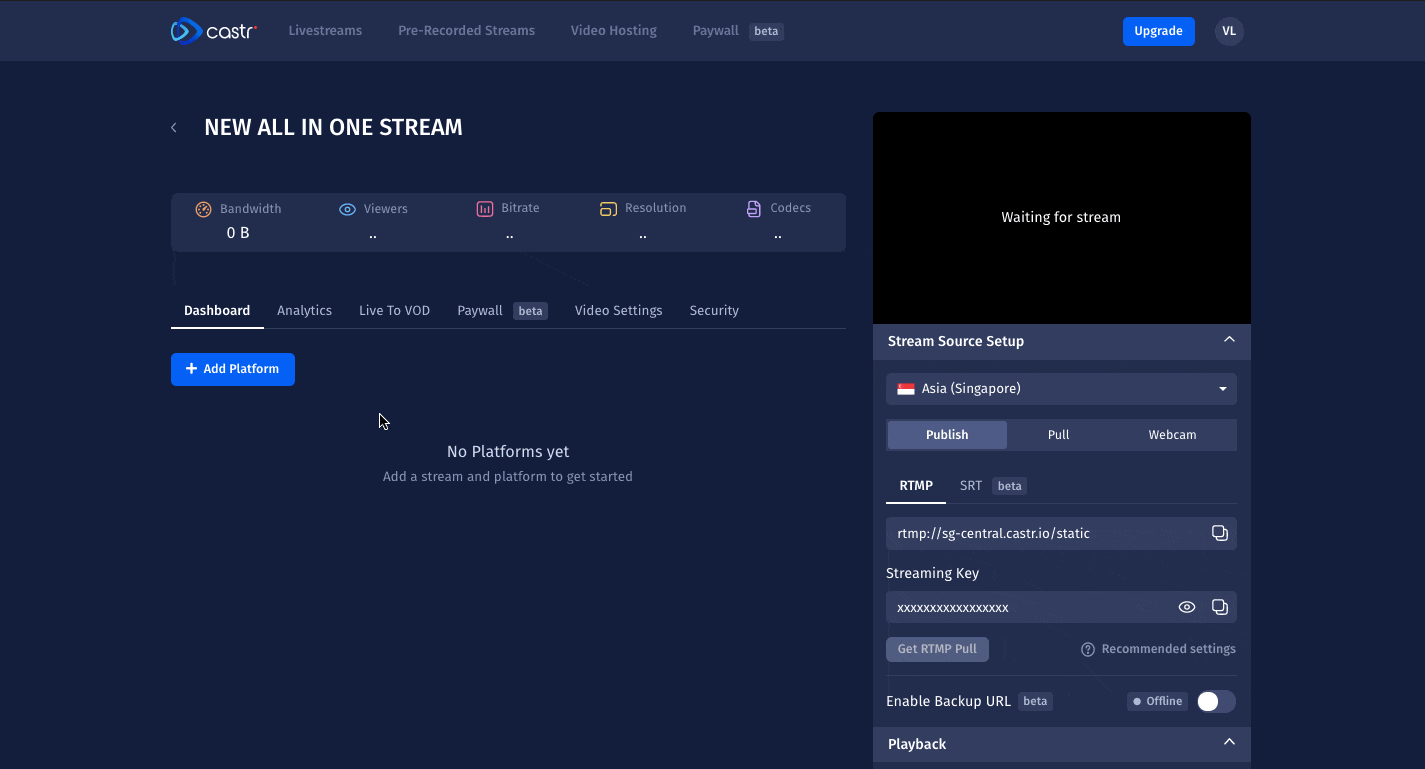 5. If you also stream to your own website, you can grab the Iframe Widget and Embed URL to use Castr's HTML5 player to your own need
That is all it takes to begin livestreaming church services virtually! We hope this article helped you to get a clear overview of how to get started live broadcasting Sunday services to multiple websites at the same time with Castr. If you need further help, check out the Help Center or contact our 24/7 live chat for support, we are happy to help.
Join 200,000+ streamers worldwide
With Castr, you can easily livestream videos on any platform in no time.
No Castr Branding
We do not include our branding on your videos.
No Commitment
No contracts. Cancel or change your plans anytime.
24/7 Support
Highly skilled in-house engineers ready to help.