This week, you might have noticed our brand new look on the Castr website and landing pages. Besides the latest designs, we also revamped our packages and plans of streaming solutions. Castr aims toward providing an all-in-one streaming solution for individuals and companies with any needs and demands for live broadcasting.
This article will give you a better look into Castr's streaming, hosting, scheduling, and simulcasting capabilities. This is not a complete 100% change in our offerings and products, yet it is customized to meet different uses from our customers. Plus, the new Castr website is now darker, sleeker, and of course, better. Check it out!
Castr's All-in-one Solutions for Livestreaming
Livestreaming is not a new term for Internet users all over the world. More than that, streaming is definitely not limited to entertaining shows or gaming content only anymore. Livestreaming is now the tool for virtual connection, spreading useful information, and attracting new audiences with valuable content.
Realizing this steady growth of streaming activities online, Castr is also evolving to provide the best solutions for streaming videos online. There are more platforms for streaming for anyone or brands to go live and share exciting video content with their users.
What's New?
Castr's All in One livestreaming service is designed to deliver your stream anywhere in minutes. This change makes it clearer for those who need to stream with quality to their websites, social media sites, and more using Castr's player.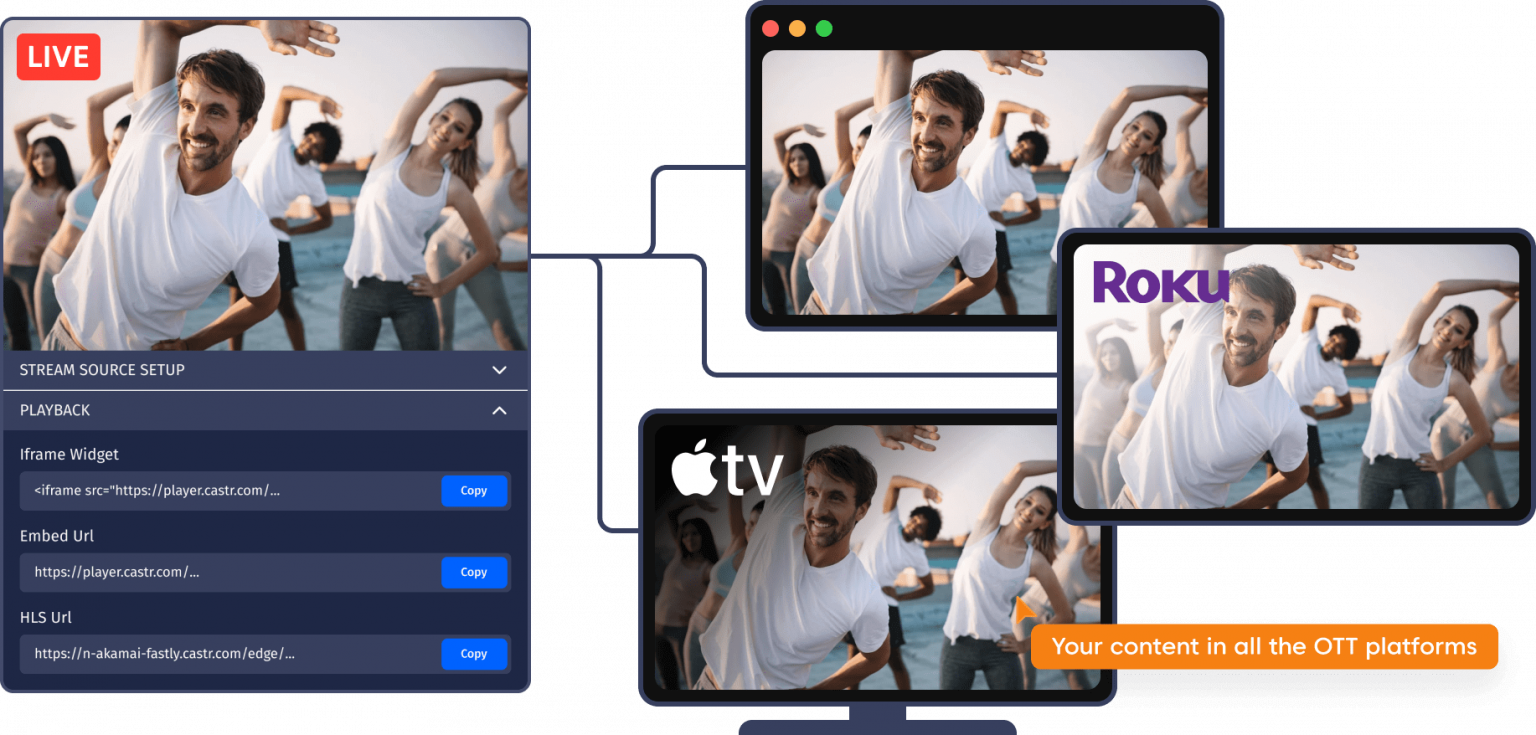 Here are some highlights of our All in One livestreaming services:
Embeddable HTML5 player: Stream anywhere with Castr's stream player. From your websites to over-the-top platforms like Roku, Apple TV, and Amazon Fire TV.
Video security: Enjoy Castr built-in security features: Password Protection, Geo-blocking, Domain-blocking, and Whitelisting.
Performance analytics: Get insights of your viewers right in the streaming dashboard. Some in-depth metrics are Number of Viewers, Concurrent Viewers, Visits per Cities, Visits per Countries, and more.
Cloud recording: Convert your streams into VOD content in just a few clicks. Your streams are automatically recorded and saved on Castr Cloud for you.
Player customization: Choose your own theme color, poster, and watermark for the player.
Explore our new plans and packages here to find the best option for you and your business. If you need help with a customized plan, our Sales team is happy to help.
What's Next?
Learn more about livestreaming with Castr in our knowledge hub. Here are a few useful suggestions for you to get started:
Join 200,000+ streamers worldwide
With Castr, you can easily livestream videos on any platform in no time.
No Castr Branding
We do not include our branding on your videos.
No Commitment
No contracts. Cancel or change your plans anytime.
24/7 Support
Highly skilled in-house engineers ready to help.