The Live Streaming Solution for Artists and Entertainers
Broadcast live events for unlimited viewers. Play for the world in HD quality and spotless performances with Castr's powerful live streaming platform.
Trusted by
200,000+
musicians and entertainers around the world
Empower music with robust live streaming features
Stream Live Events or Concerts on Your Own Video Player
Live stream like a pro with Castr embeddable player. Get a chat box, customization, analytics, and privacy features available at your fingertips.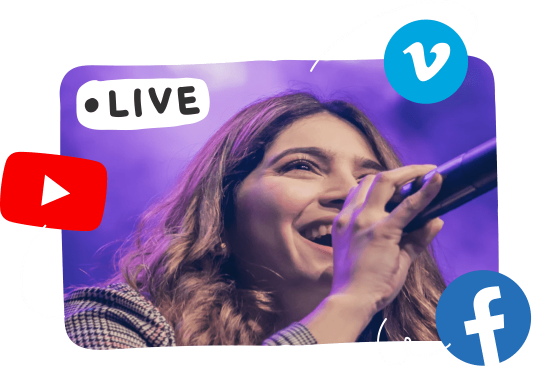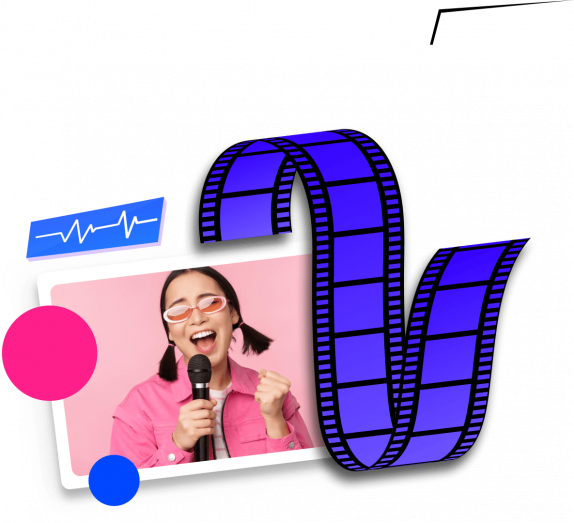 Perform, Record, and Schedule for Live Broadcasts at anytime
Pre-record your show and set it live at any time you like, Castr will take care of the rest. Stream to not just one destination, but to many social platforms at the same time.
Earn Revenue for Your Hard Work with Paywall or Advertising
Are you a rising artist looking to earn money with your creative work? Castr lets you host ticketed events with the Paywall or generate extra revenue with Advertising features from the streaming dashboard.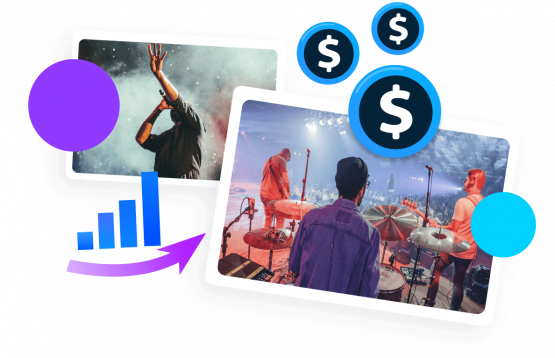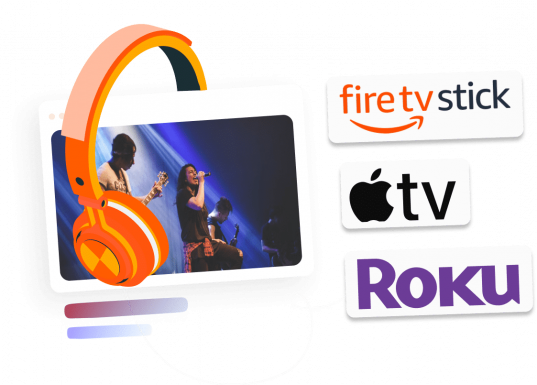 Stream to OTT platforms like Roku, Apple TV, and Amazon with HLS URLs
Stay in the spotlight with easy connection and broadcasts using Castr's HLS URL for live streaming. Get seamless stream delivery across devices, websites, TV apps, and live streaming services.
Replay Anytime. Turn Live Events to Videos on Demand in a Few Clicks.
With Castr, you can make your shows available for fans after the livestream ends. All your streams are automatically recorded and hosted on Castr's cloud for sharing anywhere online later.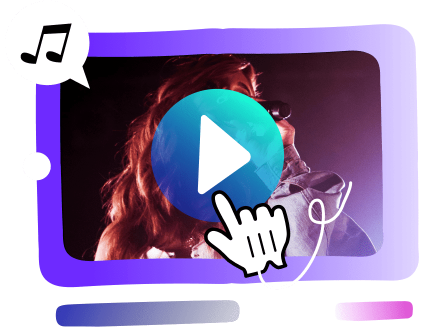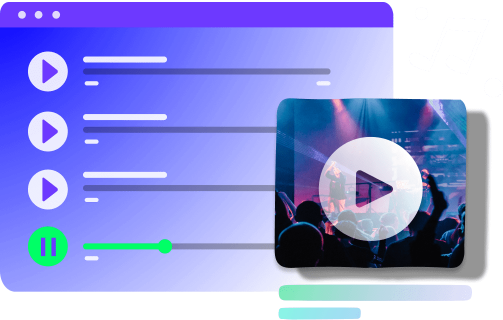 Stream Audio-only Sessions with Ease
If you want to share only the audio as a live broadcast, Castr has it right at your disposal. Our player ensures high-quality delivery with low latency and zero buffering for streaming.
Engage with Worldwide Audience with Castr Global Infrastructure
Castr has strategically located ingest locations across the globe. We also partner with leading CDNs providers like Akamai, Cloudfare, and Fastly so that your stream reaches your audience wherever they are.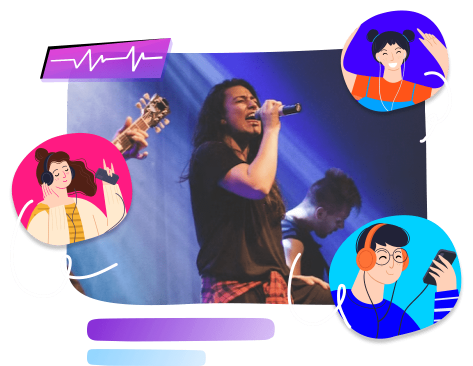 There's even more.
Castr has all features you need for live streaming.
Share video content globally
Embed videos and stream to your own website or any over-the-top (OTT) platform like Roku, Apple TV, and Amazon Fire TV.
Castr's white-label OTT solution lets you launch your own video streaming app with zero coding skills.
Broadcast your live videos across 30+ social platforms and streaming destinations at the same time.
Monetize your live and on-demand videos with Castr Paywall and Video Ads.
Securely host and deliver on-demand video content globally. Upload files from your computer or import directly from Google Drive and Dropbox.
Collaboration and scalability features
Our Team and Sub-account features help you stream and collab easily with teammates and partners on every project.
Robust and Easy to Use Product
I need a robust ecosystem so that transmissions are fluid
and Castr has been one of the fundamental pillars in these works. In just seconds after logging in I'm ready to stream to my favorite platforms.
Enhance Media Reach and Engagement
Our overall experience with Castr has been completely positive. We stream weekly to Facebook, YouTube, and Periscope all at the same time, and have really seen an improvement in our social media reach and especially engagement. It's a really fair price and a great service.
Pre-recorded Stream Scheduler is a Game-changer
The pre-recorded scheduled as live streaming functionality is a game-changer; second to none. This feature has enabled us to deliver and elevate projects that we could not have done without Castr.
Excellent Support. Out-of-the-box Features for Streaming.
Overall Castr has been excellent and in the few issues I have experienced, customer service has sorted things out very quickly. I have never had my stream cut out. It offers Pull URL at no extra cost on my package which is much cheaper than other similar services.
Content Creator, Media Production
Live Stream to Multiple Destination with Ease
A critical part of our stream. Castr was exactly what we needed to livestream our show on multiple platforms at the same time. Simply put, we wouldn't have the audience that we curre
ntly do without Castr. It's an integral part of our daily operation.
General Manager, Broadcast Media
Low Latency and High Performance Streaming Quality
castr.com service is excellent from the first moment of testing it is very easy to use and at the time of the real streaming event, it was even more surprising. Without presenting latencies with unique technical characteristics and I reiterate a very accessible configuration.
Join 200,000+ satisfied streamers
Still on the fence? Take a sneak peek and see what you could do with Castr.
Frequently asked questions
Can't find it here? Check out our Help Center.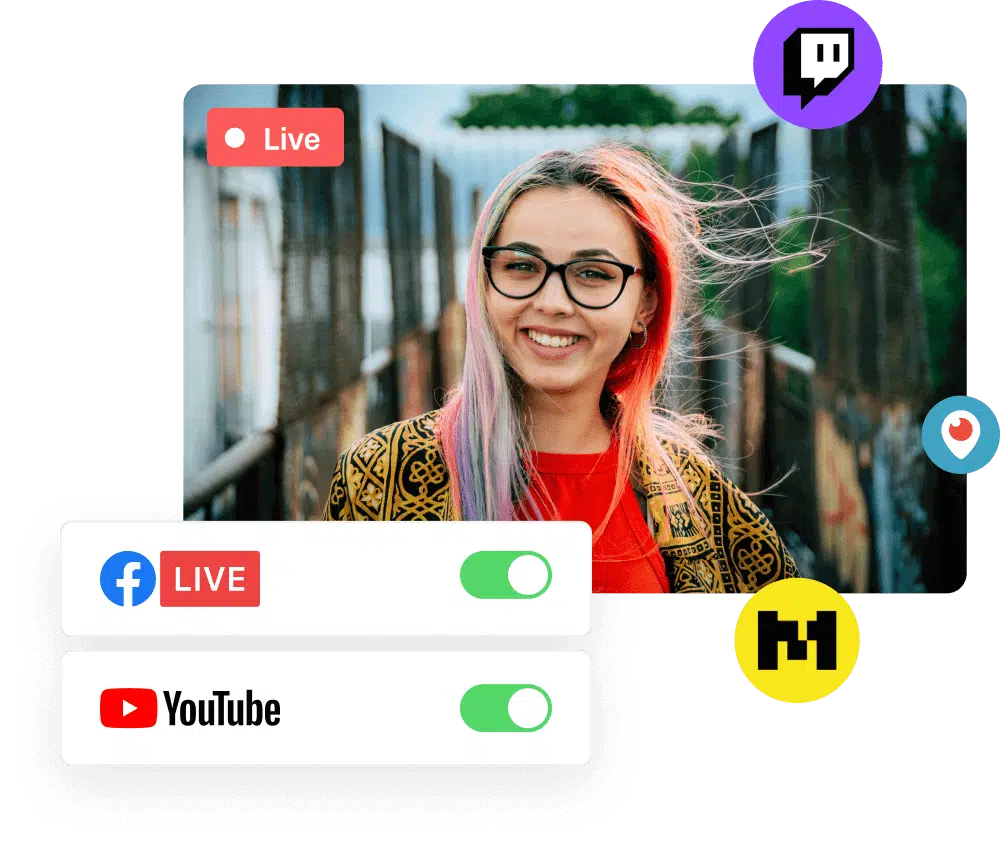 What is Castr?

Castr is a video streaming platform providing livestreaming and video-on-demand (VOD) solutions for streamers and businesses that need online broadcasting solutions.

Why should an artist use Castr for streaming?

Castr is easy to use, it takes just under 10 minutes to setup and get your first stream started. With Castr, you own your content and have control of how it reaches your audience. Castr does not include any branding to your stream and offers 24/7 support for all users.

What are the platforms I can stream to?

You can choose from more than 30 platforms to add as a destination, including YouTube, Facebook, Twitch, Twitter, and many more. You will also get an embeddable stream player to add to other websites or streaming services of your choice.

Does it cost more to stream in HD with Castr?

Not at all. Castr delivers the live broadcast just the same quality of your stream source. That means if you send 4K video and audio data to Castr, we will stream it to your audiences in the same high quality. We also provide recommended video configurations for different platforms to ensure the stream quality and stable deliveries.

Can I add my branding to the stream player?

Absolutely. Castr offers many ways to customize the stream player so that it reflects your brand the best. You can choose your player theme color, a stream thumbnail, and embed your own watermark to the live stream to secure it.

How can I protect my content on Castr?

You can set up Passwords, Geo/Country Blocking, or Whitelisting for each stream. The security feature helps make sure the live stream can only be viewed by the right audience as you want.

How does Castr process my revenue from Paywall and Advertising?

All of the transactions and purchasing processes on Castr are secured by Stripe. Castr helps you set up protected streams and manage the paid viewer data on our platform. However, you will need a Stripe account to receive and secure payments from Paywall.

How do I get support for technical issues when streaming?

Castr provides one of the best support experiences in the streaming industry. The Castr support team is available 24/7 for all users and any issue you might have at any step of streaming. We also offer dedicated support on Slack, Skype, or WhatsApp for higher-tier plans.