A One-stop Live Streaming Platform for Live Event Production Agencies
With Castr, stable delivery performance goes hand-in-hand with efficient management features. Our all-in-one platform is the industry standard for professional live streaming teams.
Trusted by
200,000+
professional teams around the world
Versatile Live Streaming and Video Hosting Solutions for Scaling Projects
Global Delivery with Multiple CDNs
Castr partnered with leading CDNs like Akamai and Fastly to deliver live streams with confidence.
No matter how many viewers are watching, or where they are in the world, Castr ensures the scalability and quality of your streams.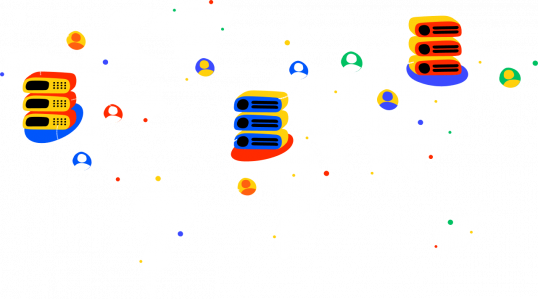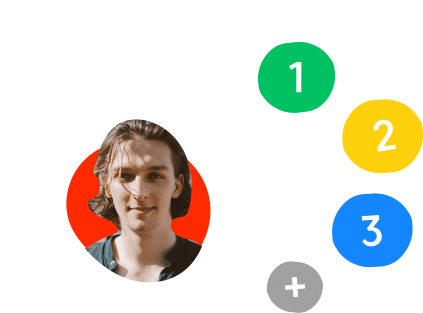 Manage Multiple Projects in One Dashboard with the Sub-account Feature
Give your productivity a boost without the juggling between different accounts to manage multiple projects for your clients.
Castr's Sub-account feature lets you create many sub-accounts under one managing account. So you can easily organize and manage all projects in one single dashboard.
Collaborate with Team Members for Better Live Stream Production
Castr Team feature lets you invite team members and customize permissions to collaborate effectively. This way you can bring in different specialists to put together a sophisticated live production.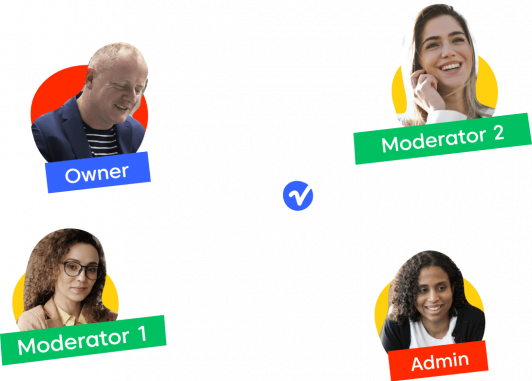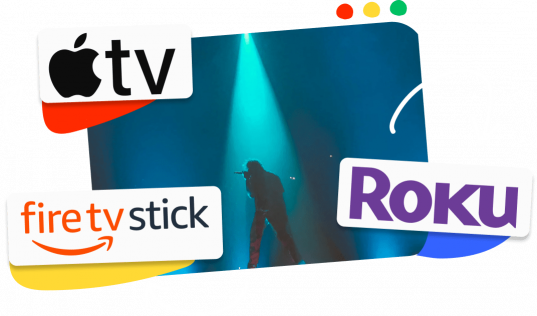 HLS URLs for Cross-platform Delivery on Apple TV, Amazon, Roku, and More
Stream to not only social media platforms but also OTT services holistically. Generate HLS URLs for one or all live streams in your projects on Castr.
There's no limit when it comes to live stream delivery with Castr's all in one platform.
Enable End-to-end Streaming with Castr's Extensive Features
Stream smoothly with Castr's features for end-to-end streaming. From ingesting, transcoding, delivering to going live with a stream player, Castr takes care of it all.
And it doesn't stop there! After your stream is finished, Castr automatically record and store your content on the cloud for redistribution anyway you'd like.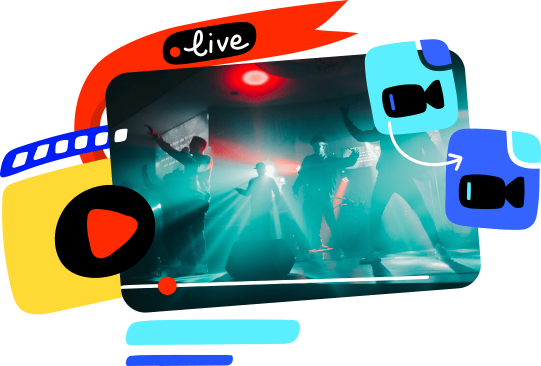 There's even more.
All features you need for live streaming is in one place.
Share video content globally
Embed videos and stream to your own website or any over-the-top (OTT) platform like Roku, Apple TV, and Amazon Fire TV.
Castr's white-label OTT solution lets you launch your own video streaming app with zero coding skills.
Broadcast your live videos across 30+ social platforms and streaming destinations at the same time.
Monetize your live and on-demand videos with Castr Paywall and Video Ads.
Securely host and deliver on-demand video content globally. Upload files from your computer or import directly from Google Drive and Dropbox.
Collaboration and scalability features
Our Team and Sub-account features help you stream and collab easily with teammates and partners on every project.
Ensure optimal viewing experience
Castr's global CDNs make sure your viewers experience videos with 4K quality, low latency, and no buffering.
Improve performance with insights
View the analytics of your stream health and viewer data in the dashboard to ensure a stable stream performance.
Repurpose live streams into VOD
Turn livestreams into on-demand videos for your viewers to re-watch your content however they like.
I need a robust ecosystem so that transmissions are fluid
and Castr has been one of the fundamental pillars in these works. In just seconds after logging in I'm ready to stream to my favorite platforms.
Our overall experience with Castr has been completely positive. We stream weekly to Facebook, YouTube, and Periscope all at the same time, and have really seen an improvement in our social media reach and especially engagement. It's a really fair price and a great service.
The pre-recorded scheduled as live streaming functionality is a game-changer; second to none. This feature has enabled us to deliver and elevate projects that we could not have done without Castr.
We use this service daily and this is already part of our workflow! It offers a clever alternative to slow internet connection when one need to stream to various channels and is very easy to use. We use Castr to deliver content 24/7 to different platforms, it makes our workflow much simpler, we save internet bandwidth and hardware stress.
Content Creator, Media Production
A critical part of our stream. Castr was exactly what we needed to livestream our show on multiple platforms at the same time. Simply put, we wouldn't have the audience that we currently do without Castr. It's an integral part of our daily operation.
General Manager, Broadcast Media
What's great about Castr is its ability to launch multiple streams at the same time and on multiple platforms. The ability to schedule streams automatically in advance. A perfect integration with the Atem Mini Pro and Atem Mini Extreme video management systems. Constant quality of the stream over a long period of time (8 hours).
Join 200,000+ satisfied streamers
Still on the fence? Take a sneak peek and see what you could do with Castr.
Frequently asked questions
Can't find it here? Check out our Help Center.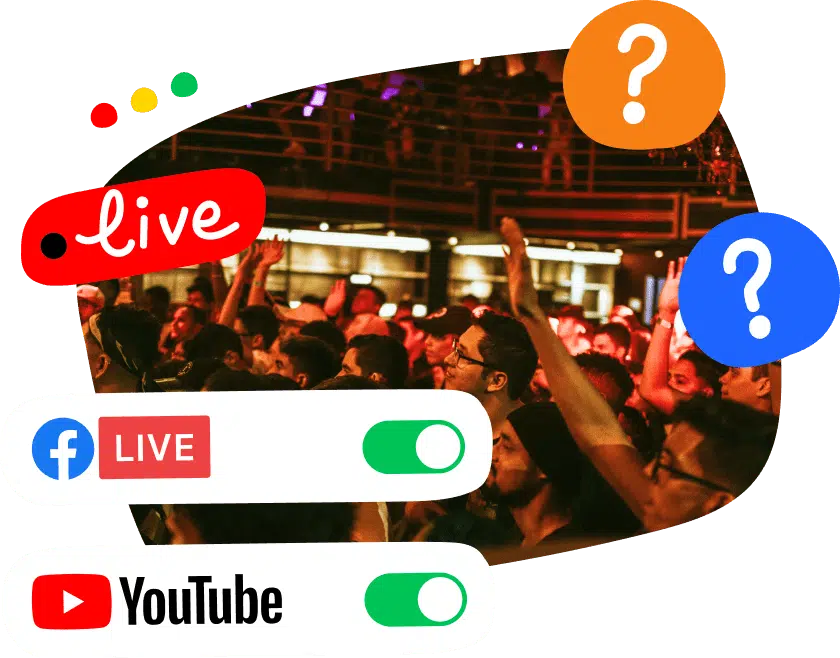 What is Castr?

Castr is a video streaming platform that provides top-tier solutions for livestreaming, multistreaming, video-on-demand (VOD) hosting, and more. With advanced features for live streaming like ultra-low latency, monetization, live-to-VOD, and ABR streaming, Castr is an all in one solution for all of your streaming needs.

What features Castr does have for project management?

Castr has a comprehensive design for managing many different projects on our platform, including the Teams and Sub-accounts features. The Team feature is a great fit for projects that require lots of collaboration from different roles and members. Meanwhile, the Sub-account feature is made for boardcasting agencies that need to manage multiple clients with different streaming requirements.

What is Castr OTT Whitelabel app?

Castr OTT Whitelabel app is an over-the-top application that deliver video content to mobile devices. The OTT mobile app is built to showcase your live streams and VOD content only. You can also monetize your content on the app with either subscription or pay-per-view models.

What are the platforms I can stream to?

You can choose from more than 30 platforms to add as a destination, including YouTube, Facebook, Twitch, Twitter, and many more. With an All in One plan, you will also get an embeddable stream player to add to other websites or streaming services of your choice.

How can my team get support for technical issues?

Castr provides one of the best support experiences in the streaming industry. The Castr support team is available 24/7 for all users and any issue you might have at any step of streaming. We also offer dedicated support on Slack, Skype, or WhatsApp for higher-tier plans.

What are the analytics features that Castr has?

You can easily view the analytics of your input health and stream delivery inside the Castr web app. The data is automatically collected and displayed in the Analytics tab with visual demonstrations for more insights.

How does Castr ensure stream quality and stability?

All of the transactions and purchasing processes on Castr are secured by Stripe. Castr helps you set up protected streams and manage the paid viewer data on our platform. However, you will need a Stripe account to receive and secure payments from Paywall.