Castr's RTMP Server Software provides high-quality, low latency, and adaptive bitrate live streaming.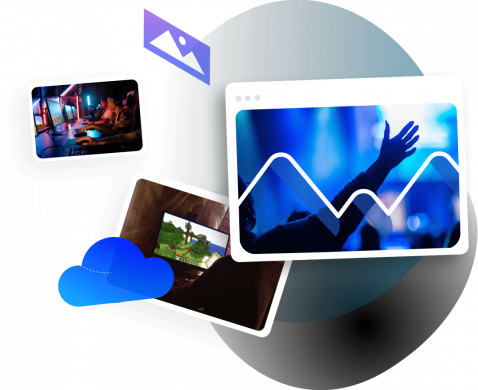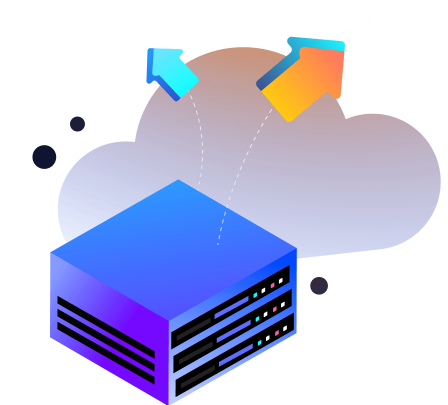 RTMP - The Real Time Messaging Protocol Explained
RTMP, or real-time messaging protocol, takes care of transmitting the audio, video, and data from an encoder to an online video host.
An RTMP server brings one of the best high-performing transmissions that deliver live streams and videos with quality.
When it was first created, RTMP delivered video content to the Adobe Flash player. Although Adobe Flash Player is no longer used on almost all operating systems, RTMP remains a robust protocol for live video streaming.
It has one of the best low-latency, stable connections, along with adaptive bitrate streaming technology to provide a smooth, real-time, and uninterrupted viewing experience.
Try Castr RTMP Streaming Platform
Try all features for 7 days. No contracts. No credit card needed
The Benefits of an RTMP Stream
Latency is the duration between the recorded streaming video and the moment displayed on the users' devices. For RTMP broadcasts, the latency is lowered to 5 seconds. This is an essential feature for time-sensitive broadcasts and live events streaming.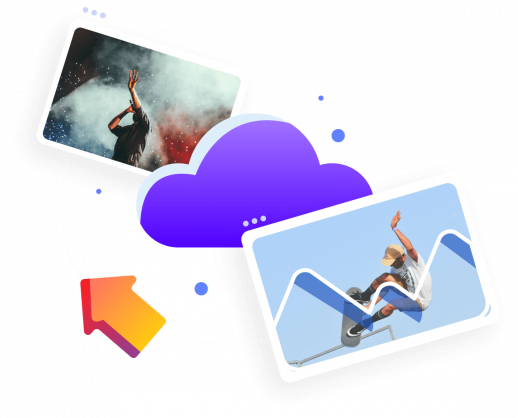 When you stream through RTMP server, your viewers don't have to deal with buffering. This means they'll be able to watch and stay engaged longer.
 With Castr's advanced RTMP to HLS conversion, you don't have to worry about compatibility issues.
Go Live from Castr with an RTMP Streaming Server
Send your RTMP streams from any encoder to Castr
Go live on multiple platforms at the same time with low latency, plus stream to your website or application using adaptive bitrate with Castr.
Let Castr publishes your stream from an RTMP streaming server to any destination.
Get minimal buffering for your video content and streams regardless of the streaming platform.
Embed the streaming video to your website using Castr's video player and RTMP Playback URL
Castr provides customization, security, and analytics features for you to start streaming with the best tools at hand.
Castr has global ingest points across the world to support our streaming server.
We make sure there's no network throttling taking place when you push the streams from any RTMP streaming server to our server.
Pull RTMP Stream from Castr to other destinations
RTMP Pull Link is a playable link of your live stream, which you can set up as a live source on another broadcast. This feature allows you to play one live stream inside the other
Go live with even better lowlatency in just two steps: Pulling the stream source from an SRT server and broadcasting it to any platform using Castr's RTMP server.
How to Start Streaming from an RTMP Server
Most encoders and streaming services support RTMP as the protocol for first-mile contribution. RTMP servers don't require many system resources to transmit the streams through a streaming service.
Plus, the primary role of RTMP servers is keeping a constant connection between the encoder and the online video host.
Here are the basic steps to begin broadcasting to Castr using an RTMP streaming server:
Connect a video source (live or pre recorded video) to your encoder
Open your Castr account and retrieve the RTMP Stream Key and Stream Server
Connect your encoder with Castr using the RTMP Stream Key and Server above
Test the stream playback with Castr's preview player
Add destinations, for example, your social media sites and live streaming platforms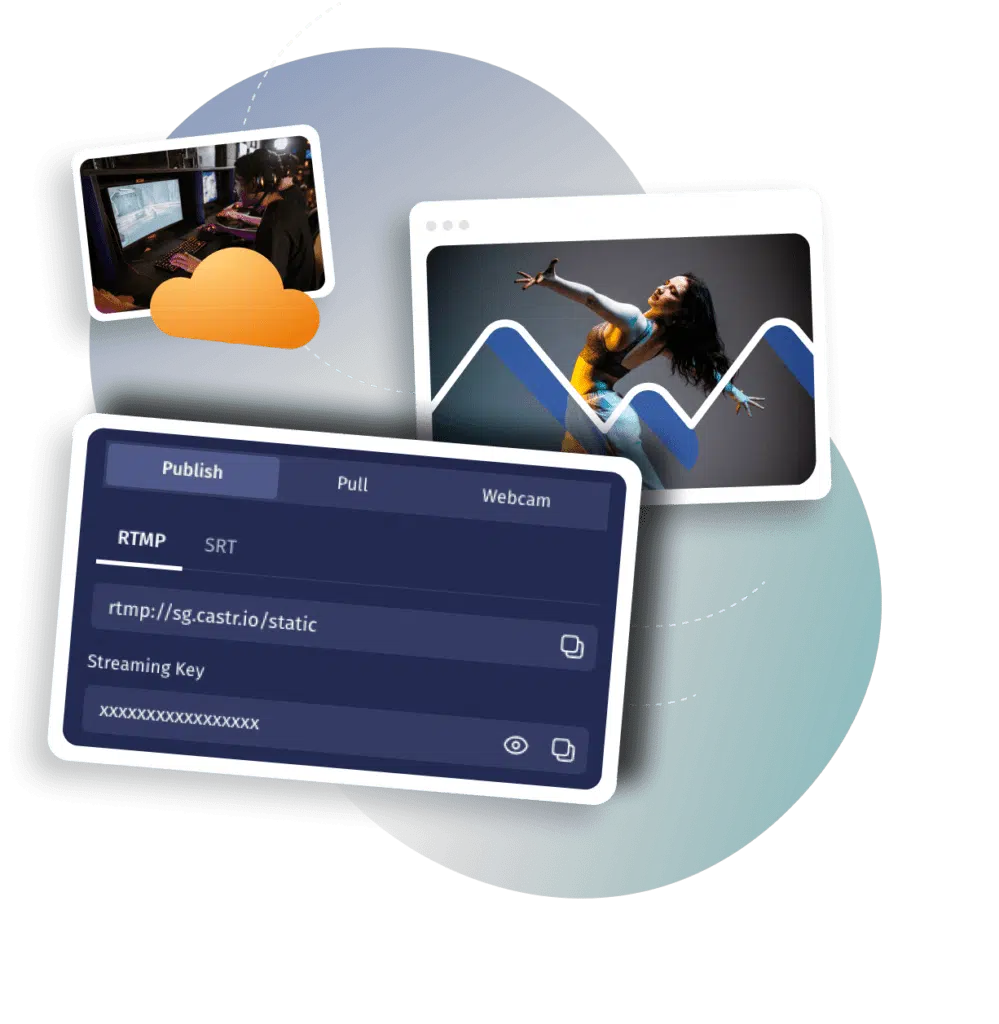 Try Castr RTMP Streaming Platform
Try all features for 7 days. No contracts. No credit card needed
There's even more...
Castr has all features you need for live streaming.
Share video content globally
Embed videos and stream to your own website or any over-the-top (OTT) platform like Roku, Apple TV, and Amazon Fire TV.
Castr's white-label OTT solution lets you launch your own video streaming app with zero coding skills.
Broadcast your live videos across 30+ social platforms and streaming destinations at the same time.
Monetize your live and on-demand videos with Castr Paywall and Video Ads.
Securely host and deliver on-demand video content globally.
Ensure optimal viewing experience
Castr's global CDNs make sure your viewers experience videos with 4K quality, low latency, and no buffering.
Frequently asked questions
Can't find it here? Check out our Help Center.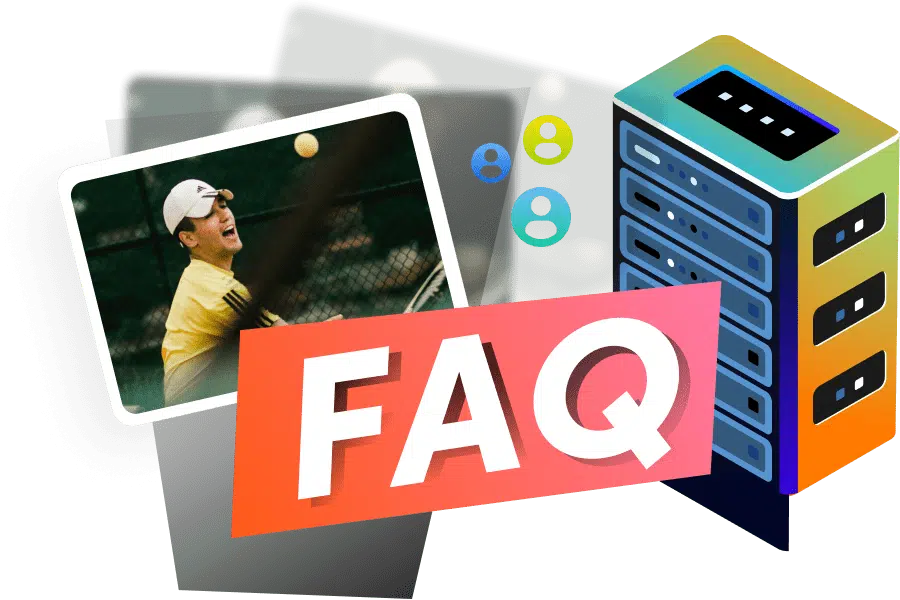 What is RTMP live streaming?

Live streaming with the RTMP server is an efficient way to transmit video data from the encoder to an online RTMP server. It splits the video data into chunks to stream the video content faster than before. The streaming service then sends it to the user's device through a Content Delivery Network (CDN).

What is RTMP ingest?

There are two stages in a typical live streaming workflow: Data ingest and stream delivery. When you start a live stream with the RTMP ingest, it will be delivered with persistent connections between the client and the RTMP server. Thus, creating a smooth, stable, and real-time stream when it reaches the viewer's devices.

How does RTMP streaming work?

To start a new live stream, there are the first mile and last mile processes. The camera captures live video and sends the feed to an online video host or RTMP server like Castr via an encoder. That completes the first-mile stage. Then in the last mile process, the media data continues through a Content Delivery Network (CDN) for distribution over internet protocol to the user's device.

How to start live streaming with RTMP on Castr?

Apart from the RTMP server, Castr supports multiple ingests for streaming, including RTSP, SRT, HLS, and MPEG-TS. When you create a new live stream on Castr, the RTMP server and stream key are made available in the dashboard for connecting with OBS or any streaming software you are using.

How to use RTMP and HTTP (HLS) protocols for streaming?

Nowadays, RTMP is mainly used for stream ingest, and HTTP is the protocol for stream delivery. This combination of the two protocols makes playback compatible and easily customizable with HTML5 video players–the industry's standard. Besides the HLS delivery, the RTMP server keeps connections constant and stream latency low as the stream ingest.

SRT vs RTMP. Comparing the two protocols?

RTMP is currently the most widely used protocol for video live streaming. It's also used as an ingest protocol to live stream to platforms like Facebook, Youtube, Twitch, etc. However, an SRT stream is 12 times faster than an RTMP stream and has stable delivery under poor networks.

For a detailed comparison, check out this article.

What is Castr?

Castr is a video streaming platform providing live streaming and video-on-demand (VOD) solutions for streamers and businesses that need online broadcasting solutions.

What types of subscription plans does Castr offer?

We offer several subscription plans that meet every need. From low cost plans to advanced and enterprise-level solutions.
All plans include an embed player with Akamai CDN, multistreaming, video hosting, and paywall features. Learn more about pricing

Can I stream to a custom RTMP destination or my own RTMP server?

Yes, you can stream to a custom server/RTMP destination by configuring a custom platform using the RTMP server and stream key to connect from the Castr dashboard.
Try Castr RTMP Streaming Platform
Try all features for 7 days. No contracts. No credit card needed